DNASE1L3 arrests tumor angiogenesis by impairing the senescence-associated secretory phenotype in response to stress
1 Department of Hepatobiliary Surgery, Zhongnan Hospital of Wuhan University, Wuhan 430071, P.R. China
2 Department of Hepatobiliary Surgery, Tianjin Medical University General Hospital, Tianjin 300052, P.R. China
* Equal contribution
Received: December 18, 2020

     

Accepted: February 19, 2021

     

Published: March 19, 2021

     
https://doi.org/10.18632/aging.202740
How to Cite
Copyright: © 2021 Guo et al. This is an open access article distributed under the terms of the Creative Commons Attribution License (CC BY 3.0), which permits unrestricted use, distribution, and reproduction in any medium, provided the original author and source are credited.
Abstract
Hepatocellular carcinoma (HCC) is one of the most challenging and aggressive cancers with limited treatment options because of tumor heterogeneity. Tumor angiogenesis is a hallmark of HCC and is necessary for tumor growth and progression. DNA damage stress and its associated deoxyribonuclease1-like 3 (DNASE1L3) are involved in HCC progression. Here, we explored the influence mechanism of DNASE1L3 on tumor angiogenesis under DNA damage stress in vitro and in vivo. DNASE1L3 was found downregulated and negatively correlated with poor prognosis of resectable and unresectable HCC patients. The tissue microarray of HCC revealed the negative association between DNASE1L3 and cancer vasculature invasion. Mechanistically, DNASE1L3 was found to relieve cytoplasmic DNA accumulation under DNA damage stress in HCC cell lines, in turn cell senescence and senescence-associated secretory phenotype were arrested via the p53 and NF-κB signal pathway, and hence, tumor angiogenesis was impaired. Furthermore, we found that DNASE1L3 excised these functions by translocating to the nucleus and interacting with H2BE under DNA damage stress using co-immunoprecipitation and fluorescence resonance energy transfer assay. In conclusion, DNASE1L3 inhibits tumor angiogenesis via impairing the senescence-associated secretory phenotype in response to DNA damage stress.
Introduction
Hepatocellular carcinoma (HCC) is one of the most common digestive malignancies worldwide. Although treatments such as radical surgery, chemotherapy, radiotherapy and target therapy are of value in the management of these tumors, the prognosis of patients diagnosed with HCC remains grave. Thus, it is still a major risk factor threatening human health [1–5]. Multiple factors have been confirmed in the etiology of HCC, including hepatitis B or C virus (HBV or HCV) infections, obesity, alcohol consumption and dietary pollution [6]. These factors are also associated with chronic liver damage and inflammation, which can promote DNA damage and chromosome aberrations, as well as trigger a series of signaling pathways. One major downstream signaling route is via the DNA damage response (DDR) pathway, which is involved in DNA repair regulation and cell cycle arrest, eventually leading to cell death or senescence [7]. Meanwhile, DDR aberrations can destroy genomic integrity, trigger liver cancer pathogenesis, and promote the development of advanced HCC [8]. Therefore, a better understanding of the DDR pathway would help in developing strategies to treat or prevent HCC.
One of the outcomes of activating the DDR is the induction of cellular senescence [7]. Senescence is a process that limits the proliferation of damaged or aging cells in response to multiple types of stress, including DNA damage, telomere shortening and oncogene activation. It is involved in different biological processes, such as carcinogenesis, aging, wound healing, tissue repair and embryogenesis [9]. DNA double-strand breaks, loss of the nuclear lamina protein Lamin B followed by internal and external stresses [10] leads to the appearance of chromatin fragments in the cytoplasm, which eventually activates the cytosolic DNA sensing machine to affect cellular senescence phenotype [11]. During the oncogenesis and development of HCC, cellular senescence acts as a double-edged sword [12]. It prevents the proliferation of damaged cells, thereby preventing tumors from occurring, and also affects the tumor microenvironment by secreting chemokines, proteases and pro-inflammatory cytokines, which are called SASP [8]. DDR defects give rise to genomic instabilities that enhance cancer occurrence and progression through mutation accumulation, unbalancing cellular senescence and apoptosis by inhibiting the cytoplasmic DNA sensing signal pathway. In addition, these defects exhibit targetable vulnerabilities that are relatively specific to cancer cells. For example, DDR inhibitors or regulators can benefit clinical outcome of multiple cancers [13].
DNASE1L3 is a secreted DNase homologous to DNASE1, it is capable of both single- and double-stranded DNA cleavage [14]. It has a unique capacity for digesting membrane-encapsulated DNA, and has a preferential capacity to digest DNA within nucleosomes during apoptosis and necrosis [15]. In combination with DNASE1, it plays a key role in the degradation of neutrophil extracellular traps and cfDNA which in turn reduce organ damage following inflammation [16]. However, differing from its other homologs (DNASE1, DNASE1L1, DNASE1L2), DNASE1L3 contains two functional nuclear localization signals (NLSs) in the mature protein that allows it to shuttle into the nucleus [17]. Thus, whether DNASE1L3 participates in the accumulation of cytoplasmic DNA which in turn affects the progression of HCC via regulating the tumor microenvironments was elucidated.
In this study, we found that downregulated DNASE1L3 expression correlates with poor prognosis of HCC patients. Up-regulated expression of DNASE1L3 relieves cytoplasmic DNA accumulation under DDR activation, in turn cell senescence and SASP were arrested, tumor angiogenesis was impaired. We also found that DNASE1L3 excises these functions through interacting with H2BE. These results indicate DNASE1L3 is a potential biomarker for predicting the prognosis of HCC and identify DNASE1L3 as a regulator of tumor microenvironment via impairing the senescence-associated secretory phenotype in response to stress.
Results
Discussion
Our findings from the present study fill some gaps between the poor prognosis of HCC and the low expression of DNASE1L3. Our data indicates that DNASE1L3 excises the function in dealing with the accumulated cytoplasmic DNA of nuclear origin provoked by DNA damage. This event results in the relief of DNA damage response, in turn down regulates the occurrence of cellular senescence which affects the tumor angiogenesis through senescence-associated secretions into the microenvironment (see model in Figure 8).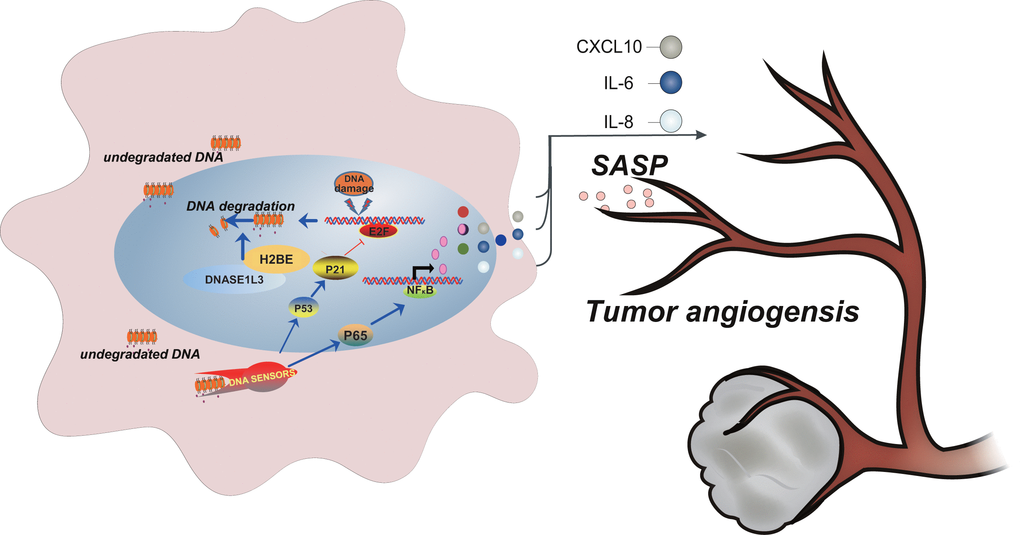 Figure 8. Model depicting DNASE1L3 regulation of tumor angiogenesis by controlling the senescence-associated secretory phenotype in response to stress.

DNASE1L3 is distributed in the endoplasmic reticulum, cytosol, nucleus and extracellular space [16, 27]. It translocates to the nucleus upon cleavage of its endoplasmic reticulum-targeting motif during apoptosis [28, 29]. In our experiments, DNASE1L3 translocates from the cytoplasm to the nucleus in response to UV or H2O2 induced DNA damage. As an intracellular endonuclease, it has been investigated that DNASE1L3 associates with DFFB to digest DNA and fragment it into internucleosomal repeats of 153-200 bp [18, 30–32]. The DFFB is involved in the initial cleavage of DNA into 50kb fragments, but not sufficient for acetaminophen-induced internucleosomal DNA fragmentation [32]. Cells deficient in DFF45 lack the ability to generate such DNA fragments in response to various inducers of apoptosis, but have the capacity of resist apoptotic inducers [25]. DNASE1L3 mediates acetaminophen-induced internucleosomal DNA fragmentation [33]. In this study, overexpression of DNASE1L3 enhanced the apoptosis of DNA damaged HCC cell lines. This indicates that, defects in DNASE1L3 enhances the accumulation of cytoplasmic DNA and triggers the activation of DNA sensors. However, it maintains the homeostasis through anti-apoptosis.
Evolving eukaryotes developed the ability to maintain homeostasis not just in cells but in the whole organisms too. Homeostatic maintenance leads to a powerful rewiring of adaptive stress responses [34, 35]. Responses to the disturbance of intracellular or extracellular microenvironments, the cells and the body attempt to restore the physiological functions. However, if stress adaptation fails, cells exhibit one of two ultimate destinies: i. cell senescence, corresponding to their irreversible proliferation and inactivation [35, 36]; or ii. regulation of cell death (RCD), through one of a variety of non-exclusive and highly interrelated pathways [35, 37].
When cellular fitness is irreparably damaged, the dynamic balance between senescence and RCD are used to maintain body homeostasis. However, the outcomes vary and are determined by signal characteristics, spatiotemporal parameters, and cellular capacity to respond [9, 38]. In cases of minor disruptions of cellular processes, brought about by low levels of stress, damage is reversed and the structural and functional integrity of cells restored. Alternatively, damage can be irreversible, causing tissue degeneration and cell death. Between both situations, cells acquire a non-proliferative but viable state, distinct from G0 quiescence and terminal differentiation, with permanent structural and functional changes, termed cellular senescence [9]. But one thing still needs to be pointed out, either the cells undergoing successful (recovery of cellular homeostasis) or unsuccessful (senescence or RCD) responses to stress, they communicate their status to the microenvironment, ultimately affecting organismal adaptation [34].
In our research, cancer cells defected of DNASE1L3 tend to avoid cell death by surpassing apoptotic processes. In contrast, overexpression of DNASE1L3 provokes more cellular apoptosis than senescence during DNA damage. This must be relevant to its function in processing DNA fragmentation from ~50kb into mononucleosome of 153 bp [18]. Low expression of DNASE1L3 decrease the degradation efficiency of unsuccessful repaired DNA to some extent. Thus, in DNASE1L3 relieves the activation of p53-p21 signal pathway and NF-κB pathway via repressing cytoplasmic DNA accumulation during DNA damage. Meanwhile, the DNASE1L3-dependent DNA fragments also provoke the expression of numerous SASP factors and promote tumor angiogenesis. Interestingly, in our retrospective clinical studies of HCC, the reduced DNASE1L3 expression is associated with not only less favorable outcome after hepatectomy, but also the poor prognosis of DNA damage therapy (ischemia and hypoxia, accompanied by oxidative stress and mitochondrial dysfunction induced by TACE [39]) and anti-angiogenic therapy (Sorafenib).
In summary, this study, for the first time, confirms that DNASE1L3 affects the angiogenesis via regulating the expression of numerous SASP factors in response to stress. Mechanistically, during DNA damage, DNASE1L3 translocates to the nucleus, interacts with H2BE, participates in the degradation of unsuccessful repaired DNA, and relieves tumor cell senescence as well as the expression of SASP factors contributed to the microenvironments. Based on these findings, we propose that DNASE1L3 may act as a vital predictive biomarker for associated clinical DNA damage treatments.
Materials and Methods
DNA damage treatment and induction of senescence
For ultraviolet (UV) radiation-treatment, approximately 2 × 105 cells was cultured in each well of a 6-well plate. When DNA damage performed, the medium was taken off, cells were irradiated with UVB, 20-30 mJ/cm2. Then, incubate the cells in 2 mL of DMEM with 10%FBS for another 7 days. For oxidative stress treatment, approximately 2 × 105 cells were cultured and incubated in each well of a 6-well plate. A solution of ~150 μM hydrogen peroxide in complete cell culture was prepared by adding 75 μL of 30% hydrogen peroxide in 50 mL of complete cell culture. When DNA damage performed, the medium of the cells was aspirated and washed once with fresh PBS. Then, 2 mL of DMEM with hydrogen peroxide was added, and incubated for 3 days. The preceding step was repeat twice, and the cells were incubated for another 6 days.
SA-β-Gal staining
SA-β-Gal staining was processed with Senescence β-Galactosidase Staining Kit (Beyotime, China), following the manufacturer's recommendations. Briefly, cells with or without DNA damage treatments were cultured for 7 days. After that, the samples were fixed for 15 min followed by washing the plate or slides with PBS for 3 times. Next, the plates were rinsed with PBS, stained with β-galactosidase staining solution, incubated overnight at 37° C in a dry incubator without CO2. Then, the slides were rinsed with tap water. Finally, we analyzed the blue staining under a fluorescence microscope.
Fluorescence resonance energy transfer (FRET) assay
HepG2 cells plated on poly-l-lysine–coated glass-bottomed dishes (Beyotime) were cotransfected with reconstructed pEYFP-C1 and pECFP-N1 plasmid. The basic vectors (pEYFP-C1 and pECFP-N1) were used in the control experiments. After cultured for 96 h, they were treated with UV radiation and cultured for another 8 h. Samples were imaged using Leica TCS SP8 confocal microscope equipped with three photomultipliers (PMTs). The laser was tuned to lines 458 and 514 to excite CFP (458 nm) and YFP (514 nm). With a META spectral detector, emission profiles were generated by scanning emission spectra of H2BE-CFP and DNASE1L3-YFP across a series of wavelengths (462 to 633 nm). FRET was measured using acceptor photo-bleaching according to the method reported previously [40]. The FRET efficiency were calculated by Leica TCS SP8 software (FRETeff= (Dpost-Dpre)/Dpos).
Ethics approval and consent to participate
Ethical approval was obtained from Ethics Committee of Zhongnan Hospital of Wuhan University, and written informed consent was obtained from each patient.
Consent for publication
All authors have agreed to publish this manuscript.
Availability of data and materials
The datasets used and analysed during the current study are available from the corresponding author on reasonable request.
Abbreviations
HCC: Hepatocellular carcinoma; DNASE1L3: deoxyribonuclease1-like 3; HBV: hepatitis B virus; HCV: hepatitis C virus; DDR: DNA damage response; NLS: nuclear localization signal; AWERB: Animal Welfare and Ethical Review Body; IHC: immunohistochemistry; UV: ultraviolet; EdU: 5-Ethynyl-2′-deoxyuridine; FRET: Fluorescence resonance energy transfer; TCGA: The Cancer Genome Atlas; qPCR: quantitative real-time PCR; DDF: DNA damage foci; RCD: regulation of cell death.
Author Contributions
Quanyan Liu and Zhisu Liu were the principal investigators for the study. Deliang Guo and Dong Ma conceived the study and carried out the major part of the project. Deliang Guo also performed figure editing according to the journal's request. Jianwei Lan participated in this project and collected and analyzed the data. Deliang Guo and Pengpeng Liu wrote the manuscript, collected clinical and experimental data and made significant improvement to the preliminary data. Quanyan Liu and Zhisu Liu provided the funding and contributed to critical review of the manuscript. The authors read and approved the final manuscript.
Acknowledgments
We acknowledge Ying Zhou (Medical Research Center for Structural Biology of Wuhan University) for assistance in conducting the experiments on the microscopy images.
Conflicts of Interest
All the authors declared no conflicts of interest.
Funding
This work was supported by grants from the National Natural Science Foundation of China (no. 81872029 and no. 81772926).
Editorial Note
&
This corresponding author has a verified history of publications using a personal email address for correspondence
References