Expression of Concern
This article is currently under investigation. We strongly recommend that this article is not cited until the investigation is completed.
DNMT3B decreases extracellular matrix degradation and alleviates intervertebral disc degeneration through TRPA1 methylation to inhibit the COX2/YAP axis
1 Department of Orthopedics, Lanzhou University Second Hospital, Lanzhou 730030, P.R. China
Received: October 1, 2020

     

Accepted: February 8, 2021

     

Published: August 24, 2021

     
https://doi.org/10.18632/aging.203410
How to Cite
Copyright: © 2021 Luo et al. This is an open access article distributed under the terms of the Creative Commons Attribution License (CC BY 3.0), which permits unrestricted use, distribution, and reproduction in any medium, provided the original author and source are credited.
Abstract
Intervertebral disc degeneration (IVDD) is a main cause of low back pain that is associated with extracellular matrix (ECM) degradation and inflammation. This study aims to investigate the role of DNMT3B and its regulatory mechanisms in IVDD. IVDD rat models were constructed followed by transfections with oe-DNMT3B or oe-YAP in order to explore the role of DNMT3B in the development of IVDD. After that transfection, nucleus pulposus (NP) cells were isolated and transfected with oe-DNMT3B, oe-TRPA1, si-YAP, oe-YAP or oe-COX2 in order to investigate the functions of DNMT3B in NP cells. DNMT3B was poorly expressed in IVDD tissues and NP cells whereas TRPA1, COX2, and YAP were highly expressed. The proliferation or apoptosis of NP cells was detected through CCK-8 assay or flow cytometry, respectively. Overexpression of DNMT3B promoted the proliferation of NP cells, inhibited their apoptosis, as well as increasing the expression of collagen II and aggrecan and decreasing expression of MMP3 and MMP9. Besides, DNMT3B suppressed inflammation and alleviated IVDD. Mechanistically, DNMT3B modified the TRPA1 promoter by methylation to inhibit the expression of COX2. Overexpression of COX2 promoted the apoptosis of NP cells and decreased the expression of YAP, which was reversed by upregulating DNMT3B. DNMT3B may promote the proliferation of NP cells and prevent their ECM degradation through the TRPA1/COX2/YAP axis, thereby alleviating IVDD in rats.
Introduction
Human intervertebral disc degeneration (IVDD) is a multifactorial process that is caused by both genetic factors and mechanical stress [1]. IVDD is asymptomatic in most cases, and is often correlated with sciatica, spondylolisthesis, disc herniation, and degenerative scoliosis [2]. Currently, clinical interventions for IVDD mainly include conservative medical treatment and surgery, but these treatments only provide temporary relief of painful symptoms [3]. Nucleus pulposus (NP) cells play critical roles in generating aggrecan, type II collagen, and other components of the extracellular matrix (ECM), thereby exerting its important effects on maintaining IVD integrity [4]. During IVDD, pro-inflammatory cytokines such as TNF-α and IL-1β can accelerate NP cell degeneration by promoting the release of matrix metalloproteinases (MMPs) and inflammatory cytokines [5, 6]. Therefore, ECM degradation and inflammation in NP cells have been shown to accelerate the progression of IVDD. However, the underlying factors or mechanisms involved in this process are not yet fully understood.
DNA methylation is a form of epigenetic modification that plays a crucial role in biological processes. Its multiple functions include; repression of transposons and genes or gene activation, which directly determines disease development [7]. DNA Methyltransferase 3 Beta (DNMT3B) is a major methyltransferase that is known to methylate centromeric, pericentromeric and subtelomeric repeats, while DNMT3B protein plays different roles in diseases that are context-dependent [8]. A recent report indicated that a DNMT3B inhibitor increases the expression of transient receptor potential ankyrin 1 (TRPA1) during erythroid and megakaryocyte differentiation [9]. Additionally, TRPA1 is a cation channel located on the plasma membrane of many types of cells, and is a potential sensor for inflammatory pain [10]. TRPA1 is highly expressed in the intestinal mucosa and exerts anti-inflammatory and protective effects [11]. Moreover, TRPA1 promotes the development of degenerative cartilage changes and joint pain in osteoarthritis, when the expression of a potential mediator, cyclooxygenase 2 (COX-2), gets inhibited [12]. COX-2, a key enzyme in fatty acid metabolism, is induced by pro-inflammatory cytokines and is also a key link in triggering subsequent inflammatory responses [13]. Interestingly, hypoxia increases the expression of COX2 in mesenchymal stem cells, which then activates Yes-associated protein (YAP) in hepatoma carcinoma cells and leads to increased cell proliferation [14]. The dysregulation of YAP is involved in IVDD and cell senescence [15]. Based on the aforementioned evidence, we speculated that DNMT3B might regulate TRPA1/COX2/YAP axis to alleviate IVDD.
Results
Discussion
IVDD, the main cause of low back pain that may lead to disability, is increasingly becoming the focus of medical attention [22]. Although IVDD is mainly attributed to the decrease in the number of NP cells, current treatment strategies (surgery and conservative treatments) still cannot increase the number NP cells or reverse the pathology [23]. Therefore, it is imperative to explore the molecular mechanism underlying IVDD. In this study, we clarified that inducing the expression of DNMT3B increased proliferation and reduced apoptosis of NP cells, ECM degradation, and inflammation. Mechanistically, DNMT3B methylated TRPA1, and TRPA1/COX2/YAP mediated the protective effect of DNMT3B on NP cells. In IVDD rat models, we further confirmed that the overexpression of DNMT3B could alleviate the number and structure of NP cells. Hence, our findings indicated that DNMT3B/TRPA1/COX2/YAP may be a new therapeutic target for IVDD (Figure 9).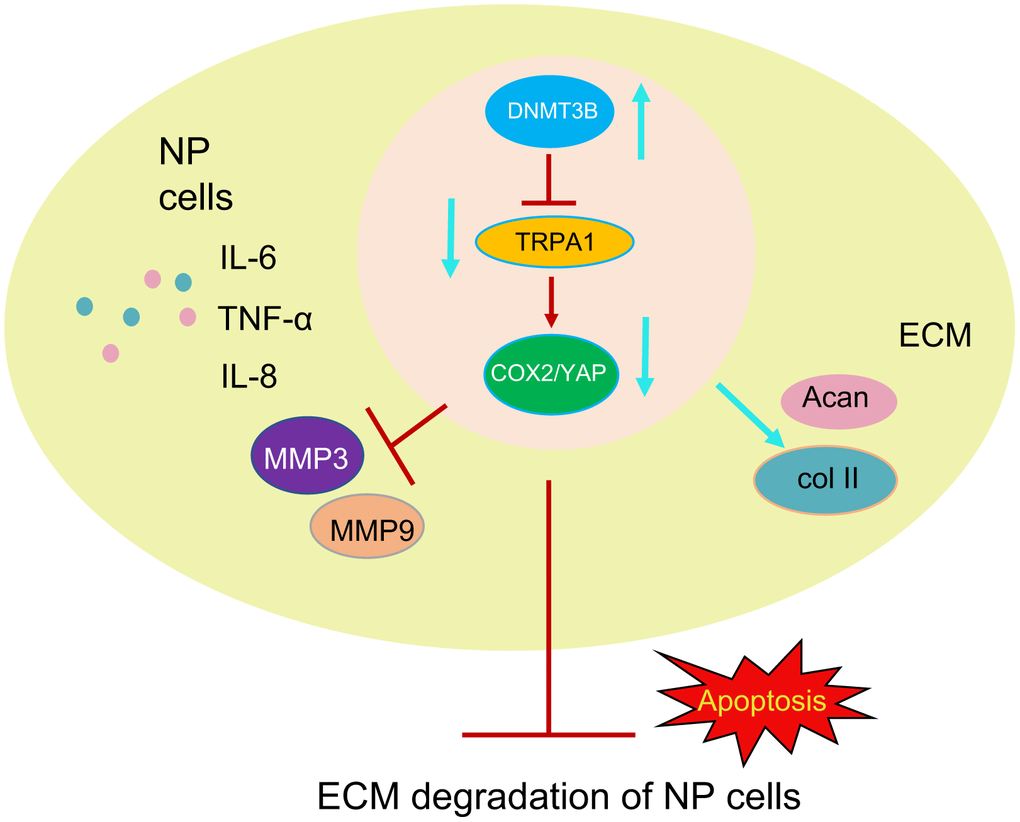 Figure 9. Diagram illustrating the pathway of our proposed hypothetical mechanism. DNMT3B reduces the levels of MMP3 and MMP9 and increases the levels of collagen II and aggrecan through the TRPA1-COX2-YAP axis. DNMT3B then reduces the ECM degradation of NP cells and the inflammatory response, thereby alleviating IVDD.

Because vasculature atrophies with age, the intervertebral disc itself is susceptible to degeneration [24]. The imbalance between ECM metabolism and inflammatory response in NP tissues is a key culprit in the development of IVDD [25]. The ECM of NP tissues is rich in collagen and proteoglycans [26]: Type II collagen and aggregated proteoglycans, and are involved in water uptake, nutrient diffusion, and osmoregulation in NP tissues [27]. A coordinated balance between the catabolic and anabolic aspects of the ECM gradient is essential to proper structure and function of the intervertebral disc [28]. In IVDD, imbalanced ECM metabolism presents as the loss of type II collagen and proteoglycans, altered morphology and structure of intervertebral disc, reduced water content and mechanical buffering capacity [29, 30]. Aging and degeneration lead to multiple biological changes in intervertebral disc cells, including altered cell type in the NP, elevated cell density but reduced amount of living cells [31]. More importantly, it has been demonstrated that intradiscal injection of CHOP shRNA inhibits apoptosis of intervertebral disc cells and suppresses disc degeneration [32]. In the present study, we explored the mechanisms behind these cellular phenotypic changes. It has been shown that DNMT3B enhances inflammation in alcohol-induced liver injury via TRAF2 [33]. We found that the mRNA and protein levels of DNMT3B were significantly reduced in the intervertebral disc tissues of the IVDD rats. Furthermore, we performed gain-of-function and loss-of-function tests on DNMT3B and confirmed that DNMT3B could promote the proliferation of NP cells and inhibit ECM degradation, thus decreasing expression of inflammatory cytokines TNF-α, IL-6 and IL-8 and content of MMP3 and MMP93. Pro-inflammatory cytokines play an important role in the development of IVDD by promoting ECM degradation. IL-1β and TNF-α not only act directly as injurious triggers, but also activate the expression of other potentially injurious molecules, including IL-6 and IL-8 [34]. IL-6 activates the signal transducer and activator of transcription 3 in NP cells to induce IVDD by increasing the expression of MMP [35, 36]. It seems that silencing IL-1β, TNF-α, IL-6 and IL-8, accompanied with decreased expression of MMP, could hinder the progression of IVDD, which supports the inhibitory effect of DNMT3B on the disease development.
It is well known that DNMT3B adds a methyl group at the cytosine portion of DNA to regulate gene expression [37]. Inhibition of TRPA1 expression is attenuated by DNMT3B inhibitor during erythroid and megakaryocyte differentiation [9], in which TRPA1 is involved in the regulation of the inflammatory response and ECM homeostasis in intervertebral disc [19]. Elderly mice have IVDD whose L4/L5 lumbar dorsal root ganglia exhibit an accumulation of TRPA1 channels [38]. In this study, we found enhanced methylation levels of the TRPA1 promoter upon overexpression of DNMT3B, by luciferase reporter assay. In line with previous research [19], our functional experiments indicated that TRPA1 promoted apoptosis, ECM degradation, and inflammation of NP cells. TRPA1 is known to be a non-selective cation channel, and is expressed in sensory nerves, keratinocytes, mast cells, dendritic cells, and endothelial cells where TRPA1 also acts as a receptor for injury and enhances inflammation [39]. For example, mRNA expression levels of interleukins such as IL-6 were reduced in TRPA1KO mice, suggesting that TRPA1 is a major contributor to the inflammatory process [40]. TRPA1 receptor also enhances intracellular Ca2+ concentration to promote apoptosis in oligodendrocytes [41].
As far as inflammatory responses are mediated by TRPA1, many reports have referred to the role of COX-2. TRPA1 agonists inhibit COX-2 in lung cancer cells and suppress hypoxia-induced inflammation [42]. TRPA1 mediates the anti-inflammatory effects of N-Acylethanolamine in a COX-2-dependent manner in rheumatoid arthritis [43], as inactivation of COX-2 and other mediators is associated with alleviation of IVDD [44]. In addition, through gain-of-COX2 and/or TRPA1 function, the evidence of the current study indicated that COX2 promoted apoptosis of NP cells and upregulated IL-6, TNF-α, IL-8 as well as the expression of Bax and caspase-3, which was reversed by overexpression of DNMT3B. It has been shown that YAP suppresses COX2 to induce cellular remodeling of pulmonary artery smooth muscle cells [45]. YAP1 is a member of the Hippo pathway, regulating various cellular processes, such as cell proliferation, contact inhibition, and tissue size [46, 47]. YAP1 overexpression induced degeneration and upregulated the Col-II and aggrecan expression while YAP1 inhibitor effectively impeded the development of IVDD. IL-6 enhanced the interaction of YAP1 and β-catenin and nuclear accumulation [48]. We also noted that silencing YAP1 decreased the content of inflammatory factors and ECM-related factors in NP cells and IVDD rats, but the overexpression of COX2 reversed these alterations, findings that are consistent with previous studies.
In conclusion, this study demonstrated that DNMT3B impeded the development of IVDD through TRPA1/COX2/YAP1 axis. We believe that the newly discovered DNMT3B/TRPA1/COX2/YAP1 axis may provide more insight into the understanding of the potential molecular mechanisms and provide an attractive target for new therapies of IVDD.
Materials and Methods
Ethical statement
All animal experiments were performed with the approval of the Animal Ethics Committee of Lanzhou University Second Hospital. The experiments involving animals were conducted in accordance to the recommendations in the Guide for the Care and Use of Laboratory Animals of the National Institutes of Health. All experiments were approved by the ethics committee of Lanzhou University Second Hospital.
IVDD rat model construction
A total of 60 adult male Speaque Dawley (SD) rats (aged two months and weighing 200-250 grams), purchased from Experimental Animal Center of Lanzhou University Second Hospital [authorization number: SCXKI (Hu) 2017-0005; Lanzhou, China], were raised under a specific pathogen-free environment at 22–24° C with 50–60% humidity and a 12 hour light/dark cycle. After 2 weeks of adaptation, fifty rats were selected to construct IVDD models [49]. Briefly, rats were anesthetized using 2% (w/v) pentobarbital sodium (40 mg/kg, Sigma-Aldrich, CA, USA), and midline incisions were made in the rats' posterior cervical vertebrae by incising skin and subcutaneous tissues. The paravertebral muscles were exposed and each layer of muscle was completely isolated. The supraspinous and interspinous ligaments of rat cervical alignment (C2-C7) were removed, followed by the suturing of subcutaneous fascia and skin in a specific way to allow suture lines to fall off naturally. The other ten rats were subjected to sham surgery (sham-operated rats) only with the incision of the posterior cervical spine and closure. All rats were monitored during recovery. Rats were intraperitoneally injected with penicillin at 80,000 U/day after three days of surgery. After 4 weeks, rats were euthanized with excess 4% pentobarbital sodium, and C4-C6 of rats was collected under a microscope for subsequent experiments.
Lentivirus injection in IVDD rat models
The lentiviral transfection complex was diluted according to the instructions of the transfection reagent (En-transterTM-in vivo). Seven days after IVDD surgery, 40 rats were injected with 3 μL of phosphate buffer saline (PBS) containing 0.5 nM lentivirus loaded with overexpressed DNMT3B (oe-DNMT3B) + oe-negative control (NC), oe-NC + oe-YAP, oe-DNMT3B + oe-YAP, and oe-NC respectively (n = 10) for 3 consecutive days, while 10 rats were injected with the same volume of control lentiviruses. All plasmids were synthesized by Shanghai Genechem Co., Ltd., (Shanghai, China). Four weeks after IVDD surgery, the rats were euthanized with excess 4% pentobarbital sodium, and C4-C6 of IVDD was collected under the guidance of a microscope for subsequent experiments.
Isolation, culture, and identification of rat NP cells
The NP tissues were isolated from the rats' intervertebral disc tissues, washed and cut into pieces under sterile conditions. The NP tissues were left to digest with 0.25% trypsin at 37° C for 10 minutes, centrifuged for 5 minutes, treated with 0.2% collagenase II and centrifuged again for 5 minutes. After the separation of NP cells, they were cultured in Dulbecco's modified eagle medium (DMEM)/F12 medium containing 10% FBS (Gibco), 100 ug/ml streptomycin, and 100 U/ml penicillin in an incubator at 37° C and 5% CO2. The medium was changed every three days. The NP cells were collected and sub-cultured in a culture dish after reaching 80–90% confluence, and the NP cells at passage 2 were used for subsequent assays. The expression of HIF-1α, HIF-1β, collagen I and collagen II in NP cells was identified by immunocytochemistry. The cells were fixed in 4% formaldehyde, treated with 0.5% Triton X-100 for 15 minutes, and incubated with 3% H2O2 for 15 minutes at room temperature. Cells were then left to block in 5% goat serum at 37° C for 30 minutes, and incubated with rabbit anti-HIF-1α (ab51608, 1:2000, Abcam, Cambridge, UK), mouse anti-HIF-1β (ab2771, 1:500, Abcam, Cambridge, UK), mouse anti-type I collagen (ab90395, 1:1000, Abcam, Cambridge, UK), and mouse anti-type II collagen (ab185430, 1:1000, Abcam, Cambridge, UK) at 4° C overnight. Afterwards, the cells were incubated with goat anti-rabbit and goat anti-mouse secondary antibodies labeled with biotin for 30 minutes at room temperature, developed with diaminobenzidine, and counterstained with hematoxylin. Subsequently, the cells were sealed with neutral gel and observed under a microscope.
NP cell transfection
One day before transfection, NP cells in the logarithmic growth phase were seeded into a six-well plate with a density of 4×105 cells/well. NP cells were transfected with oe-DNMT3B, oe-TRPA1, si-YAP (si-YAP-1, si-YAP-2, si-YAP-3), oe-YAP, oe-COX2 and the corresponding negative controls (oe-NC, si-NC) using lipofectamine 2000 (11668-019, Invitrogen, NY, CA, USA) after reaching approximately 80%-90% confluence. The aforementioned plasmids, vector construction, sequencing identification, and virus packaging were constructed by Shanghai Genechem Co., Ltd., (Shanghai, China). NP cells were collected for subsequent studies after being incubated for 48 hours.
Histological analysis
Four weeks after the operation, rats were euthanized by the intraperitoneal injection of 4% pentobarbital, and the rats' C4-C6 tissue samples were subsequently harvested. The samples were later were decalcified, fixed in formaldehyde, dehydrated, embedded in paraffin, cut into 5 um slices, and stained with Safranin O (SO) and Hematoxylin and Eosin (H&E). The morphology of the tissues was double-blindly examined under a microscope (Olympus Corporation, Tokyo, Japan) by other experienced histology researchers and was evaluated using a grading scale. Histological scores of normal intervertebral disc, moderately degenerated disc and severely degenerated disc were 5, 6–11, and 12–14 [50], respectively.
Cell counting kit-8 (CCK-8) assay
Pre-heated 150 μl α-MEM medium containing 10% CCK-8 solution (96992, Sigma, USA) was added to 96-well plates, with a well as the blank control being added with only a mixture of α-MEM and CCK-8. The plate was incubated at 37° C for 2 hours for detecting the optical density (OD) value (at 450 nm) after 24 hours, 48 hours, and 72 hours. The experiment was repeated three times and the average value was calculated.
Flow cytometry
Forty-eight hours after transfection, the cells were digested with 0.25% trypsin (without EDTA) (YB15050057, YBio Co., Ltd., Shanghai, China). The Annexin-V-FITC, PI, and HEPES buffer solutions were mixed into Annexin-V-FITC/PI staining solution at a ratio of 1:2:50 according to the instructions of Annexin-V-FITC Apoptosis Detection Kit (K201-100, Biovision, CA, USA). Cells were resuspended in staining solution at 1×106/100 μL, incubated at room temperature for 15 minutes, and added with 1 mL of HEPES buffer solution (PB180325, Procell, Wuhan, China). The FITC and PI fluorescence were detected for the evaluation of cell apoptosis and ModFit LT software (Verity software House) was used for analysis. FITC and PI fluorescence was detected by 525 and 620 nm band-pass filters at a wavelength of 488 nm.
Enzyme-linked immunosorbent assay (ELISA)
After the tissues and cells were lysed by cell lysate, the homogenous supernatant of intervertebral disc tissues was collected following centrifugation and the cell culture supernatant was subsequently collected. The protein concentration was measured using the BioRad Bradford protein assay kit. The ELISA kit (WuHan AmyJet Scientific Inc., Wuhan, Hubei, China) was used for the determination of interleukin-6 (IL-6, No. K4143-100) and tumor necrosis factor alpha (TNF-α) (No. K1051-100), IL-8 (No. K4169-100) in intervertebral disc tissues and NP cells. According to the instructions, the sample was packaged, fixed, blocked, and subjected to protein binding and streptomycin treatment. OD value was measured at the wavelength of 450 nm with a microplate reader. The sample concentration was calculated by drawing a standard curve.
Immunofluorescence staining
The NP cells were washed twice with PBS, left to fix with 3.5% formaldehyde at 37° C for 30 minutes, permeabilized with 0.1% Triton X-100 in PBS for 20 minutes, and blocked with 3% bovine serum albumin (BSA) and 0.05% Tween 20 in PBS for 30 minutes at room temperature. After cells were left to block, they were incubated at 4° C overnight with rabbit polyclonal anti-collagen II (4 μg/mL, ab34712, 1:1000, Abcam, Cambridge, UK), and incubated with goat anti-rabbit secondary antibodies (2 μg/mL, ab150077, 1:1000, Abcam, Cambridge, UK) for 1 hour at room temperature. The nuclei were stained with 4',6-diamidino-2-phenylindole (DAPI) and the samples were visualized by a confocal laser scanning microscope (Leica, Wetzlar, Germany).
Methylation-specific PCR (MSP)
Genomic DNA was extracted from tissues and cells using a genomic DNA purification kit (Qiagen, Hilden, Germany). Bisulfite modification of DNA was performed by using the Intergen CpGenome DNA modification kit (Intergen, NY, USA) according to the instructions provided. DNA was evaluated by electrophoresis in a 3% Tris-borate-EDTA agarose gel and the gel imaging system to analyze the PCR products. TRPA1 methylation specific primers were designed through the Methprimer online program website (http://www.urogene.org/cgi-bin/methprimer/methprimer.cgi), M (F: 5'-TTGTAGTTGTAGGATAGCGGGAC-3', R: 5'-TTCTAAAAAAAATTCTCAAACCCG-3'), U (F: 5'-GTTGTAGTTGTAGGATAGTGGGATG-3', R: 5'-ACTTCTAAAAAAAATTCTCAAACCCA-3').
Dual luciferase reporter gene assay
The promoter sequence of TRPA1 was retrieved from the National Center for Biotechnology Information (NCBI) database (http://www.ncbi.nlm.nih.gov/gene) (-2000 bp to 50 bp) and cloned to the PGL3-control vector to form PGL3-TRPA1-wild type (TRPA1-WT) plasmid. The sequence with a mutated binding site of DNMT3B and TRPA1 was synthesized to construct the PGL3-TRPA1-mutant plasmid (TRPA1-MUT). NP cells in the logarithmic growth phase were inoculated into a 6-well plate. The NP cells were co-treated with control + oe-NC, aza (aza: DNMT3B inhibitor) + oe-NC, control + oe-DNMT3B, aza + oe-DNMT3B, and TRPA1-WT or TRPA1-MUT after 24 hours of inoculation. After 48 hours, the dual luciferase assay kit (RG005, Beyotime Biotechnology Co., Shanghai, China) was used for the detection of luciferase activity.
Western blot
After treatments, intervertebral disc tissues and NP cells were washed with cold PBS, lysed with cooled RIPA lysis solution plus 1 mmol/L PMSF, and centrifugated. The total protein content extracted from tissues and cells was separated by 10% sodium dodecyl sulfate polyacrylamide gel electrophoresis and transferred onto a polyvinylidene fluoride membrane; the protein concentration was determined by a protein determination kit (Bio-Rad, Richmond, CA, USA). Next, the membrane was immersed in TBST (25 mmol/L Tris, pH 7.5, 150 mmol/L NaCl and 0.1% Tween 20) containing 5% bovine serum albumin (BSA) for 1 hour. The membrane was incubated overnight at 4° C with primary rabbit antibodies against DNMT3B (ab239893, 1:1000, Abcam, Cambridge, UK), TRPA1 (ab58844, 1:500, Abcam, Cambridge, UK), COX2 (ab15191, 1:1000, Abcam, Cambridge, UK), YAP (ab205270, 1:1000, Abcam, Cambridge, UK), aggrecan (ab186414, 1:1000, Abcam, Cambridge, UK), collagen II (ab34712, 1:1500, Abcam, Cambridge, UK), MMP3 (ab52915, 1:2000, Abcam, Cambridge, UK), MMP9 (ab38898, 1:1500, Abcam, Cambridge, UK), Bcl2 (ab182858, 1:1500, Abcam, Cambridge, UK), caspase-3 (ab13847, 1:1500, Abcam, Cambridge, UK), Bax (ab32503, 1:1500, Abcam, Cambridge, UK), and mouse anti-GAPDH (ab205719, 1:1000, Abcam, Cambridge, UK). The membrane was then washed 3 times (5 minutes each time) by TBST, and incubated with horseradish peroxidase-labeled secondary antibodies goat anti-rabbit IgG (ab205718, 1:20000, Abcam, Cambridge, UK) and goat anti-mouse IgG (ab150117, 1:20000, Abcam, Cambridge, UK) for 1 hour. Finally, the blots were developed with enhanced chemiluminescence (Thermo Fisher Scientific, MA, USA), imaged by a Chemi-Scope mini-imaging system (Clinx Science Instruments Co., Ltd., Shanghai, China), and semi-quantified using ImageJ software (National Institutes of Health, Bethesda, MD, USA).
Reverse transcription quantitative polymerase chain reaction (RT-qPCR)
Intervertebral disc tissues and NP cells were incubated with Trizol Reagent (15596026, Invitrogen, Car, USA), and centrifuged at 4° C. The supernatant was centrifuged with chloroform to obtain total RNA. PrimeScriptTM One Step RT-PCR Kit (Takara, Shiga, Japan) was used for the reverse transcription of mRNA, with the reaction conditions set at 37° C for 15 minutes and 85° C for 5 seconds. RNA were subjected to RT-PCR reaction in a real-time qPCR instrument (ABI7500, ABI, Foster City, CA, USA) with the reaction system formed with SYBR Premix EX Taq kit (RR420A, Takara, Shiga, Japan). The relative expression was calculated by using 2-ΔΔCt method with GAPDH as the internal reference gene. The primer sequences for RT-qPCR are listed in Table 1. The experiment was repeated three times.
Table 1. Primer sequences for RT-qPCR.
Gene
Sequences
DNMT3B
F: 5′-ACAACCATTGACTTTGCCGC -3′
R: 5′-CGTTCTCGGCTCTCCTCATC -3′
TRPA1
F: 5′-CTGTGAAGCGCTGAATGTAATG-3′
R: 5′-GCTCCTTGGCTGAGAAGAAA-3′
COX2
F: 5′-ATTCTTTGCCCAGCACTTCACT-3′
R: 5′-CCTCTCCACCGATGACCTGATA-3′
YAP
F: 5′-ACCATAAGAACAAGACCACATCC-3′
R: 5′-TTCAATCGCAGCCTCTCCTT-3′
Bax
F: 5′-TGTTACAGGGTTTCATCCAG-3′
R: 5′-ATCCTCTGCAGCTCCATATT-3′
Bcl2
F: 5′-GATTGTGGCCTTCTTTGAGT-3′
R: 5′-ATAGTTCCACAAAGGCATCC-3′
Caspase-3
F: 5′-GAAAGCCGAAACTCTTCATCA-3′
R: 5′-ATAGTAACCGGGTGCGGTAT-3′
collagen II
F: 5′-CTTTCCTCCGTCTACTGTCCA-3′
R: 5′-GCCCTCATCTCCACATCATT-3′
aggrecan
F: 5′-GGGACCTGTGTGAGATCGAC -3′
R: 5′-GGTCGGGAAAGTGGCGATAA -3′
MMP3
F: 5′-GGACCAGGGATTAATGGAGATG-3′
R: 5′-TGAGCAGCAACCAGGAATAG-3′
MMP9
F: 5′-AGCCGGGAACGTATCTGGA-3′
R: 5′-TGGAAACTCACACGCCAGAAG-3′
GAPDH
F: 5′-ATGCCATCACTGCCACTCA-3′
R: 5′-CCTGCTTCACCACCTTCTTG-3′
Note: F: forward; R: reverse.
Statistical analysis
All measurement data were processed using the SPSS 21.0 statistical software (SPSS, Chicago, IL, USA) and expressed as the mean ± standard deviation. Data between the two groups were analyzed by an independent sample t-test. Data between multiple groups were analyzed by one-way analysis of variance (ANOVA). Data between groups at different time points were analyzed by repeated measurements of ANOVA with Tukey's post-hoc test. p < 0.05 refers to a statistically significant difference.
Author Contributions
ZQL, YCM and TND designed the study. BM, HWL and JDA collated the data, carried out data analyses and produced the initial draft of the manuscript. ZQL and HHZ conducted experiments. YGW and HHZ contributed to drafting the manuscript. All authors have read and approved the final submitted manuscript.
Acknowledgments
We would like to give our sincere appreciation to the reviewers for their helpful comments on this article.
Conflicts of Interest
The authors declare that they have no conflicts of interest.
Editorial Note
&
This corresponding author has a verified history of publications using a personal email address for correspondence
References