Patient-derived xenograft: a developing tool for screening biomarkers and potential therapeutic targets for human esophageal cancers
1 Sino-British Research Center for Molecular Oncology, National Center for the International Research in Cell and Gene Therapy, School of Basic Sciences, Academy of Medical Sciences, Zhengzhou University, Zhengzhou, Henan, P.R. China
2 The Academy of Medical Science, Precision Medicine Center of the Second Affiliated Hospital of Zhengzhou University, Zhengzhou University, Henan, P.R. China
3 Centre for Cancer Biomarkers and Biotherapeuitcs, Barts Cancer Institute, Queen Mary University of London, London, UK
4 Academy of Chinese Medicine Science, Henan University of Chinese Medicine, Zhengzhou, Henan, P.R. China
Received: September 4, 2020

     

Accepted: March 23, 2021

     

Published: April 26, 2021

     
https://doi.org/10.18632/aging.202934
How to Cite
Copyright: © 2021 Lan et al. This is an open access article distributed under the terms of the Creative Commons Attribution License (CC BY 3.0), which permits unrestricted use, distribution, and reproduction in any medium, provided the original author and source are credited.
Abstract
Esophageal cancer (EC) represents a human malignancy, diagnosed often at the advanced stage of cancer and resulting in high morbidity and mortality. The development of precision medicine allows for the identification of more personalized therapeutic strategies to improve cancer treatment. By implanting primary cancer tissues into immunodeficient mice for expansion, patient-derived xenograft (PDX) models largely maintain similar histological and genetic representations naturally found in patients' tumor cells. PDX models of EC (EC-PDX) provide fine platforms to investigate the tumor microenvironment, tumor genomic heterogeneity, and tumor response to chemoradiotherapy, which are necessary for new drug discovery to combat EC in addition to optimization of current therapeutic strategies for EC. In this review, we summarize the methods used for establishing EC-PDX models and investigate the utilities of EC-PDX in screening predictive biomarkers and potential therapeutic targets. The challenge of this promising research tool is also discussed.
Introduction
Esophageal cancer (EC) is an aggressive and invasive disease and early diagnosis is clinically challenging. It is associated with one of the highest mortality rates (500,000 per year) and incidence rates (570,000 new cases per year) [1] and the global incidence and mortality of EC are predicted to increase in the coming decades [1, 2]. The growing risk from this malignancy presents a heavy burden on health care providers in almost every population, particularly in Eastern Asia, the world leader in tobacco use, which is one of the most important risk factors for EC [2].
EC can be divided into esophageal squamous cell carcinoma (ESCC) and esophageal adenocarcinoma (EAC) based on the different cell origins. ESCC originates from squamous cells, while EAC originates predominantly from Barrett mucosa [3]. It is known that the incidences of ESCC and EAC vary geographically. ESCC is predominant in East Asia and parts of Africa and accounts for 90% of the new cases of EC every year [4]. The major causes of ESCC include smoking and excessive drinking. Other risk factors are dietary deficiencies, hot beverage intake, achalasia, history of head and neck squamous cell cancer, and radiation therapy [5, 6]. EAC is found more frequently in Europe and North America and is related to chronic inflammation, intestinal metaplasia (Barrett's esophagus) in the distal esophageal epithelium and obesity [7–9]. Notably, compared to ESCC, the incidence of EAC has increased persistently in some developed countries in recent years [10]. Although age has not been listed as a risk factor of EC, age may affect patient survival and treatment methods [11, 12]. One study demonstrated that overall survival of patients ≥70 years old was shorter, while length of stay was longer than those <70 years old [13]. In another study, patients ≥70 years old were less likely to be subjected to surgery or/and radiotherapy [14]. Given the great challenge of this disease, it is urgently needed to develop more powerful disease models for a better understanding of the pathogenesis of esophageal cancer and developing new approaches to esophageal cancer prevention, early diagnosis, and treatment.
Patient-derived xenograft (PDX) models are established by the engrafting patients' tumor tissues into immunodeficient mice to obtain a framework that faithfully simulates human cancer biology in vivo. Particularly, PDX models largely recapitulate the genetic, phenotypic, and functional characteristics of the primary tumors after transplantation. Here we summarize the methods of PDX model construction for EC and elucidate the practical value of the PDX model in EC treatment, including its use in screening predictive markers and therapeutic targets. PDX models are of great value in understanding cancer progression of EC and developing precision medicine methods to combat EC.
Methods for establishing EC PDX models and characteristics of EC-PDX
Application of PDX models in screening predictive biomarkers for chemoradiotherapy
Although multidisciplinary approaches have been developed for the treatment of locally advanced EC, only a small percentage (less than 40%) of patients respond well to these treatments [47]. Many nonresponsive patients may suffer severe adverse effects and even lose the option of surgical resection [48]. Therefore, predictive biomarkers are critical in determining whether chemoradiotherapy solutions are suitable and effective in preventing EC progression in patients. Identification of predictive biomarkers would facilitate accurate risk stratification of patients for therapy and avoid potential morbidity due to ineffective treatment. The employment of PDXs in screening biomarkers has been carried out by many researchers. For instance, CAFs derived from EAC PDXs were shown to play important roles in inducing resistance to chemoradiotherapy [41]. Interleukin-6 (IL-6) produced from/by CAFs drives EMT and enhances cell migration and survival in EAC [41]. Therefore, IL-6 expression from CAFs may provide value in prediction of patient resistance to chemotherapy and radiotherapy [41]. TP53-induced glycolysis and apoptosis regulator (TIGAR) is a downstream regulator of p53 and highly expressed in many hematologic and solid tumors, including leukemia, breast cancer, and EC [49, 50]. TIGAR remodels energy metabolism in ESCC cells and promotes cell proliferation and colony formation [51]. Compared to ESCC-PDXs with low TIGAR expression, those with TIGAR overexpression were more resistant to 5-fluorouracil/Cisplatin, whereas they were sensitized by a glutaminase inhibitor, CB-839 [51]. Therefore, TIGAR expression in EC tissues might be a predictive biomarker in guiding chemotherapeutic strategies [51]. Furthermore, NAD(P)H quinone dehydrogenase 1 (NQO1), an enzyme involved in cellular reactive oxygen species clearance [52], showed enhanced expression in ESCC cells during the treatment of a preparation of curcumin (THC) and was associated with THC resistance [53]. However, the combination of THC and NQO1 inhibitor exerted a superior effect on tumor growth than THC monotherapy in ESCC-PDX, suggesting that NQO1 expression might be a critical biomarker of THC response in ESCC patients [53].
Application of PDX models in evaluating therapeutic targets for chemotherapy
Conclusions
PDX models of EC are increasingly utilized for studying tumor biology, investigating genetic heterogeneity, and screening predictive biomarkers and therapeutic targets (Table 3). Indeed, investigators have tested various drugs or radiation therapy on mice bearing PDX and screened predictive biomarkers/ therapeutic targets that may guide for EC therapy in patients (Figure 2).
Table 3. Agents and their targets tested in PDX models of esophageal cancer.
Agent
Target
Histology
Administration method
Mouse strain
Reference
Gimatecan
Topoisomerase I
ESCC
Oral gavage
NOD-SCID mice
[61]
HCPT
Topoisomerase I
ESCC
Paraneoplastic injection
SCID mice
[59]
Cetuximab
EGFR
ESCC
Intraperitoneal injection
Athymic nude mice
[36]
Theliatinib
EGFR
ESCC
Oral gavage
NOD-SCID mice
[42]
Trastuzumab
HER2
EAC
Intraperitoneal injection
NSG mice
[70]
Trastuzumab/ pertuzumab
HER2/HER3
EAC
Intraperitoneal injection
NSG mice
[160]
Afatinib
dasatinib
EGFR /Src family kinase
ESCC
Oral gavage
NOD-SCID mice
[73]
Afatinib/AMG 337
HER2/MET
EG
-
-
[74]
Lapatinib
EGFR/HER2
ESCC
Oral gavage
Athymic nude mice
[75]
APIO-EE-9
Aurora A and B
ESCC
-
SCID mice
[82]
SHR6390
CDK4/6
ESCC
Oral gavage
NOD-SCID mice
[90]
Palbociclib
CDK4/6
ESCC
Oral gavage
BALB/c nude mice
[37]
BAY1143572
CDK9
EAC
Intraperitoneal injection
Athymic nude mice
[92]
AdSOCS1
SOCS1
ESCC
Intratumoral injection
NOD-SCID
[98]
Metformin
JAK/STAT3
ESCC
-
SCID mice
[99]
Stattic
STAT3
ESCC
Intraperitoneal injection
SCID mice
[100]
Purpurogallin
MEK1/2
ESCC
Oral gavage
SCID mice
[107]
Ethyl gallate
ERK1/2
ESCC
Oral gavage
SCID mcie
[111]
Sulforaphene
MSK2
ESCC
Intraperitoneal injection
SCID mice
[114]
Gossypetin
MKK3/6
ESCC
Oral gavage
SCID mice
[115]
Anti-Glypican-1 mAb
Glypican-1
ESCC
Intraperitoneal injection
NOG/SCID mice
[119]
5E1
LDE225
SHH
SMO
EAC
Intraperitoneal injection
Oral gavage
NOD-SCID/NSG mice
[124]
CYH33
PI3Kα
ESCC
Oral gavage
BALB/c nude mice
[132]
Oridonin
Akt
ESCC
Oral gavage
SCID mice
[133]
Xanthohumol
Akt
ESCC
Oral gavage
SCID mice
[134]
Scutellarin
Akt1/2
ESCC
Oral gavage
SCID mice
[135]
DC101
VEGFR2
EAC
Intraperitoneal injection
Athymic nude mice
[144]
Ganetespib
HSP90
ESCC
Intraperitoneal injection
NSG mice
[148]
DAPT
Notch signaling
EAC
Intraperitoneal injection
NSG
[152]
PPMP
Tubulin
ESCC
Intraperitoneal injection
SCID mice
[156]
Antisense oligonucleotides
LncRNA AGPG
ESCC
Intratumoral injection
Athymic nude mice
[159]
HCPT: (S)-10-Hydroxycamptothecin; EGFR: epidermal growth factor receptor; HER2: erb-b2 receptor tyrosine kinase 2; HER3: erb-b2 receptor tyrosine kinase 3; MET: MET proto-oncogene, receptor tyrosine kinase; CDK4/6/9:cyclin dependent kinase 4/6/9; SOCS1:suppressor of cytokine signaling 1; JAK: Janus kinase; STAT3:signal transducer and activator of transcription 3; MEK1/2:mitogen-activated protein kinase kinase 1/2; ERK1/2: extracellular signal-regulated kinase 1/2; MSK2:ribosomal protein S6 kinase A4; MKK3/6:mitogen-activated protein kinase kinase 3/6; SHH: sonic hedgehog; SMO: smoothened, frizzled class receptor; PI3Kα:phosphatidylinositol-4,5-bisphosphate 3-kinase catalytic subunit alpha; Akt: serine/threonine kinase 1; VEGFR2: vascular endothelial growth factor receptor 2; HSP90: heat shock protein 90; EAC: esophageal adenocarcinoma; ESCC: esophageal squamous cell carcinoma; EG: esophagogastric cancer; SCID: C.B17-Prkdcscid; NOD-SCID: NOD.C.B17-Prkdcscid; NOG/SCID: NODShi.Cg-Prkdcscid Il2rgtm1Sug; NSG: NOD.Cg-PrkdcscidIl2rgtm1Wjl.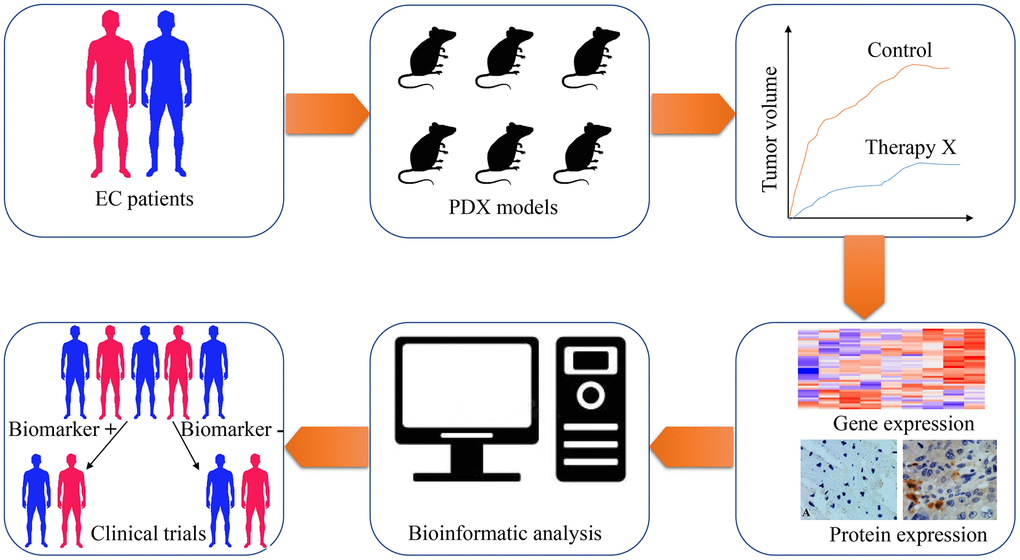 Figure 2. The application of patient-derived xenograft (PDX) in screening predictive biomarkers and therapeutic targets for esophageal cancer therapy. Esophageal cancer tissues are obtained from patients and implanted into immunodeficient mice for PDX models establishment. With the PDX models, the treatment response of chemotherapeutic drugs, radiotherapeutic methods or targeted drugs are tested on these tumor xenografts. Subsequently, genome-wide sequencing techniques and expressional analysis are carried out to screen genes with differential expression, which are related to various therapeutic methods. Through bioinformatic analysis, potential biomarkers are selected from differentially expressed genes. Finally, clinical trials are designed and performed to validate the feasibility of these biomarkers.

However, there are still several problems that need to be solved in the establishment and usage of EC-PDX:
The engraftment rates of EC-PDX remain relatively low with the current methods, and only a minority of tumor tissues derived from patients can be successfully engrafted. As a result, there is a high cost in establishing successful PDX models. To solve this issue, novel immunodeficient animals are needed, such as gene-modified rats and hamsters [161–163];

Although subcutaneous engraftment is commonly employed by most researchers [164], subcutaneous models less accurately reflect tumor progression compared with orthotopic methods and hinder the investigation of tumor metastasis, angiogenesis and tumor microenvironment in EC. The difficulties in establishing and examining orthotopic PDX models have become the roadblocks for the popularization of this tool;

A replacement of human stromal cells by mouse stroma occurs in the initial stage of PDX establishment [20], which blocks the study of the interaction between EC cells and stromal cells due to the loss of human stromal cells in PDX;

A lack of a functional immune system also prevents the analysis of immunotherapeutic approaches to EC therapy.
Although the drawbacks exist in the current EC-PDX models, the development of novel immunodeficient animals may help accelerate their usage in a preclinical study. For instance, tumor cells in immunodeficient Syrian hamster can communicate with host fibroblasts, which may provide growth factors to keep human cancer and stromal cells survive longer [163]. Moreover, humanized animal models with reconstituted human immune cells will be more meaningful, which allow the investigation of the interaction between cancer cells and various human immune cells.
Search strategy
Searching databases include PubMed, Medline, and Web of Science by using "patient derived xenograft" and "esophagus*", or "mouse avatar", "xenograft", "primary esophageal cancer".
Author Contributions
TL, JM, and YW: manuscript concept and design. TL: manuscript writing. XX, JM, LCD, and YW: manuscript revising.
Conflicts of Interest
The authors declare that they have no conflicts of interest.
Funding
This project is supported by the National Key R&D Program of China (NO. 2016YFE0200800), Natural Science Foundation of Henan Province (No. 202300410259), Postdoctoral Research Startup Project in Henan Province (No.202001043), the Nature Sciences Foundation of China (NO. 81771776 and U1704282) and The MRC (NO. MR/M015696/1).
References