Machine-intelligence for developing a potent signature to predict ovarian response to tailor assisted reproduction technology
1 Reproductive Medical Center, Renmin Hospital of Wuhan University and Hubei Clinic Research Center for Assisted Reproductive Technology and Embryonic Development, Wuhan 430060, China
2 Department of Orthopedics, Renmin Hospital of Wuhan University, Wuhan 430060, China
* Equal contribution
Received: January 1, 2021

     

Accepted: March 14, 2021

     

Published: May 17, 2021

     
https://doi.org/10.18632/aging.203032
How to Cite
Copyright: © 2021 Yan et al. This is an open access article distributed under the terms of the Creative Commons Attribution License (CC BY 3.0), which permits unrestricted use, distribution, and reproduction in any medium, provided the original author and source are credited.
Abstract
The prediction of poor ovarian response (POR) for stratified interference is a critical clinical issue that has received an increasing amount of recent concern. Anthropogenic diagnostic modes remain too simple for the handling of actual clinical complexity. Therefore, this study conducted extensive selection using models that were derived from a variety of machine learning algorithms, including random forest (RF), decision trees, eXtreme Gradient Boosting (XGBoost), support vector machine (SVM), and artificial neural networks (ANN) for the development of two models called the COS pre-launch model (CPLM) and the hCG pre-trigger model (HPTM) to assess POR based on different requirements. The results demonstrated that CPLM constructed using ANN achieved the highest AUC result of all the algorithms in COS pre-launch (AUC=0.859, C-index=0.87, good calibration), and HPTL constructed using random forest was found to be the most effective in hCG pre-trigger (AUC=0.903, C-index=0.90, good calibration). It is notable that CPLM and HPTM exhibited better performance than common clinical characteristics (0.895 [CPLM], and 0.903 [HPTM] in comparison to 0.824 [anti-Müllerian hormone (AMH)], and 0.799 [antral follicle count (AFC)]). Furthermore, variable importance figure elucidated the values of AMH, AFC, and E2 level and follicle number on hCG day, which provides important theoretical guidance and experimental data for further application. Generally, the CPLM and HPTM can offer effective POR prediction for patients who are receiving assisted reproduction technology (ART), and has great potential for guiding the clinical treatment of infertility.
Introduction
As assisted reproduction technologies (ART) has advanced, the improvement of the clinical pregnancy rate has remained both a high priority and significant difficulty for fertility doctors [1]. Meanwhile, the response to controlled ovarian stimulation (COS) during ART is highly diverse and ovarian response plays crucial roles during this process [2]. In particular, poor ovarian response (POR), generally refers to a poor response to gonadotropin stimulation and is characterized by a low number of growing follicles which may result in poor oocyte retrieval, cycle cancellation, or even a failed reproductive outcome [3–5].
It is quite promising that researchers have discovered the advanced identification of poor responders to be of potential help in providing patients with more directed counseling which can lessen the disappointment of undesirable outcomes [6]. Generally, predicting POR before COS may be a contributor to formulating individualized programs [7], and prediction before hCG trigger day can facilitate the adjustment of trigger protocols (for example, when POR is predicted, GnRH-a + hCG double trigger [8, 9] can be used for the amelioration of IVF outcomes). These findings inspired us to predict POR based on clinical data in COS pre-launch and hCG pre-trigger in order to offer sufficient decision support.
Several clinically predictive indicators associated with POR have already been detected, such as age, basal follicle stimulating hormone (FSH), antral follicle count (AFC), and anti-Müllerian hormone (AMH) [10–13]. Significant attention has been paid to the comprehensive analysis of various indicators [14–16], but with current POR assessment approaches, traditional logistic regression is highly subjective and time-consuming [17], and is also unable to exploit interconnections between predictors and combinations of factors which may not be significant individually. Machine learning algorithms can be used for analyzing interactions between the exploratory variables of large data sets without knowledge of the form of the specific parameter function underlying the relationship [18]. Furthermore, many classical algorithms have been widely applied in ART, such as logistic regression (LR) [19] and machine learning, including decision tree [20], support vector machine (SVM) [21], and artificial neural network (ANN) [22, 23]. However, very few works have reported machine-learning models for the prediction of ovarian response, therefore, further exploration of the prediction potential of machine-learning algorithms in related fields was warranted.
In this study, the clinical data of patients undergoing IVF/ICSI was analyzed in order to establish optimum models for POR prediction (COS pre-launch model [CPLM] and hCG pre-trigger model [HPTM]) using different algorithms (typical statistical methods and machine learning models). By using these models, it was inferred that clinicians can apply appropriate therapeutic strategies mentioned above to infertile couples in order to increase the probability of favorable IVF outcomes.
Materials and Methods
Data processing
The clinical data of 1,110 infertile women who had undergone IVF/ICSI treatment for the first time between July 2018 and May 2019 in Renmin Hospital of Wuhan University was retrospectively analyzed. Women with several different infertility factors were incorporated in order to establish a universal approach for POR prediction at our center.
Patients' characteristics and main outcomes
In the prospective cohort analysis, the main outcome measure was POR, which was defined as the retrieval of four or fewer oocytes or cycle cancellation [24]. Variables with a potential relationship to ovarian response were incorporated into our research, and models were constructed based on the various therapeutic stages of the treatment cycle:
(1) Variables of COS pre-launch model: age, BMI, infertility cause, infertility duration, infertility type, AMH, basic hormone levels (E2, FSH, and LH), AFC, pelvic surgery, and gravidity history.
(2) Variables of hCG pre-trigger model: all factors of the COS pre-launch model, plus therapeutic regimen, dosage of Gn (recombinant human follicle-stimulating hormone for injection, Gonal-f, German Merck Serono), days of Gn, E2 level on hCG day, and follicle number on hCG day (follicles with a diameter of ≥ 14 mm in bilateral ovaries).
Feature selection
EpiData 3.1 software was used for establishing a database, and this was double-entered and validated by two qualified personnel. Once it was checked, the data was transferred to R software (version 3.6.4) and parameters proven to have a direct effect on ovarian response were screened using logistic regression; variables with a P < 0.05 were chosen for further analysis. After the effects of features on outcomes were fully assessed, least absolute shrinkage and selection operator (LASSO) regression was used for further minimization of the risk of over-fitting, and variables with high collinearity were eliminated. The LASSO regression was dependent on a cyclical coordinate descent algorithm and was conducted using a glmnet package in R software. The workflow of the study is presented in Figure 1.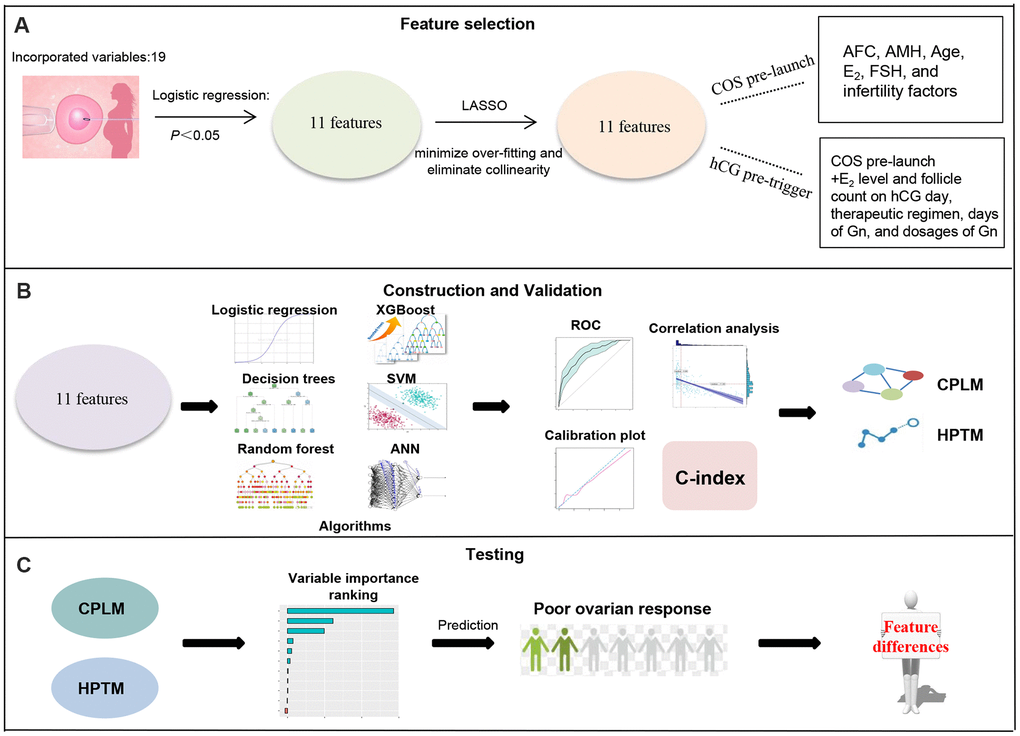 Figure 1. Schematic workflow for poor ovarian response prediction. (A) 11 features relating to ovarian response were obtained following logistic regression and LASSO. (B) These 11 candidate features were analyzed using multivariable logistic regression and machine learning, and then validated using ROC, calibration plot, C-index and correlation analysis to conduct CPLM and HPTM. (C) Variable importance of CPLM and HPTM were described to further understand and investigate of the models.

Construction of model
All data was randomly divided into a training dataset (70%) for feature selection and model training, and an independent validation dataset (30%) for repeated optimization and verification of the prediction model. And the models were set to use default parameters in R software.
Multivariable logistic model
Normality was evaluated using a Kolmogorov-Smirnov test and Spearman's Rho (nonparametric), or Pearson's (parametric) bivariate correlation analysis was completed as deemed appropriate. For independent variables selected for the generalized multivariable logistic model, stepwise Akaike information criterion (AIC) was applied for eliminating multicollinearity and for selection of the model with the lowest AIC as the final model. A multivariate logistic model was also used to construct the ovarian response predictive model (ORPM). To facilitate this, the risk score was calculated using the following formula:
where the risk score defined as ORPM-based risk signature was calculated by the ORPM - n represents the total number included in the ORPM, β i represents the regression coefficient of feature i, and E i refers to the coefficient of feature i in the constructed model.
Machine learning
Validation of COS pre-launch model (CPLM) and hCG pre-trigger model (HPTM)
Several different approaches were utilized for the assessment of all models' stratification abilities. Area under curve (AUC) was calculated from the receiver-operating characteristic (ROC) curve and was used to estimate the discrimination of each model. The accuracy of the derived models was evaluated by calibration plot, and models which shared a high goodness of fit with the dotted line were regarded as providing good calibration [30]. Notably, the net-classification index (NRI) was used to quantify the improvement of the predictive abilities of each model. The models with the highest ovarian response prediction accuracy in COS pre-launch and hCG pre-trigger models were defined as CPLM and HPTM. The contribution and importance of each CPLM/HPTM-based signature were quantified using mean concordance-index (C-index). Spearman correlation analysis was then performed to accurately determine the correlation between the CPLM and HPTM scores of each patient and the corresponding retrieved oocytes.
Grouped analysis for potential difference of clinical features
Statistical comparisons of patients' clinical characters were performed using Wilcoxon's test, and P-value adjustment using the Benjamini-Hochberg procedure.
Statistics
R software (version 3.6.4) was used for data processing and analysis.
Ethics approval and consent to participate
Written informed consent was obtained from each participant and the study was approved by the ethical committee of the Renmin Hospital of Wuhan University.
Results
Discussion
This study has provided the first report for establishing CPLM and HPTM in the prediction of ovarian response at various therapeutic stages of IVF cycles using multiple machine learning algorithms, when individualized interference is available to sterile couples. This study was also the first attempt where machine learning was applied to routine medical practice to facilitate the improvement of clinical management and provide successful outcomes for infertile couples in ART.
One significant advantage of this study is the machine learning-based CPLM and HPTM, which can be implemented in related clinical processes for predicting ovarian response in sterile women, which will also allow the application of individualized stratified interference. Machine learning is based on non-linear parallel processing and has identified a new direction in the field of IVF, improving reason and self-organization, as it continues to learn [34, 35]. Several machine learning algorithms, including RF, decision tree, XGBoost, SVM, and ANN, were used in this research for the selection of two models in COS pre-launch and hCG pre-trigger, which were considered to be CPLM and HPTM. During this competition, where AUC was used as an evaluation indicator, an RF model as a CPLM, and an ANN model as an HPTM were excelled. More specifically, for CPLM selection, the ANN model demonstrated better prediction performance with an AUC value of 0.859, followed by LR, RF, decision tree, XGBoost, and SVM model (0.848, 0.798, 0.700, 0.693, and 0.519, respectively). Regarding HPTM selection, the RF model demonstrated excellent success with an AUC value of 0.903, followed closely by LR, decision tree, ANN, XGBoost, and SVM model (AUC=0.883, 0.841, 0.817, 0.724, and 0.556, respectively).
After screening of CPLM and HPTM, both models were characterized. For the assessment of prediction accuracy, the mean C-index of CPLM and HPTM were 0.87 and 0.90; both exhibiting excellent calibration properties. These findings indicated that the predicted results for CPLM and HPTM were highly consistent with the actual value, thereby representing a high level of accuracy in the constructed models. It is notable that machine learning-based CPLM and HPTM triumphed over the traditional statistical model (AUC 0.859 vs 0.848, for CPLM; 0.903 vs 0.883, for HPTM). Meanwhile, an independent validation dataset used in our research also verified the superiority of the constructed models. This evidence adequately demonstrates the advantages of employed machine learning algorithms, proving that they are highly effective models for predicting outcomes. To gain further clarification regarding the clinical applicability of CPLM and HPTM, both models were compared with AMH and AFC, which are the most commonly used clinical characteristics for ovarian response prediction. As anticipated, CPLM proved to be more effective for outcome prediction than AMH and AFC (0.868 vs 0.824 [AMH], and 0.796 [AFC]), as did HPTM (0.903 vs 0.824 [AMH], and 0.796 [AFC]). A previous meta-analysis using random intercept logistic regression demonstrated that AMH and AFC are both accurate ovarian response predictors. In this study, CPLM and HPTM proved to be more accurate than AMH and AFC, and other reported prediction models where AUC varied between 0.39 and 0.88 [14, 36–39]. These findings strongly demonstrate that there is great clinical application potential for this study's constructed CPLM and HPTM due to the high accuracy they have for POR prediction.
To further evaluate the importance of the features incorporated in the chosen CPLM and HPTM, variable importance rankings were established. It is notable that both models displayed robust significance in AMH, AFC, and FSH, irrespective of different time periods, thereby indicating the important value of these traits during IVF concluded in previous researches [40–42]. It is of great significance that this study's results were similar to those obtained through previous studies, which indicates that AMH with the highest variable importance value in CPLM and HPTM is the most important variable for POR prediction [43, 44]. Although age had previously been considered to be of great value for ovarian response prediction [45], several studies have placed more focus on "ovarian age", and this study was consistent with them in demonstrating that age should not be regarded as a stable characteristic for POR prediction [14, 46, 47]. In addition, variable importance results in HPTM proved that both E2 levels and follicle number on hCG day play important roles, as E2 levels on hCG day can reflect the secretory function of follicles and they are related to the number and size of follicles in both ovaries during COS, which is considered to be a marker of ovarian reactivity [48]. Previous research has also demonstrated that E2 level on hCG day is an independent POR marker, which further highlights the importance of the indicator [49, 50]. It is of interest that days of Gn are associated with follicular maturation and appropriate extension of days of Gn can improve follicular maturation and retrieved oocytes [51]. Similarly, the models used in this study also attached significant importance to days of Gn, proving that clinicians should have greater focus on the individualized use of ovulatory drugs.
In this study, the prediction efficiency of HPTM was proven to be greater than that of CPLM. The main reason for this could be that HPTM incorporates additional important characteristics (E2 lever and follicle number on hCG day), which are particularly significant in ovarian response prediction [52, 53]. However, it is notable that HPTM is better suited to hCG pre-trigger in terms of delayed information. Accordingly, clinicians can access ovarian response based on the CPLM before treatment cycles for the formulation of individualized regimens, whereas HPTM can be used for guidance on hCG administration day.
This study was limited due to being retrospective regarding design and the data was obtained from only one fertility center. In addition, the models failed in the prediction of retrieved oocytes, embryo quality, or IVF outcomes. Therefore, long-term research with a greater, multicenter sample and a more in-depth exploration of IVF outcomes is required in order to provide confirmation of the efficacy of our findings.
Conclusions
To summarize, the current study's CPLM and HPTM exhibited higher accuracy for poor ovarian response prediction in sterile women than the reported models of AMH and AFC as clinical indicators. The constructed models used in this study can access more precise individualized interference for the implementation of related clinical processes which will help achieve better pregnancy outcomes.
Data availability statement
All generated data was included in the present study.
Abbreviations
POR: Poor ovarian response; ART: assisted reproduction technology; COS: Controlled ovarian stimulation; RF: Random forest; XGBoost: eXtreme Gradient Boosting; SVM: Support vector machine; ANN: Artificial neural networks; CPLM: COS pre-launch model; HPTL: hCG pre-trigger model; AMH: Anti-Müllerian hormone; AFC: Antral follicle count; FSH: follicle stimulating hormone; LASSO: least absolute shrinkage and selection operator; AUC: Area under curve; NRI: net-classification index; C-index: concordance-index.
Author Contributions
S. Y.: conceptualization; S. Y. and W. J.: methodology; S. Y. and J. D: data curation; S. Y. and W. J: formal analysis; S. Y. and J. D.: writing original draft preparation; J. Y.: writing-review and editing; S. Y.: visualization; J. Y, T. Y and Y. Z: project administration; J. Y: funding acquisition.
Conflicts of Interest
The authors declared that no conflicts of interest exists.
Funding
This work was supported by the National Key Research and Development Program of China (No. 2018YFC1002804, 2016YFC1000600), and the National Natural Science Foundation of China (No. 81771618, 81971356 81771662 and 81801540).
References