A novel methionine metabolism-related signature predicts prognosis and immunotherapy response in lung adenocarcinoma
1 Department of Respiratory Medicine, The Affiliated Third Hospital of Jiangsu University, Zhenjiang, China
2 Department of Radiology, The Affiliated Third Hospital of Jiangsu University, Zhenjiang, China
3 School of Basic Medical Sciences, Fujian Medical University, Fuzhou, China
4 Department of Nursing, The Affiliated Third Hospital of Jiangsu University, Zhenjiang, China
5 Laboratory Center, Affiliated People's Hospital of Jiangsu University, Zhenjiang, China
* Equal contribution
Received: February 20, 2023

     

Accepted: April 18, 2023

     

Published: May 2, 2023

     
https://doi.org/10.18632/aging.204687
How to Cite
Copyright: © 2023 Chang et al. This is an open access article distributed under the terms of the Creative Commons Attribution License (CC BY 3.0), which permits unrestricted use, distribution, and reproduction in any medium, provided the original author and source are credited.
Abstract
Recent research revealed methionine metabolism as a key mediator of tumor initiation and immune evasion. However, the relationship between methionine metabolism and tumor microenvironment (TME) in lung adenocarcinoma (LUAD) remains unknown. Here, we comprehensively analyzed the genomic alterations, expression patterns, and prognostic values of 68 methionine-related regulators (MRGs) in LUAD. We found that most MRGs were highly prognostic based on 30 datasets including 5024 LUAD patients. Three distinct MRG modification patterns were identified, which showed significant differences in clinical outcomes and TME characteristics: The C2 subtype was characterized by higher immune score, while the C3 subtype had more malignant cells and worse survival. We developed a MethScore to measure the level of methionine metabolism in LUAD. MethScore was positively correlated with T-cell dysfunction and tumor-associated macrophages (TAMs), indicating a dysfunctional TME phenotype in the high MethScore group. In addition, two immunotherapy cohorts confirmed that patients with a lower MethScore exhibited significant clinical benefits. Our study highlights the important role of methionine metabolism in modeling the TME. Evaluating methionine modification patterns will enhance our understanding of TME characteristics and can guide more effective immunotherapy strategies.
Introduction
In recent years, there has been a resurge of interest in cancer metabolism, which is now an established hallmark of cancer [1]. As first described by Otto Warburg, cancers preferentially use aerobic glycolysis for energy generation (now termed the "Warburg effect") [2]. Besides aerobic glycolysis, multiple cancers have been shown to be highly dependent on methionine, an essential amino acid in one-carbon metabolism [3, 4]. Methionine is primarily metabolized to S-Adenosylmethionine (SAM), which donates the methyl group to DNA, RNA, and histones and is subsequently converted to S-adenosylhomocysteine (SAH) [5]. Although dietary methionine restriction has been shown to inhibit tumor growth profoundly and induce sensitivity to anti-cancer agents [6], the underlying mechanisms are poorly understood. It is possible that the altered methionine metabolic networks substantially influenced the epigenetic state of cancer cells, which ultimately led to transcriptional programming that favored tumor formation [6].
Recently, it was found that methionine-related metabolites were strongly enriched in patient-derived lung tumor-initiating cells (TICs) as compared with isogenic differentiated cells. Methionine restriction severely disrupted the tumor-forming ability of TICs, presumably by changing histone methylation levels. In addition, the study demonstrated the overexpression and tumor-promoting potential of two key methionine regulators (Methionine adenosyltransferase 2A [MAT2A] and Methylenetetrahydrofolate Reductase [MTHFR]) in lung adenocarcinoma [7]. Interestingly, two recent studies have also identified a causal link between tumor methionine metabolism and T cell immunity in the tumor microenvironment (TME) [8, 9], revealing cancer methionine signaling as a promising immunotherapeutic target.
It is worth noting that lung cancer remains as the leading cause of cancer death in 2022 [10], and the most common subtype is lung adenocarcinoma (LUAD) [11]. Emerging evidence showed that the application of immune-checkpoint blockade has offered a new therapeutic opportunity for advanced non-small-cell lung cancer (NSCLC) patients, for whom the treatment provides durable responses and improved long-term survival [12–18]. Therefore, it would be of great interest to decode the role of methionine-related molecules in LUAD and to understand the relationship between these genes and the TME. However, the aforementioned research involved only two methionine regulators, a comprehensive picture of methionine regulation in LUAD is urgently needed.
In this study, we comprehensively evaluated the expression profiles and genomic alterations of 68 methionine-related genes (MRGs) in LUAD. We also analyzed the prognostic value of MRGs in 30 datasets including 5024 LUAD patients. We identified three distinct MRG modification patterns with significant differences in clinical and immunological characteristics. In addition, we constructed a scoring system (MethScore), which was found to be related to the patient prognosis and immune responses of LUAD. We also found that this scoring system could predict the response to immunotherapy in lung cancer patients. Overall, our integrative analysis of MRGs in LUAD will provide new insights for tumor biological research.
Materials and Methods
LUAD dataset source and preprocessing
Multi-omics data of LUAD, including mRNA (RNAseq), copy number variation (CNV), and single nucleotide variation (SNV) data, were downloaded from UCSC Xena Browser (https://xenabrowser.net). In addition, 38 LUAD gene-expression datasets and clinical annotation were retrieved from Gene-Expression Omnibus (GEO), cbioportal (https://www.cbioportal.org, OncoSG LUAD RNAseq data) and PRECOG (PREdiction of Clinical Outcomes from Genomic profiles; https://PRECOG.stanford.edu) database. The detailed clinical information of all eligible LUAD datasets was summarized in Supplementary Table 1. Thirteen datasets with matched controls were used to assess the differential expression patterns of MRGs (Supplementary Table 2 and Figure 1A). Thirty LUAD cohorts (including TCGA LUAD) with survival information were gathered to determine the prognostic value of MRGs (Supplementary Table 3 and Figure 1B). For microarray data that were not normalized, they were log2 transformed and then converted to a Z score. For microarrays that were already log2 transformed, the normalized matrix was Z-score transformed. For RNAseq data, the FPKM values were transformed into transcripts per kilobase million (TPM) values. Batch effects between arrays were corrected using the "ComBat" method from the sva package.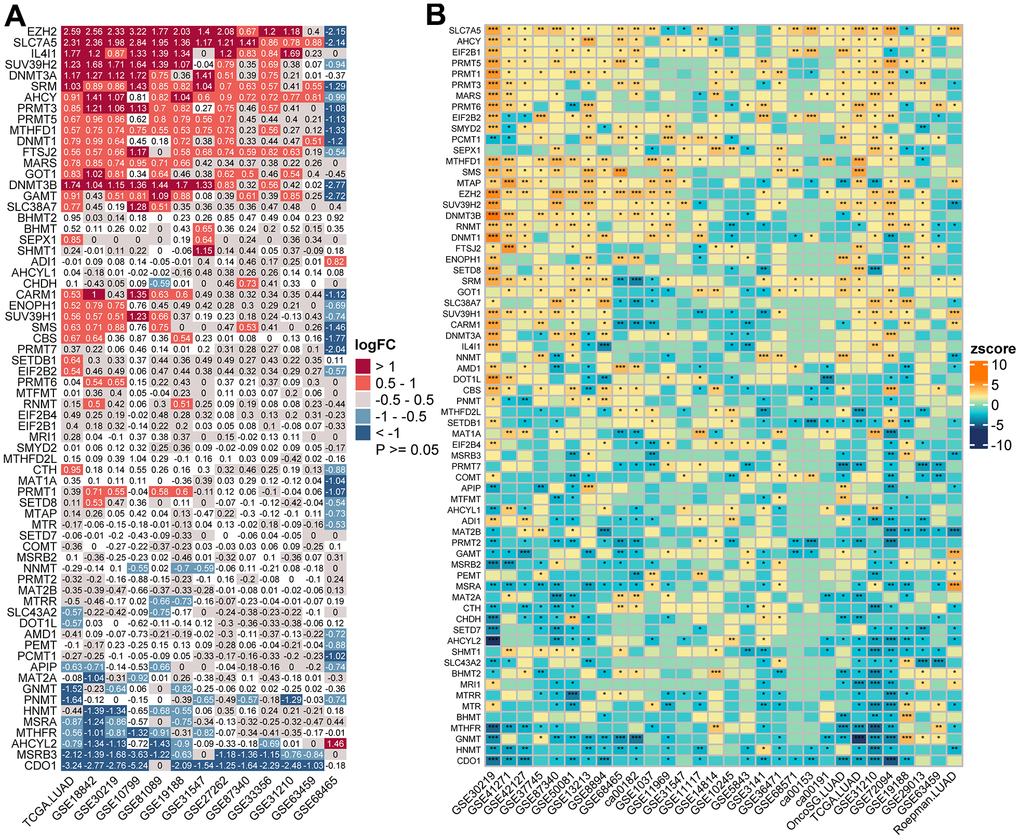 Figure 1. Transcriptome-based expressional alterations and prognostic impacts of MRGs across multiple LUAD datasets. (A) Heatmap showing the difference of mRNA expression levels of 68 MRGs between normal and LUAD samples in 13 datasets with matched controls. The color depicts the log2-transformed fold change (Log2FC) between tumor and normal tissues. Please also refer to Supplementary Table 2. (B) Association between MRGs expression and patient prognosis across 30 LUAD datasets with survival information as determined by the Log-rank test. The color represents Zscore-transformed hazard ratio (HR) and asterisks represent the statistical p value (*p < 0.05; **p < 0.01; ***p < 0.001). Please also refer to Supplementary Table 3.

Consensus clustering analysis of MRGs
Sixty-eight MRGs were retrieved from the Molecular Signatures Database (MSigDB, http://www.broad.mit.edu/gsea/msigdb/), Gene Ontology (GO) database, and previous articles and reviews [6, 9, 19–21]. The full list of these genes was shown in Supplementary Table 4. After median centering the expression values of MRGs, consensus clustering was applied using the ConsensusClusterPlus R package with partitioning around medoids (PAM) algorithm, euclidean distance, and 100 subsamples with a 0.8 random gene fraction. To investigate the differences in biological processes between different MRG subtypes, gene set variation analysis (GSVA) was performed with the Kyoto Encyclopedia of Genes and Genomes (KEGG) gene set (c2.cp.kegg.v7.4) retrieved from the MSigDB database.
Differential gene expression analysis and functional enrichment analysis
We used the limma package to find differentially expressed genes (DEGs) among three MRG clusters. DEGs for each comparison were intersected to determine the final core gene set, which was visualized as Venn diagram using the R VennDiagram package. GO analysis and KEGG pathway analysis of the core gene set were performed using the clusterProfiler R package.
Immune response analysis
TME characteristics including immune score, stromal score, and tumor purity were evaluated using the xCELL and ESTIMATE algorithm. In addition, the activities of a list of TME-related signatures were calculated using the single-sample gene set enrichment analysis (ssGSEA) algorithm, as implemented in the IOBR package [22]. The relative abundances of immune cells in LUAD patients were estimated using six deconvolution methods (CIBERSORT, EPIC, MCP-counter, quanTIseq, TIMER, and xCell), which have been integrated as a unified function "deconvo_tme" in the IOBR package. We compared the activity of TME-related signatures between each molecular subtype and the remaining samples. Then, the average fold changes (FCs) and Bonferroni-adjusted p-values (false discovery rate [FDR]) were computed using Wilcoxon rank sum test. The FDR values were categorized into six groups based on significance cutoffs for visualization (0.05, 0.01, 0.001, 1e-5, 1e-16). The pheatmap package was used to visualize the relative abundance of immune cells among groups. The TIDE (http://tide.dfci.harvard.edu/) was used to calculate T cell dysfunction, T cell exclusion, and other immune signature scores.
Analysis of single-cell RNA-sequencing (scRNA-seq) data of LUAD
For single cell RNA-seq (scRNA) data analysis, three published scRNA-seq data of LUAD (EMTAB6149, GSE117570, and GSE127465) were downloaded from Tumor Immune Single-cell Hub (TISCH, http://tisch.comp-genomics.org/), a scRNA-seq database facilitating the exploration of TME across multiple cancer types [22]. Data were processed and visualized following the standard workflow of the single-cell data processing R package, Seurat [23]. Briefly, the downloaded h5 format was converted to a Seurat object using the "Read10X_h5" function. Low-quality cells were identified and filtered with a mitochondrial gene ratio >15% and with <500 or >4000 genes detected. The count matrix of high-quality cells was then subjected to normalization, scaling, principal component analysis (PCA), and clustering according to the Seurat tutorial. Cell clusters were annotated based on the downloaded cell metainformation table. The methionine metabolism activities for each single cell were computed using the scMetabolism package [24], and cell samples were categorized into high and low activity groups based on median activity levels.
Collection and analyses of immunotherapy datasets
We collected two independent immunotherapy cohorts of lung cancer, including one cohort treated with anti-PD1 (Prat_CancerRes_2017, GSE93157) [25] and another cohort treated with anti-PD-1 (Cho_ExpMolMed, GSE126045) [26], to determine difference in immune checkpoint blockade (ICB) responsiveness between patients with high and low meth score. The response information was downloaded from the Supplementary Data of the respective papers.
Construction of the methionine-related methscore
The methscore was calculated to quantify methionine metabolism of individual LUAD samples. First, the DEGs among three MethClusters were subjected to univariate Cox regression analysis to identify those significantly associated with OS. Then, the MethScore was calculated as the sum of PC1 and PC2 of the five core MRGs. Based on the median score, patients were divided into high and low MethScore groups. In addition, we also used the ssGSEA method to calculate and validate the value of MethScore.
Statistical analysis and bioinformatics
Survival analysis was conducted using the "survival" and "survminer" packages. The optimal cutoff point of MethScore was determined by maximally selected rank statistics implemented in the "survminer" package. Survival probabilities of patient groups were estimated by the Kaplan-Meier method and compared with log-rank test. We used Wilcoxon rank-sum test to compare differences between two groups. Correlation between two continuous variables was assessed with Spearman's rank correlation test. The R/Bioconductor package Maftools was used to compute the tumor mutation burden (TMB), generate oncoprint plots, and evaluate differentially mutated genes between two cohorts. Visualization was performed using the following R packages: "ggplot2", "ggsci", "ggpubr", "RCircos" (for circos plots), "igraph" (for network plots), and "factoextra" (to visualize principal component analysis [PCA]). All statistical tests were two-sided, and a p-value less than 0.5 was considered to indicate statistical significance.
Results
Discussion
Increasing evidence demonstrated that methionine metabolism takes on a critical role in protein synthesis, epigenetic regulation, antioxidant defense as well as pro-tumor effects [6]. A recent study has revealed a tumor-initiating capability of methionine cycle activity and two methionine regulators (MAT2A and MTHFR) in lung cancer [7]. Given the indispensable tumorigenic potential of methionine in lung cancer, we reasoned that an overall characterization of multiple methionine regulators in lung cancer will broaden our understanding of methionine modification and guide the designation of more effective therapies.
In this study, we investigated the genetic and transcriptional heterogeneity of 68 MRGs in LUAD, the most prevalent subtype of lung cancer. We found DNMT3A was the most frequently mutated MRGs in LUAD, followed by MTR, MTRR, DOT1L, and DNMT3B. Among them, DNMT3A and DNMT3B are DNA methyltransferases dependent on SAM [29], the major metabolic product of methionine metabolism. While DNMT3A and DNMT3B are involved in de novo methylation, DOT1L is a histone methyltransferase that mediates the methylation of histone H3 lysine 79 (H3K79me) [30]. Therefore, altered methionine metabolism might contribute to LUAD through epigenetic-regulated gene expression patterns. Accordingly, the previous study demonstrated that lung TICs require exogenous methionine for histone methylation, and that the tumorigenic capabilities of TICs were probably endowed through epigenetic alterations [7]. We also observed widespread CNV alterations of certain MRGs in LUAD. For example, MTAP, an enzyme involved in the methionine salvage pathway, was found to be deleted in LUAD. Consistently, MTAP homozygous deletion occurs frequently in cancers such as glioblastomas [31], melanomas [32], and pancreatic cancer [33]. It should be noted that MTAP could also be inactivated by promoter hypermethylation in cancer [34], which indicates epigenetic alterations in MRGs could feed back and modulate methionine metabolism.
Further analysis revealed distinct differential expression patterns and prognostic values of MRGs in LUAD. Overall, genes that were upregulated in LUAD usually predicted worse outcomes; some prominent ones include EZH2, SLC7A5, PRMT3, and PRMT5. In line with this, overexpression of PRMT5 has been implicated in a number of cancer types [35–37]. MAT2A and MTHFR have been found to be overexpressed in lung tumors [7]; however, they showed no differential expression or even reduced expression in our study. The possible reasons are as follows: First, fewer samples were included in previous studies, whereas we used 13 LUAD datasets to compare MRGs between LUAD and normal samples. Second, gene expressions were assessed at the protein and mRNA level between their study and ours. Therefore, prospective validation is still required.
Unsupervised cluster analysis of the expression values of MRGs identified three distinct modification patterns. Notably, the C2 subtype was characterized by higher immune scores and elevated tumor-infiltrating lymphocytes, corresponding to an immune-inflamed phenotype, while the C3 subtype was characterized by the presence of more malignant cells and a worse survival. Differentially expressed genes were then determined to construct an MRG-related gene cluster, which also had significantly different outcomes. Finally, we established a scoring system to evaluate the MRG modification pattern of individual patients with LUAD—the MethScore. We observed that patients with a higher MethScore were more frequently in the C2 MRG subtype, and accordingly had a higher TME score. Indeed, increasing evidence has shown that metabolism plays a key role in immune regulation [38]. Recently, researchers have uncovered a mechanic link between tumor methionine metabolism and T-cell exhaustion: they showed that SAM and MTA treatment promotes the dysfunction of human CD8+ T cells in vitro, and that knockout of MAT2A reduces SAM production and suppresses tumorigenesis and T-cell dysfunction in hepatocellular carcinoma (HCC) [8]. Another study by Bian et al. demonstrated that tumor cells could hijack methionine metabolism from CD8+ T cells for their own benefit, thereby impairing T cell survival and function by reducing H3K79me2 levels and inhibiting STAT5 signaling in CD8+ T cells [9]. Our analysis demonstrated that MethScore was positively correlated with the T-cell dysfunction score and M2 subtype of TAMs. Using scRNA-seq data, we found CD8+ T cells were consistently inhibited in samples with higher methionine metabolism activity, whereas the proportion of TAMs was remarkably increased. In addition, we showed that the MethScore was negatively correlated with the abundance of activated CD4+ T cells. It was previously shown that methionine deprivation limited the immune activation of CD4+ T cells [39]. Therefore, it is possible that methionine was deprived from CD4+ T cells by tumor cells, leading to decreased levels of activated CD4+ T cells. These results further support the view that methionine metabolism contributes to T cell dysfunction and immune escape in cancer [8], suggesting a complicated interaction of MRG modification with tumor immunological characteristics. These findings and ours imply that the MRG modification pattern could be applied in clinical practice to determine immune phenotypes and guide immunotherapy strategies. Importantly, we confirmed the predictive value of the MethScore in two independent ICB cohorts of lung cancer: patients with a low MethScore exhibited robust clinical benefits from ICI therapy.
In summary, we comprehensively evaluated the expression and genomic features of 68 MRGs in LUAD and systematically correlated these modification patterns with clinical and TME characteristics. We identified three MRG modification patterns of LUAD, which were different in terms of clinical outcome, biological processes, and immunological characteristics. Overall, the comprehensive evaluation of MRG modification patterns will enhance our understanding of the relationship between methionine metabolism and immune responses and guide more effective immunotherapy strategies.
Author Contributions
Z-JX and YY conceived and designed the study; Q-HC, Y-CZ, D-YZ, TM, RC, and NW collected and assembled data; Q-HC, Y-CZ, and D-YZ performed data analysis; Q-HC drafted the manuscript; Z-JX and YY participated in study supervision and commented on the manuscript. All authors read and approved the final manuscript.
Conflicts of Interest
No potential conflicts of interest were disclosed.
Funding
This work was supported by grants from Social Development Foundation of Zhenjiang (SH2022086, SH2019065), China Public Health Alliance (GWLM202031), Scientific Research Project of The Fifth 169 Project of Zhenjiang (6).
Editorial Note
&
This corresponding author has a verified history of publications using a personal email address for correspondence.
References