Press Release
​​Aging-US: p62/SQSTM1 coding plasmid prevents age related macular degeneration
09-08-2021
Aging-US published a Special Collection on Eye Disease which included "p62 /SQSTM1 coding plasmid prevents age related macular degeneration in a rat model" which reported that P62/SQSTM1, a multi-domain protein that regulates inflammation, apoptosis, and autophagy, has been linked to age-related pathologies.
In retinal pigment epithelium (RPE), p62DNA administration slowed down development of destructive alterations of RPE cells, including loss of regular hexagonal shape, hypertrophy, and multinucleation. In neuroretina, p 62DNA prevented gliosis, retinal thinning, and significantly inhibited microglia/macrophages migration to the outer retina. Taken together, these results suggest that the p62 DNA has a strong retinoprotective effect in AMD.
These results suggest that the p62 DNA has a strong retinoprotective effect in AMD
Dr. Alexander Shneider and Dr. Nataliya Kolosova said, "Age-related macular degeneration (AMD) is the most common cause of irreversible vision loss in industrialized countries."
AMD is a multifactorial disease involving a complex interplay of genetic, environmental, metabolic, and functional factors. There are effective treatments of vascular complications of AMD by anti-VEGF therapeutics.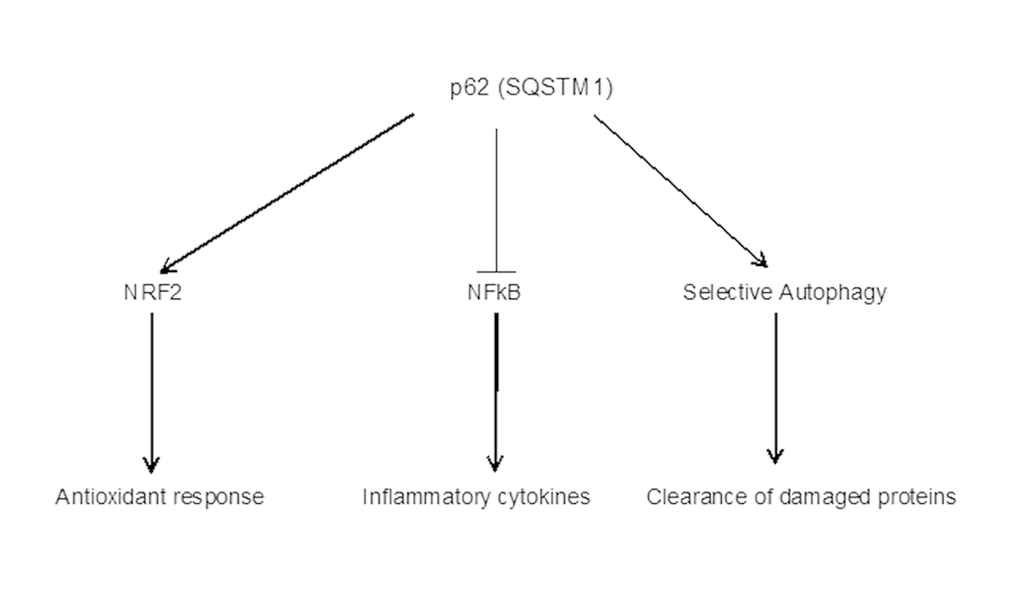 Figure 6. p62 (SQSTM1) as a mediator of several pathways. Anti-inflammatory effect of p62 can be mediated via inhibition of NF-kB pathway as well as antioxidant response and clearance of damaged proteins/organelles (e.g., mitochondria) [25–28].
Retinopathy that develops in OXYS rats even at a young age corresponds (in terms of clinical manifestations and morphological characteristics) to the dry atrophic form of AMD in humans.
The Shneider/Kolosova Research Team concluded in their Aging-US Research Output, "our data suggests that a p62-encoding plasmid might be a novel preventive and/or therapeutic agent for AMD as it maintained retinal thickness and restored RPE morphology."
Full Text - https://www.aging-us.com/article/101537/text
Correspondence to: Alexander Shneider email: ashneider@curelab.com and Nataliya Kolosova email: kolosova@bionet.nsc.ru
Keywords: p62/SQSTM1, age-related macular degeneration, inflammation, gliosis, OXYS rats, aging, retina
About Aging-US
Launched in 2009, Aging-US publishes papers of general interest and biological significance in all fields of aging research as well as topics beyond traditional gerontology, including, but not limited to, cellular and molecular biology, human age-related diseases, pathology in model organisms, cancer, signal transduction pathways (e.g., p53, sirtuins, and PI-3K/AKT/mTOR among others), and approaches to modulating these signaling pathways.
To learn more about Aging-US, please visit http://www.Aging-US.com or connect with @AgingJrnl
Aging-US is published by Impact Journals, LLC please visit http://www.ImpactJournals.com or connect with @ImpactJrnls
Media Contact
18009220957x105
MEDIA@IMPACTJOURNALS.COM