Acetyl oxygen benzoate engeletin ester promotes KLF4 degradation leading to the attenuation of pulmonary fibrosis via inhibiting TGFβ1–smad/p38MAPK–lnc865/lnc556–miR-29b-2-5p–STAT3 signal pathway
1 Department of Cellular and Genetic Medicine, School of Pharmaceutical Sciences, Binzhou Medical University, Yantai 264003, China
2 School of Nursing, Binzhou Medical University, Yantai 264003, China
3 Department of Respiratory Medicine, Binzhou Medical University Hospital, Binzhou Medical University, Binzhou 256602, China
* Equal contribution
Received: October 6, 2020

     

Accepted: March 2, 2021

     

Published: April 30, 2021

     
https://doi.org/10.18632/aging.202975
How to Cite
Copyright: © 2021 Shen et al. This is an open access article distributed under the terms of the Creative Commons Attribution License (CC BY 3.0), which permits unrestricted use, distribution, and reproduction in any medium, provided the original author and source are credited.
Abstract
Pulmonary fibrosis is a common pulmonary interstitial disease of pathogenesis without effective drugs for treatment. Therefore, discovering new and effective drugs is urgently needed. In the present study, we prepared a novel compound named acetyl oxygen benzoate engeletin ester (AOBEE), investigated its effect on experimental pulmonary fibrosis, and proposed a long non-coding RNA (lncRNA)-mediated mechanism of its action. Bleomycin-induced pulmonary fibrosis in mice exhibited that AOBEE improved forced vital capacity (FVC) and alveolar structure and inhibited α-SMA, vimentin, and collagen expression. TGFβ1-stimulated fibroblast L929 cells showed that AOBEE reduced these fibrotic proteins expression and inhibited the activated-fibroblast proliferation and migration. Whole transcriptome sequencing was performed to screen out lncRNA-lnc865 and lnc556 with high expression under bleomycin treatment, but AOBEE caused a considerable decrease in lnc865 and lnc556. Mechanistic study elucidated that AOBEE alleviated pulmonary fibrosis through lnc865- and lnc556-mediated mechanism, in which both lnc865 and lnc556 sponged miR-29b-2-5p to target signal transducer and activator of transcription 3 (STAT3). Further signal pathway inhibitors and the Cignal Finder 45-pathway reporter array illustrated that the up- and downstream pathways were TGFβ1–smad2/3 and p38MAPK, and Krüppel-like factor 4 (KLF4), respectively. In conclusion, AOBEE promoted KLF4 degradation leading to the attenuation of pulmonary fibrosis by inhibiting TGFβ1–smad/p38MAPK–lnc865/lnc556–miR-29b-2-5p–STAT3 signal pathway. We hope this work will provide valuable information to design new drugs and therapeutic targets of lncRNAs for pulmonary fibrosis treatment.
Introduction
Pulmonary fibrosis is a common pulmonary interstitial disease of pathogenesis, with progressively increased dyspnea as the most prominent clinical manifestation [1]. Among them, pulmonary fibrosis with unknown cause is called idiopathic pulmonary fibrosis (IPF). The patient median survival time is only 3–5 years [2]. Age is a main risk factor of pulmonary fibrosis. Most of the patients are over 60 years old. With the rising aging population, the incidence of pulmonary fibrosis is increasing. Clinical studies have reported that bifenidone and nintedanib can improve the symptoms of pulmonary fibrosis by reducing the maximum forced vital capacity (FVC), but the low drug tolerance and adverse side effects limit their use [3, 4]. Currently, lung transplantation is the only therapeutic option for pulmonary fibrosis. Thus, exploring the molecular mechanism of pathogenesis and finding effective drugs for treating pulmonary fibrosis are urgently needed.
Long non-coding RNA (lncRNA) is a type of regulatory non-coding RNA with more than 200 nucleotides in length that cannot encode protein. Through various mechanisms, lncRNAs have been implicated in numerous cellular processes, such as cell cycle, death, proliferation, differentiation and so on. As a result, more and more lncRNAs have been involved in various human diseases [5]. Now, lncRNAs have become the targets of gene therapy and drug action. For example, lncITPF forms RNA–protein complex with hnRNP-L to accelerate pulmonary fibrosis through the TGFβ1–smad2/3 signal pathway. Interfering lncITPF expression can attenuate pulmonary fibrosis [6]. Astaxanthin exerts its anti-pulmonary fibrosis effect by downregulating lncITPF expression [7]. LncH19 gene therapy prevents and reverses experimental pressure-overload-induced heart failure [8]. Angelica sinensis polysaccharide, extracted from the roots of angelica, suppresses pulmonary fibrosis via downregulating lncDANCR-targeted FOXO3 protein levels in an AUF1-dependent manner [9]. Astragaloside IV (ASV), a bioactive saponin extracted of Astragalus root, increases lncSIRT1 AS to exert its anti-fibrotic effect on idiopathic pulmonary fibrosis [10]. On the whole, few studies have focused on lncRNA as the target of drug action in pulmonary fibrosis.
In our previous study, we found that engeletin has anti-pulmonary fibrosis function by inhibiting lnc949 to respond to endoplasmic reticulum stress [11]. However, engeletin has poor water solubility. And it also can be easily oxidized and discolored. Therefore, our team conducted a series of optimized structural modifications to prepare a new compound, and we named it as acetyl oxygen benzoate engeletin ester (AOBEE), which has stronger activity and better stability and water solubility than engeletin (Figure 1). In the present study, we investigated the anti-fibrotic effect of AOBEE in TGFβ1-stimulated lung fibroblast and bleomycin (BLM)-treated mice. Differently expressed lncRNAs (lnc865 and lnc556) were further screened by RNA sequencing under the action of AOBEE. Mechanistically, AOBEE promoted Krüppel-like factor 4 (KLF4) degradation by inhibiting the lnc865/lnc556–miR-29b-2-5p–STAT3 axis through the TGFβ1–smad2/3 and p38MAPK signaling pathways.
Results
Discussion
To date, various mechanisms have been developed for pulmonary fibrosis, and the irreversible transformation of fibroblasts into myofibroblasts is a noteworthy mechanism of fibrosis [14]. After fibroblasts differentiate into myofibroblasts, myofibroblasts exhibit uncontrolled proliferation and migration characteristics, which have been accompanied by collagen fiber deposition [15]. The deposition of collagen in the alveoli alleviates the function of alveolar gas exchange, and fibrosis lesions form at the deposit. Therefore, blocking fibroblast-to-myofibroblast transition is a therapeutic strategy to attenuate pulmonary fibrosis. Our results showed that AOBEE reduced the expression of KLF4 by inhibiting the lnc865/lnc556–miR-29b-2-5p–STAT3 axis via the smad2/3 and p38MAPK signaling pathways, thereby blocking fibroblast-to-myofibroblast differentiation, myofibroblast proliferation and migration, and extracellular matrix deposition (Figure 7).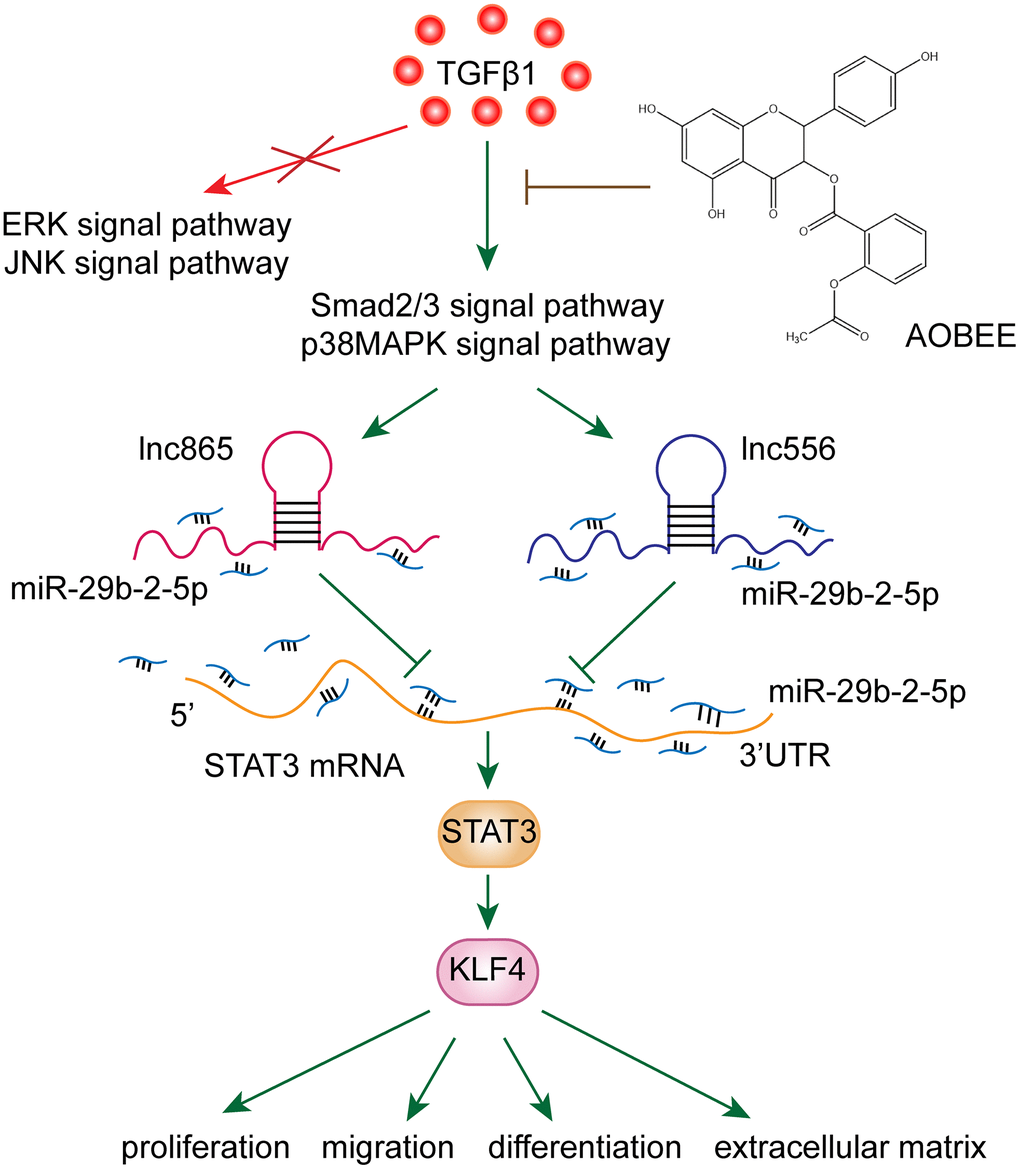 Figure 7. AOBEE reduced the expression of KLF4 by inhibiting the lnc865/lnc556–miR-29b-2-5p–STAT3 axis via the TGFβ1–smad2/3 and p38MAPK signaling pathways.

LncRNAs are critical regulators in the pathogenesis by serving as promoters or suppressors in various diseases. Therefore, an increasing number of studies are starting to explore their clinical application, including disease markers and therapeutic targets for gene and drug therapies [16, 17]. LncGAS5 knockdown leads to anti-renal fibrosis via competitively binding miR-96-5p, which targets to repress fibronectin expression [18]. LncMT1DP in the blood is a potential marker for cadmium-induced nephrotoxicity. Mechanistically, liver-derived exosome-laden lncMT1DP indirectly breaks the equilibrium between the pro-apoptotic and anti-apoptotic effects conducted by BAX and Bcl-xL, respectively [19]. Circulating lncSNHG11 may be a novel biomarker for the early diagnosis and prognosis of colorectal cancer, which can enhance tumor cell proliferation and metastasis through the Hippo signal pathway [20]. Undoubtedly, identifying lncRNAs as novel therapeutic targets will lead to drug discovery [21]. An lncRNA–mRNA-weighted co-expression network analysis demonstrated the mechanism of Caulophyllum robustum Maxim against rheumatoid arthritis through lncRNA-mediated signal pathways including TNF, Toll-like receptor, and chemokine signaling pathways [22]. Wei et al. discovered that 10 lncRNAs, NONRATT009275.2, NONRATT025409.2, NONRATT025419.2, MSTRG.7681.1, ENSRNOT00000084373, NONRATT000512.2, NONRATT006734.2, ENSRNOT00000084386, NONRATT021738.2, and ENSRNOT00000084080, are involved in the treatment of chronic glomerulonephritis by Qi Teng Xiao Zhuo granules [23]. However, most of these studies only screened the differentially expressed lncRNAs under drug action. Studies on lncRNA-mediated drug mechanism are very limited. This work clarified that lnc865 and lnc556 targeted the same gene STAT3 via sponging miR-29b-2-5p to participate in the regulatory mechanism of AOBEE treatment. The upstream was TGFβ1–smad and p38MAPK signaling pathways, and the downstream was KLF4 signaling pathway. Wang et al. reported that KLF4 can activate the TGFβ1–smad signaling pathway [24], which supports our finding.
Interestingly enough, KLF4 has different functions during fibrogenesis. KLF4 is a zinc finger transcription factor that can accelerate wound healing [25]. Experiments on conditional mutant mice lacking KLF4 or TNFα proved that macrophage KLF4 attenuates TNFα-mediated kidney injury and fibrosis [26]. KLF4 may be the therapeutic target of pulmonary fibrosis by inhibiting the differentiation of lung resident mesenchymal stem cells [24]. However, KLF4 is upregulated in fibrotic skin and lungs from mice with systemic sclerosis. Leflunomide prevents ROS-induced systemic fibrosis by downregulating KLF4 signal pathway [27]. Our findings elucidated that KLF4 was highly expressed in BLM-treated mice and TGFβ1-induced L929 cells. It is the downstream signaling pathway under AOBEE action. STAT3, a transcription factor, is elevated in the lungs of IPF patients and triggers the expression of various fibrotic genes [28]. KLF4 is one of the important target genes of STAT3 [29]. Through STAT3 regulation, KLF4 takes part in cell fate determination [30], cell differentiation [29], and tumorigenesis [31]. This study revealed that AOBEE repressed KLF4 through the regulatory network of lnc865/lnc556–miR-29b-2-5p–STAT3, blocking lung fibrogenesis.
Collectively, the novel compound AOBEE prepared by our team exhibited marked anti-fibrotic effects in vivo and in vitro. Our study provides valuable information in the design of new drugs and presents candidate therapeutic targets for drug treatment.
Materials and Methods
Animal model and ethics statement
The C57BL/6 mice with an average body weight of 20 ± 5 g were purchased from the Experimental Animal Breeding Company of Jinan Pengyue Laboratory (Jinan, China). Animal experiments were conducted according to the guidance of the Animal Experiment Ethics Committee of Binzhou Medical University. The mice were divided into 3 groups: sham group, BLM group and AOBEE + BLM group (10 mice per group), and 5 mg/kg BLM dissolved in saline was sprayed into the mice lung to induce pulmonary fibrosis by using a microsprayer (Penn-Century, Inc., USA). The sham group only received the same amount of saline as the control group. On 14th day, 25 mg/kg AOBEE was injected intraperitoneally every day. On the 28th day, all mice were sacrificed. Lung tissues were collected and frozen immediately in liquid nitrogen for further study.
Cell culture and treatment
Mouse lung fibroblast L929 cell line was purchased from the cell bank of the Chinese Academy of Sciences. Cells were cultured in modified MEM medium containing 10% newborn calf serum, 100 U/mL penicillin and 100 mg/mL streptomycin, and incubated at 37° C under 5% CO2. According to experimental requirement, 5 ng/mL TGFβ1 was added to the cells for 72 h, then the cells were treated with 24 μg/mL AOBEE for 48 h. si-lnc865 and si-lnc556, and negative control (si-lnc865/556 NC) were transfected to L929 cells with Ribo FECTTM CP transfection kit (Ribo Bio Company, Guangzhou, China).
Pulmonary function analysis
The mice pulmonary function was tested by Buxco pulmonary function testing system (DSI Buxco, USA) in accordance with the manufacturer's instructions. In brief, the instrument was first adjusted to zero and set the parameters. Then the mice were put into the detection device and detected FVC with FinePointe PFT software and the Buxco PFT Controller hardware.
Wound healing assay
5 × 105/mL L929 cells were seeded in a 96-well plate. The cells were wounded with scratcher and placed in IncuCyte S3 (Essen BioScience, USA) for real-time dynamic observation. Images were taken on IncuCyte S3 software.
Real-time cellular proliferation and migration analyses
The cells were cultured in E-plate and CIM-plate, respectively. In the migration plate, 5×104 cells were seeded in a basal medium containing 1% fetal bovine serum in the upper chamber. The lower chamber contained a complete medium with growth factors and additives. The instrument software calculated the number of proliferating and migrating cells. Cell proliferation and migration were monitored and automatically recorded by using real-time cellular analysis instrument (ACEA Biosciences, Inc., Hangzhou, China).
RNA FISH
FISH detection was performed using Ribo™ FISH kit (Ribobio, China. Products numbers as the follows: lnc556: lnc1101365; lnc865: lnc1101366). The lnc865/556 fish probe, 18s and U6 probe labeled with Cy3 fluorescent dye were designed and synthesized by Ribobio company. The cells were fixed in 4% paraformaldehyde, permeabilized for 3 minutes with PBS solution containing 0.5% Triton X-100, and pre-treat with pre-hybridization solution. Then the cells and probe were mixed at 4° C overnight. After hybridization, the nuclei were stained with DAPI for 10 minutes. The images were observed and analyzed with a confocal microscope (Leica, Germany).
Western blot detection
20 μg protein samples were separated by 10% SDS-PAGE, transferred to polyvinylidene fluoride membrane, blocked in TBST containing 5% skim milk for 3 hours. Specific primary antibodies were added into the membrane overnight. Then the secondary antibody goat anti-rabbit IgG labeled with peroxidase were added. After one hour of incubation, the bands were analyzed with a gel imaging system. Antibodies were shown in Table 1.
Table 1. Antibodies used in western blot.
| | | | | | |
| --- | --- | --- | --- | --- | --- |
| Name | Brand | Source | Proportion | Clonality | Cat |
| GAPDH antibody | Abcam | Mouse | 1:10000 | Monoclonal | ab8245 |
| α-SMA antibody | Cell Signaling Technology | Rabbit | 1:1000 | Monoclonal | 19245T |
| vimentin antibody | Abcam | Rabbit | 1:1000 | Monoclonal | ab92547 |
| collagen I antibody | Abcam | Rabbit | 1:1000 | Monoclonal | ab6586 |
| collagen III antibody | Abcam | Rabbit | 1:1000 | Monoclonal | ab184993 |
| Klf4 antibody | Abcam | Rabbit | 1:1000 | Monoclonal | ab215036 |
| STAT3 antibody | Abcam | Rabbit | 1:1000 | Monoclonal | ab68153 |
| STAT3 (phospho Y705) antibody | Abcam | Rabbit | 1:1000 | Monoclonal | ab76315 |
| Smad2/3 antibody | Abcam | Rabbit | 1:1000 | Monoclonal | ab202445 |
| Smad2/3 (phospho T8) antibody | Abcam | Rabbit | 1:1000 | Monoclonal | ab272332 |
| p38 MAPK antibody | Cell Signaling Technology | Rabbit | 1:1000 | Monoclonal | 8690S |
| TGFβ1 receptor II antibody | Abcam | Rabbit | 1:1000 | Monoclonal | ab184948 |
qRT-PCR
Total RNAs were extracted from mice lung tissues or L929 cells. 1 μg RNA was reversely transcribed into cDNA by using one-step RT-PCR kit (TaKaRa Biotechnology). After cDNA obtainment, the PCR reaction was carried out in a 20 μL system including 500 ng/μL cDNA 2 μL, 0.4 μL reverse and forward primers, 10 μL SYBR and 7.2 μL DEPC water. The reaction procedure was as follows: the initial denaturation at 95° C for 30 seconds, followed by 45 cycles of 95° C for 5 seconds, 60° C for 15 seconds and the dissolution curve stage at 95° C for 15 seconds, 60° C for 1 minute, 95° C for 1 second. GAPDH was used as an internal standard and results were calculated by using 2-ΔΔCT method. Primers as the follows:
lnc865: 5'-GGGAAAGGAATTAAGGCTCTCA-3' and 5'-ACAGTGCATGTCTCCAGTTGTATCT-3'; lnc556: 5'-GACTGGCTGGTATTCTTTATTGCA-3' and 5'-GCTTAAAAGGACACAACTGGGA-3'.
HE and Masson's trichrome staining
Lung tissues were fixed with 4% paraformaldehyde overnight, dehydrated by an automatic dehydrator, and embedded with paraffin. After slicing, 4 μM sections were stained with HE or modified Masson's trichrome stain Kit. Visual fields were randomly chosen to obtain under a microscope.
Whole transcriptome sequencing
RNA samples were extracted from sham group, BLM group and AOBEE + BLM group, respectively. Their qualities were detected by agarose gel electrophoresis. LncRNAs were further purified from total RNA using magnetic beads attached to poly-T oligonucleotides to remove other RNA. NEBNext® Ultra™ RNA library was used to generate a sequencing library according to the manufacturer's recommendation. After quantization and standardization the raw data, lncRNAs with more than 2 tags were selected for further analysis. The differentially expressed lncRNAs were identified via folding change filter.
CCK-8 toxicity test
L929 cells were seeded in a 96-well flat bottom at 2×104 cells/well, and then incubated at 37° C under 5% CO2 for 24 h. L929 cells were divided into different groups. Each group had six repetitive holes. CCK-8 reagent and 100μL serum-containing medium were added to each well and incubated at 37° C for 4 h. A microplate reader detected the absorbance at 450 nm. The cell proliferation was calculated according to the following formula: cell proliferation (%) = (measurement tube absorbance-blank absorbance) / (standard tube absorbance-blank absorbance) × 100%.
Degradation experiment
5 mg actidione was dissolved in 1 mL DMSO. Then, 1 uL dissolved actidione was added to 1000 uL culture medium. The culture medium containing actidione was added to cell samples every two hours. After 8 hours, cell samples were harvested.
Statistical analysis
Statistical analysis was performed using SPSS version 25.0 software. The student's t test was used to evaluate the difference in measurement variables between the experimental group and the control group. Data were presented as the mean ± SD of at least three independent experiments, and p < 0.05 was considered statistically significant.
Author Contributions
LME and SXD designed the work and wrote the manuscript. SK, LRQ, LRR and ZXL carried on cell and animal experiments. QGW, LCJ, WYL and LB performed bioinformatics and data analysis. All authors have read and approved the final version of the manuscript.
Conflicts of Interest
The authors declare that they have no conflicts of interest.
Funding
This work was supported by the National Natural Science Foundation of China (81970064, 81870001, 81670064, and 31670365), the Important Project of Research and Development of Shandong Province (2019GSF108040), the Natural Science Foundation of Shandong Province (ZR2019PH101), and the Medical and Health Foundation of Shandong Province (2019WS325).
Editorial Note
&
This corresponding author has a verified history of publications using a personal email address for correspondence
References