Cellular senescence in lymphoid organs and immunosenescence
1 Genetics and Genomics Graduate Program, Genetics Institute, College of Medicine, University of Florida, Gainesville, FL 32610, USA
2 Department of Neuroscience, McKnight Brain Institute, College of Medicine, University of Florida, Gainesville, FL 32610, USA
3 Department of Pharmacodynamics, College of Pharmacy, University of Florida, Gainesville, FL 32610, USA
Received: April 5, 2021

     

Accepted: August 2, 2021

     

Published: August 12, 2021

     
https://doi.org/10.18632/aging.203405
How to Cite
Copyright: © 2021 Budamagunta et al. This is an open access article distributed under the terms of the Creative Commons Attribution License (CC BY 3.0), which permits unrestricted use, distribution, and reproduction in any medium, provided the original author and source are credited.
Abstract
Immunosenescence is a multi-faceted phenomenon at the root of age-associated immune dysfunction. It can lead to an array of pathological conditions, including but not limited to a decreased capability to surveil and clear senescent cells (SnCs) and cancerous cells, an increased autoimmune responses leading to tissue damage, a reduced ability to tackle pathogens, and a decreased competence to illicit a robust response to vaccination. Cellular senescence is a phenomenon by which oncogene-activated, stressed or damaged cells undergo a stable cell cycle arrest. Failure to efficiently clear SnCs results in their accumulation in an organism as it ages. SnCs actively secrete a myriad of molecules, collectively called senescence-associated secretory phenotype (SASP), which are factors that cause dysfunction in the neighboring tissue. Though both cellular senescence and immunosenescence have been studied extensively and implicated in various pathologies, their relationship has not been greatly explored. In the wake of an ongoing pandemic (COVID-19) that disproportionately affects the elderly, immunosenescence as a function of age has become a topic of great importance. The goal of this review is to explore the role of cellular senescence in age-associated lymphoid organ dysfunction and immunosenescence, and provide a framework to explore therapies to rejuvenate the aged immune system.
Introduction
The aging population
Aging is the gradual process of organismal deterioration which is associated with a multitude of age-related disorders and diseases that make one wonder if aging itself is a disease that needs to be addressed [1]. A shadow is cast on the benefits of longevity if the elderly are faced with the possibility of a decline in their quality of life. The world currently has over 700 million people who are over the age of 65, a number that is projected to grow rapidly in the near future [2]. As advancing age is strongly correlated to decreased quality of life and increased risk of several age-related diseases [3], these demographics seem more dismal in prospering countries, with the USA and the UK having about 16–18% of their population over the age of 65 [4, 5]. With the life expectancy of most Western countries steadily increasing, majority of people are expected to spend at least 2 decades, or 25% of their life, over the age of 65, when they are prone to acquiring various age-related morbidities [6, 7]. The silver lining to this otherwise tragic situation is that results from recent studies indicate that the aging process and the pace of organismal deterioration is malleable and can be influenced greatly by physiological, genetic, dietary and pharmaceutical interventions [8–16].
The aging immune system
The immune system is a complex network of cells and tissues working in coalition to maintain the health of an organism. It not only clears foreign pathogens, but also helps to maintain the integrity of the organism by clearing away dead or dysfunctional cells [17–22]. Due to the immune system's complexity and intricacy, 7% of the genes from the human genome are allocated exclusively for its functioning and maintenance [23].
Like any other system, the immune system changes with age and experiences gradual deterioration. Improving our understanding of this phenomenon is of great significance because the medical and scientific advancements that have facilitated the unprecedented increase in average human lifespan have been unable to significantly increase the human healthspan [24]. Because of this, we have a rapidly increasing aging population in a world where there is a substantial risk of steep decline in quality of life with age.
Age-associated deterioration and dysfunction of the immune system leads to the establishment of an incompetent immune response against invading pathogens [25, 26]. This could partially provide an explanation for the age-dependent increase of mortality in patients suffering from infections like influenza [27], with people older than 65 accounting for more than 90% of the influenza-associated annual deaths [28]. Furthermore, the aged immune system elicits an inadequate response to vaccines, leaving the elderly susceptible to pathogens despite being vaccinated against them [29, 30]. This is especially poignant in the wake of an ongoing pandemic where the mortality rate is disproportionately high in the elderly [31].
Aging of the immune system is also one of the major factors that accelerates the deterioration of an organism, as its dysfunction not only fails to elicit a strong immune response against invading pathogens but also drives the accumulation of undesirable and malfunctioning cells [25, 32–36]. In some cases the aging immune system also develops an affinity for attacking self-antigens, leading to autoimmunity-associated disorders [37, 38].
In recent years, there have been many studies that have broadened our understanding of the aging immune system and immunosenescence (the gradual deterioration of the immune system with age) from the perspective of genetics, nutrition, physiology, and molecular biology [39–42]. Despite this assimilation of knowledge, a complete understanding of the dynamics of this process is lacking.
Within a systemic context, the age-related changes and adversities in any organ system arise from a complex crosstalk between different cells and processes of the body. By virtue of the way that research studies are designed and funded, many aspects of this complexity are often overlooked. In this review, we will discuss one such interaction, between cellular senescence and the immune system with a focus on the accumulation of SnCs in the lymphoid organs of the aging body, which is greatly understudied and underappreciated.
Cellular senescence
Initially described in 1961, cellular senescence is the phenomenon by which cells cease to divide despite the availability of adequate growth factors [43]. It was later established that upon encountering certain types of stress and irreparable damage, cells tend to enter a stable cell cycle arrest [44]. From an evolutionary perspective, this is widely considered to be a protective mechanism to prevent the stressed and damaged cells from becoming deleterious to the body.
Like most things optimized by evolution, cellular senescence is not of much concern to the younger body capable of reproduction while the older body, past its reproductive prime, is adversely affected by it. The fitness benefits that cellular senescence provides to younger, reproductively active animals, such as preventing cancer [45], mitigating the progression of fibrosis [46–48] and promoting optimal wound healing [49], have helped the phenomenon survive the arduous tests of natural selection over the millennia. Unfortunately, in almost an antagonistically pleiotropic manner, accumulation of SnCs is very detrimental to the older body [50]. Specifically, SnCs secrete various factors classified together as senescence-associated secretory phenotype (SASP) which cause instability and dysfunction in their surrounding environment [51]. Both SnCs and SASP factors have been implicated in many of the age-related deteriorations, dysfunctions and diseases including but not limited to frailty, hypertrophy of tissue, stem-cell exhaustion, bystander effect mediated senescent cell accumulation, and cancer [51–63].
The interactions between SnCs and the immune system run in both directions, with the immune system surveilling and clearing the SnCs; while the SnCs frequently impede the function, and in some contexts, generation of immune cells. In young and healthy individuals, the immune system can rapidly clear SnCs after their induction, which prevents them from significantly accumulating and causing adverse effects [18, 64]. In older individuals, this turnover is slow and leads to the accumulation of SnCs [34]. Ovadya et al. demonstrated that accumulation of SnCs is accelerated upon impaired immune surveillance [32]. Since advancing age is associated with impairment in immune function [65], the decline in the turnover of SnCs with age can, at least partially, be attributed to this impediment. Despite multiple studies demonstrating various mechanisms via which SnCs could evade immune clearance [66, 67], the impact of aging on immune evasion of SnCs is not yet completely understood. Of note, SnCs have been shown to cause stem cell exhaustion and dysfunction [62, 68–72]. This is of great relevance and importance to the topic of immunosenescence because senescence, exhaustion and dysfunction of hematopoietic stem cells (HSCs), causes myeloid skewing and a decrease in the production of immune cells which may be one of the underlying causes of age-related immunosenescence.
With many more possible domains of interaction between cellular senescence and the immune system, as seen in (Figure 1), this review will discuss literature that states or suggests the presence of this interaction, with a focus on cellular senescence in the lymphoid organs, and raises questions that need to be answered to strengthen the foundation of the role of cellular senescence in immunosenescence.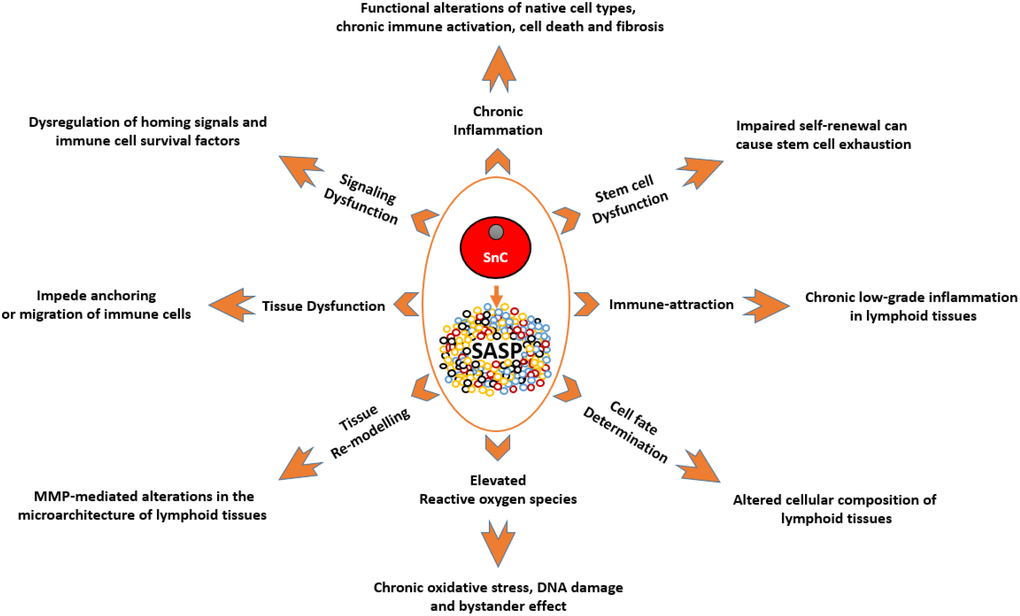 Figure 1. A depiction of the known effects of SnCs and SASP on different cell types and tissues, and how they are relevant to the immune system. SnCs possess altered morphology and surface markers and usually fail to perform the tasks of their non-senescence counterparts. This makes them the dysfunctional units of a tissue which can impede normal functions such as, immune cell priming and transmigration. MMPs produced by SnCs can modify the surrounding matrix and alter the microarchitecture of the lymphoid organs. As these organs are precisely organized into zones with specialized functions, such micro-architectural alterations can lead to dysfunction. SASP produced by SnCs can act as a chemoattractant to immune cells which can lead to unresolved chronic inflammation in tissues. SASP by itself can be inflammatory which can adversely impact neighboring cells. This chronic unresolved inflammation can lead to pathological conditions like fibrosis and neoplasia. SASP-mediated signaling and ROS-mediated oxidative stress can impair clonogenicity and functionality of HSCs, immune cells and other supporting cells of the immune system. SnCs and SASP can alter the expression profile of supporting cells leading to the dysregulation of homing signals required for proper localization of immune cells, and survival factors required for the endurance of certain immune cells. SnCs, by means of SASP, can influence the cell fate of differentiating cells and in some cases, cause the accumulation of adipocytes in the lymphoid organs. Abbreviations: SnC: Senescent cell; SASP: Senescence associated secretory phenotype; MMPs: Matrix metalloproteases; ROS: Reactive Oxygen Species; HSC: Hematopoietic stem cell.

Cellular Senescence in the Organs of the Immune System
Conclusion
As summarized in (Table 1), even at an organ level, the age-associated changes that contribute to immunosenescence are multifaceted with a wide variety of undesirable phenotypic manifestations. Thus, it would be ill-advised to address each of these problems individually. A more feasible and effective way to deal with immunosenescence would be to tackle the fundamental aspects of aging that drive immunosenescence. With studies showing that clearing SnCs can rejuvenate entire tissues and organs of the aged immune system [63, 140], cellular senescence is certainly one such fundamental aspect, which has the potential to address immunosenescence.
Table 1. Age-associated changes in the lymphoid organs that contribute to immunosenescence.
Organ
Age-Associated Changes
References
Bone Marrow
↑ Senescent Hematopoietic Stem Cells
[106, 198]
↑ Senescent Mesenchymal Stem Cells
[95]
↑ Adiposity
[83, 88, 99]
↑ Myelopoiesis
[88] [78, 80, 82]
↓ Lymphopoiesis
[88]
↑ Oxidative Stress
[95, 96]
↑ DNA damage
[63, 94, 95, 108, 199]
↑ Inflammation
[95, 102]
↓ HSC functionality
[63, 68, 77, 200]
Thymus
↓ Structural Integrity
[111, 112]
↑ Senescent Thymic Epithelial Cells
[121]
↑ Adipocytes
[112]
↑ Fibrosis
[129, 201]
↑ Inflammation
[122]
↑ DNA damage
[121]
↑ Oxidative Stress
[121]
↓ Naïve T-cell turnover
[125, 126]
Spleen
↓ Structural Integrity
[135]
↓ Macrophage Phagocytosis
[139]
↑ Cellular Senescence
[50, 137]
↓ Migration of B-cells
[135, 141]
↓ Antigen Presenting Functionality
[135, 144]
↓ Recruitment of T-cells
[143]
Lymph Nodes
↓ Number
[135, 155]
↓ Structural Integrity
[135, 156]
↓ Functionality
[158, 162, 202]
↑ Adiposity
[155, 156, 158]
↑ Fibrosis
[155, 156, 158]
Mucosa Associated Lymphoid Tissue
↓ Naïve B-cell repertoire
[186]
↓ Naïve T-cell repertoire
[186]
↑ Memory B-cells
[186]
↑ Memory T-cells
[186]
↓ Functionality
[188, 189]
↓ Dendritic Cell Number
[190]
↓ Dendritic Cell Functionality
[189, 190]
Cellular senescence, because of its involvement in several age-related dysfunctions and disorders, has become an essential area of interest in the field of aging research. Despite a great deal of assimilated knowledge on this phenomenon, there still remain unanswered questions. The role of cellular senescence in immunosenescence is one such key area needing further exploration. With few publications addressing the direct involvement of cellular senescence in specified immunological contexts, and many more studies providing evidence for a possible role of cellular senescence in impeding the function of the immune system, this is an area of research that deserves further exploration and an investment of resources.
In this proposed pursuit, there are several "low-hanging fruit". A few such addressable questions include: Do SnCs play a direct or indirect role in age-related disparities seen in inflammatory pathological conditions like sepsis? Does SnCs accumulation in the peripheral tissues of the body impact the functionality of immune cells in the central nervous system? Can clearing SnCs hinder the pace of thymic involution? Can clearing SnCs in combination with thymic rejuvenation therapies in the elderly improve thymic function? Does cellular senescence drive age-associated autoimmunity? Can clearing SnCs or inhibiting SASP boost the functionality of different immune cells? Does cellular senescence play a direct role in the impaired vaccination efficacy in the elderly? Is there a senostatic/senolytic regimen that can be followed before and after vaccination to boost its efficacy in the elderly?
The increasing array of genetic models of SnC clearance along with a growing panel of senolytic and senostatic agents, provide a unique opportunity for scientists to answer these questions to lay a strong foundation to this new avenue of research in immunosenescence. Ultimately, gaining a deeper understanding of the interaction between cellular senescence and immunosenescence will help in the development of improved therapeutics that will aid in the conservation of our vitality as we age.
Author Contributions
V.B. conceived and wrote the manuscript. D.Z. conceived and revised the manuscript. T.C.F. reviewed and edited the manuscript.
Acknowledgments
We thank Sahana Manohar Sindhu, Janet Wiegand and Alexandra M. Fahnlander for their critical review of the manuscript. In addition, we thank all the reviewers of the journal for their efforts to review our manuscript.
Conflicts of Interest
D.Z. is an inventor of a pending patent application for use of Bcl-xL proteolysis targeting chimeras (PROTACs) as senolytic agents, and a co-founder and stockholder of Unity Biotechnology that develops senolytics to treat age-related diseases. The other authors declare no competing interests.
Funding
This study was supported by US National Institutes of Health (NIH) grants R01CA211963 (D.Z.), R01CA219836 (D.Z.), R01AG03801 (D.Z.), AG037984 (T.C.F.), AG052258 (T.C.F.), P30AG028740 (T.C.F.); and the Evelyn F. McKnight Brain Research Foundation.
References