The senescent cell epigenome
1 National Institute on Aging, NIH, Laboratory of Genetics and Genomics, Functional Epigenomics Unit, Baltimore, MD 21224, USA
2 Epigenetics Institute and Department of Cell and Developmental Biology, University of Pennsylvania, Smilow Center for Translational Research, Philadelphia, PA 19104, USA
Received: August 26, 2018

     

Accepted: October 19, 2018

     

Published: November 3, 2018

     
https://doi.org/10.18632/aging.101617
How to Cite
Copyright: © 2018 Yang et al. This is an open access article distributed under the terms of the Creative Commons Attribution License (CC BY 3.0), which permits unrestricted use, distribution, and reproduction in any medium, provided the original author and source are credited.
Abstract
A critical hallmark of aging is cellular senescence, a state of growth arrest and inflammatory cytokine release in cells, caused by a variety of stresses. Recent work has convincingly linked the accumulation of senescent cells in aged tissues to a decline in health and a limit of lifespan, primarily through "inflammaging". Importantly, interventions that clear senescent cells have achieved marked improvements in healthspan and lifespan in mice. A growing list of studies show that environmental stimuli can affect aging and longevity through conserved pathways which, in turn, modulate chromatin states. This review consolidates key findings of chromatin state changes in senescence including histone modifications, histone variants, DNA methylation and changes in three-dimensional genome organization. This information will facilitate the identification of mechanisms and discovery of potential epigenetic targets for therapeutic interventions in aging and age-related disease.
Cellular Senescence and Senotherapies
Chromatin Changes in Senescence
Future Directions and Translational Perspectives
The "coming of age" of the senescence field
When cellular senescence was first characterized in in vitro cell culture, links to tissue and organismal aging were proposed [1,125]. Critics of cellular senescence questioned its relevance to in vivo aging, their possibility of being an artefact and the inevitable lack of senescence despite normal aging in lower organisms. In fact, it was recently discovered that the extremely long lived rodent, naked mole rat, can undergo various forms of cellular senescence that apparently does not affect its longevity [126]. On the contrary, senescence as a pro-aging phenomenon gained popularity with the discovery of biomarkers such as p16 and beta-galactosidase in multiple aged tissues [127]. Mechanistically, the idea of senescent cells being causal in chronic inflammation characteristic of aging, also gained momentum with the discovery of SASP [8].
The senescence field came of age with four major milestones, (a) two proof-of-concept studies showed major improvement in healthspan and lifespan in mice by the targeted ablation of senescent cells [26,27], (b) development of small molecule senolytics as a therapeutic strategy for clearing senescent cells [33], (c) demonstration that senolytics improve physiological function and lifespan in aged mice [34,35,37] and (d) the success of senolytics in pre-clinical studies of a range of age-related conditions [128]. Below, we discuss and illustrate (Figure 5) potential alternatives to senolytics that can deploy epigenetic proteins as "switches" to turn on/off specific pathways in senescent cells for their effective elimination.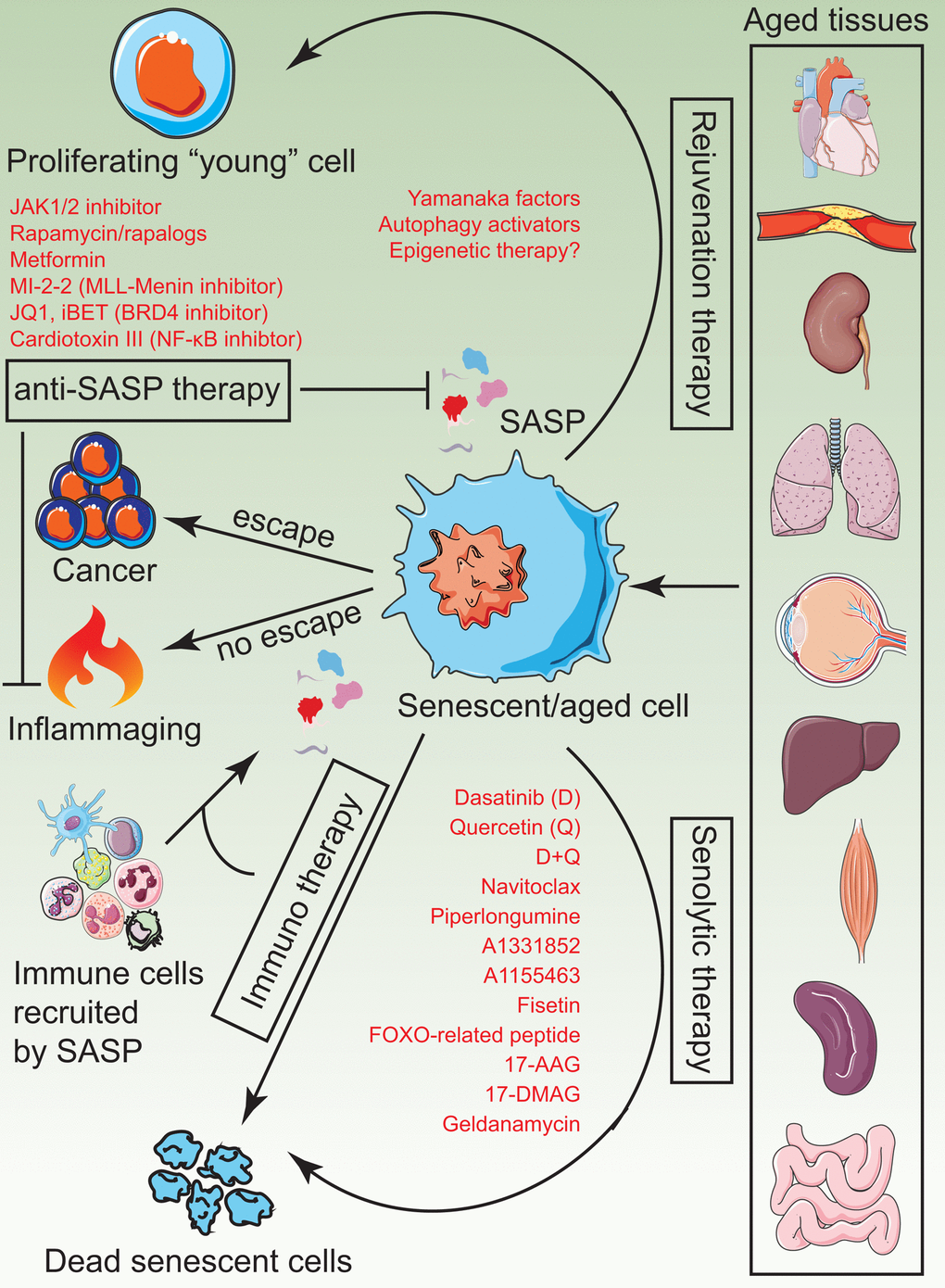 Figure 5. A visual summary of current senotherapies. Aged tissues tend to accumulate senescent cells which impose detrimental changes to tissue structure, regenerative ability and physiological function due to chronic inflammation. Current and plausible strategies to treat these adverse effects include administration of senolytics, rejuvenation therapy by induce partial reprogramming to a "youthful" state, anti-SASP therapy to prevent the generation and release of inflammatory cytokines and immunotherapy to activate innate immune mechanisms of the body, which in turn, clear senescent cells naturally.

SASP inhibitors
Despite the overwhelming success of senolytics, fundamental concerns about specificity and safety prevail. Additionally, the potential benefit of senolytics in treating age-related disease remains to be tested. A second class of molecules that have shown promise in anti-aging rejuvenation therapies is SASP inhibitors. The concept of annihilating the pro-aging arm of senescent cells while preserving the anti-tumor arm is a very attractive treatment option in the elderly who have a high incidence of cancer. Both rapamycin [39] and metformin [129] have shown anti-SASP effects and are on the road to clinical trial for aging. Alternatively, epigenetic enzymes that play a key role in turning on SASP genes (MLL1 [45] and BRD4 [66]) can be inhibited by small molecules to prevent its deleterious effects.
Autophagy activation
Autophagy is a self-degenerative process that clears and recycles damaged cellular components. In a seminal publication, it was reported that basal autophagy is essential to maintain the stem-cell quiescent state while preventing senescence of muscle satellite cells in mice [130]. Furthermore, autophagy declines during aging, calorie restriction activates autophagy, and dysfunctional autophagy is evident in Alzheimer's disease pathology [131]. Thus, boosting general macroautophagy (non-selective) is a viable anti-aging avenue. The challenge of autophagy-promoting strategies however comes from observations that autophagy of "nuclear" substrates [99,100] might in fact contribute to senescence, aging and inflammation. Selective substrate-specific activation methods (in this case, activation of non-nuclear substrates), need to be developed for use as anti-aging therapy. As an example, selective activation of autophagy directed against damaged mitochondria (mitophagy) that accumulates in senescence and aging has been accomplished [132]. For further development, it is important to understand upstream triggers of macroautophagy and key epigenetic factors that may play in its activation while suppressing nuclear autophagy.
Immune-mediated clearance
Senescent cells are naturally cleared by innate immune mechanisms with the macrophage playing a central role. However, immune cells themselves undergo progressive decline in function (termed immunosenescence) that actively contributes to senescent cell accumulation [14,133]. Furthermore, it has been proposed that subsets of senescent cells become resistant to immune-mediated clearance. Therefore, epigenetic interventions that boost immune surveillance in aged tissues or antibody-based therapies that revert the immune-resistance of senescent cells may also be future rejuvenation strategies [134].
Rejuvenation therapy
Regenerative medicine is a field that provides strategies to repair and restore organ function due to injury, disease and congenital defects. The principles of regenerative medicine can also be applied in aging and age-related disease. Expression of pluripotency factors in senescent cells have been shown to allow cell cycle entry with reset telomere size, gene expression profiles, oxidative stress, and mitochondrial metabolism [42]. Additionally, their expression in mice has also shown amelioration of a panel of age-related phenotypes [43]. Epigenetic factors that can potentiate reprogramming can be used to rejuvenate senescent/aged cells. However, it is important to be cautious with regenerative therapy in the elderly because of its potential to be pro-tumorigenic.
Other potential epigenetic therapies
This review summarizes the major findings of chromatin and nuclear changes in senescent cells (listed in Table 1). The emerging conceptual themes that arise from the observations are (a) a gradual euchromatinization of the genome, (b) loss or disorganization of constitutive heterochromatin due to (c) breakdown of the nuclear lamina and changes in nuclear morphology and (d) loss of spatial organization of the genome. These large-scale changes manifest in profound transcriptional alterations that ultimately activate programs such as SASP and contribute to transcriptional noise. Systematic screens for epigenetic factors will likely yield potential candidates that can be targeted to prevent or reverse the detrimental effects of senescence. Two exemplary discoveries in this field are (a) the discovery of MLL1 (and potentially inhibition of the MLL/Menin interaction) [45] and (b) BRD4 (and potentially BET inhibitors) [66] as direct SASP ameliorating targets. Inhibitors of other epigenetic enzymes, some of which are already in the market for chemotherapy, can be repurposed to provide anti-aging benefits. With the first RNAi therapy being approved by the FDA, the possibilities of epigenetic therapy are limitless.
Table 1. Epigenetic themes from studies in senescence in vitro and in vivo.
| | | | | |
| --- | --- | --- | --- | --- |
| Theme | in vitro senescence type | in vivo aging | Possible therapy | Reference |
| SAHF with repressive chromatin marks, HP1 and macroH2A | RS, OIS, HGPS | | | [10,55–57] |
| SASP | RS, OIS | Multiple aged tissues | Anti-SASP therapy (Fig. 5) | [8,23,44] |
| Decline in total histone | RS | | Boost expression of canonical histones | [53,54] |
| Canyons and mesas | RS, OIS and HGPS | | Histone methylase/demethylase inhibitors | [58] |
| Increase of H4K20me3 | RS, OIS, HGPS | Aged rat liver and kidney | | [60–63] |
| Increase of H4K16ac | RS | Aged human brains | Sirtuin activators | [64,65] |
| Enhancer formation and score | OIS | Aged mouse heart, liver, cerebellum and olfactory bulb | BRD4 and BET inhibitors | [66,67] |
| Increase in expression and deposition of histone variants, histone clipping | RS, OIS | | Boost expression of canonical histones, Inhibition of cathepsin | [45,57,64,69–71,75] |
| Global DNA hypomethylation (5mC), focal hypermethylation | RS | Aged mouse liver | TET inhibition | [11,86,87] |
| SADS | RS, OIS | | | [82,83] |
| Derepression of repeat elements | RS | Aged mouse heart, liver, cerebellum and olfactory bulb | | [67,84] |
| Epigenetic clock | RS, OIS (clock predicts cellular age but not senescence) | Multiple human cells and tissues from aged and diseased donors including skin and blood, mouse liver etc. | | [87–93] |
| Loss of lamin B1, nuclear blebs, progerin accumulation | RS, OIS, HGPS | Skin cells from HGPS patients and old humans | Farnesyltransferase inhibitors | [58,98–100,102,103,108–110] |
| CCF | RS, OIS, DNA-damage induced | | Inhibition of unknown endonuclease | [54,99,100] |
| Compartment switching | RS, OIS, HGPS | | | [82,122,123] |
| TAD fusion, separation, shift | RS, OIS, HGPS | | | [82,122,123] |
| SICC | RS | | Increase expression of HMGB2 | [122] |
Taken together, anti-aging and senescence-clearing therapies can be devised around many well founded principles and what will likely benefit in the end are combinatorial approaches that rejuvenate senescent cells while preserving its anti-proliferative state and blocking its pro-inflammatory properties. Epigenetic approaches provide tractable solutions in this direction.
Acknowledgements
All figures were made using images available through Servier Medical Art by Servier, licensed under a Creative Commons Attribution 3.0 Unported License.
Conflicts of Interest
The authors declare no conflicts of interest.
Funding
We wish to acknowledge the National Institute on Aging Intramural Research Program, National Institutes of Health, for financial and resource support. This work was supported in part by AFAR Irene Diamond Transition Award DIAMOND 17113 to P.S.
References