Aspirin enhances the sensitivity of colon cancer cells to cisplatin by abrogating the binding of NF-κB to the COX-2 promoter
1 Institute of Cancer Stem Cells and The First Affiliated Hospital, Dalian Medical University, Dalian, China
2 Sun Yat-Sen University Cancer Center, State Key Laboratory of Oncology in South China, Collaborative Innovation Center of Cancer Medicine, Guangzhou, China
3 The Third Affiliated Hospital, Sun Yat-Sen University, Guangzhou, China
* Equal contribution
Received: August 1, 2019

     

Accepted: December 23, 2019

     

Published: January 6, 2020

     
https://doi.org/10.18632/aging.102644
How to Cite
Copyright: © 2020 Jiang et al. This is an open access article distributed under the terms of the Creative Commons Attribution License (CC BY 3.0), which permits unrestricted use, distribution, and reproduction in any medium, provided the original author and source are credited.
Abstract
Cisplatin is one of the most potent chemotherapeutic agents for the treatment of colon cancer. Nevertheless, the unavoidability of the notable toxicity and the development of the acquired resistance severely restricted its clinical application. Aspirin and some other non-steroidal anti-inflammatory drugs have been used to prevent colon tumorigenesis as chemopreventive agents. Here, we explored the possibility of aspirin as an adjuvant drug to boost the anti-cancer effect of cisplatin for colon cancer. We found that aspirin significantly enhanced the cisplatin-mediated inhibitions of cell proliferation, migration and invasion and the induction of apoptosis in colon cancer cells. The combined treatment of aspirin and cisplatin suppressed the expression of the anti-apoptotic protein Bcl-2 and the EMT-related proteins, up-regulated the levels of the cleaved PARP and Bax, and blocked the PI3K/AKT and RAF-MEK-ERK signaling pathway. In addition, we demonstrated that the enhanced effect of aspirin on the cisplatin-induced inhibition of tumor cell growth was also mediated through the suppression of the binding activity of NF-κB to the COX-2 promoter. The combination of aspirin and cisplatin effectively attenuated the translocation of NF-κB p65/p50 from the cytoplasm to the nucleus, and abrogated the binding of NF-κB p65/p50 to the COX-2 promoter, thereby down-regulating COX-2 expression and PGE2 synthesis. Moreover, the in vivo study also verified the enhanced anti-tumor activity of such combined therapy in colon cancer by targeting the NF-κB/COX-2 signaling. Our results provided new insights into understanding the molecular mechanisms of aspirin in sensitizing cisplatin-mediated chemotherapeutic effect in colon cancer and indicated a great potential of this combined therapy for cancer treatment.
Introduction
Colorectal cancer is the third common cancer and the fourth frequent cause of cancer death globally, with a rough estimate of 1.2 million new cases and 600,000 deaths per year. The morbidity of colonic malignancy tends to increase with the age. Although colon cancer is more common in developed countries, the colon risk was found to be increased rapidly in developing countries [1–3]. The surgical excision is effective for over 80% of colorectal carcinomas, nevertheless, 50% of patients subsequently relapse with metastasis. Hence, adjuvant treatment soon after surgery is especially necessary. Continuous radiochemotherapy treatment was widely taken in clinic to eliminate residual tumor cells, prolong disease-free intervals and improve overall survival [4]. However, the gradually developed radiochemotherapeutic resistance and the inevitable toxicity to normal cells strictly limited their effects.
Cisplatin is a platinum-containing coordination complex used in cancer treatment [5, 6]. It is also one of the most common chemotherapeutic agents used for the treatment of colon cancer other than 5-Fluorouracil. Accumulating evidence suggests that multiple mechanisms underlie the anticancer potential of Cisplatin, including DNA synthesis inhibition, the generation of DNA lesions and the induction of mitochondrial apoptosis via forming DNA adducts with platinum atoms [7]. However, the widespread resistance to Cisplatin renders malignant cells less susceptible to the antiproliferative and cytotoxic effects of the drug. A large fraction of Cisplatin-treated patients is destined to experience therapeutic failure and tumor recurrence. Coupled with notable adverse effects, its clinical application is limited seriously [8]. Thus, more and more researchers pay attentions to the trials of adjuvant drugs which can be combined with Cisplatin to exert a more significant antineoplastic effect and minimize the toxic and side effects of Cisplatin.
Like other non-steroidal anti-inflammatory drugs (NSAIDs), Aspirin has been shown to functionalize as the potentially effective chemopreventive agent for colorectal cancer [9–11]. Moreover, an adjuvant chemotherapy trial carried out by Chan et al. in 1279 patients with stage I-III colorectal cancer showed that use of Aspirin after diagnosis of nonmetastatic colorectal cancer was associated with improved survival from the disease, particularly among individuals with primary tumors that overexpress COX-2 [12]. Multiple molecular mechanisms seem to be involved in the tumor suppressive effect of Aspirin. Accumulating evidence indicates that Aspirin targets the COX-2 enzyme to suppress the production of potentially neoplastic prostaglandins arising from COX-2-mediated catalysis of arachidonic acid [13, 14]. Some present studies provide evidence that Aspirin inhibits the growth of colorectal cancer stem cells by disrupting the Wnt/β-catenin signal pathway [15]. In addition, Aspirin has been reported to dysregulate NF-κB signaling and insulin-like growth factor I. It has been demonstrated that Aspirin could bind to and inactive IκB kinase-β (IKK-β), which in turn prevents the degradation of IκB and the subsequent translocation of NF-κB to the nucleus, where it activates the transcription of a variety of target genes [16]. Given that dysregulation of the NF-κB signaling pathway is a common event in colon cancer, which contributes to tumor initiation and progression by driving expression of pro-proliferative/ anti-apoptotic genes, the inactivation of NF-κB is intended as a new strategy to eliminate colon cancer cells through induction of apoptosis [17]. Thus, we raised the important question of whether Aspirin combined with Cisplatin could elevate the anti-tumor effect of Cisplatin and alleviate its side effects in colon cancer treatment.
Here, the combined application of non-steroidal anti-inflammatory drug Aspirin and traditional chemotherapeutant Cisplatin in colorectal cancer treatment has been advocated. We found that Aspirin combined with Cisplatin led to more significant cancer cell proliferation, migration and invasion inhibition and apoptosis induction in vitro accompanied by the simultaneous inactivation of the PI3K/AKT and RAF-MEK-ERK signaling pathway. Intriguingly, such combined treatment antagonized tumor growth partially by suppressing COX-2 expression and PGE2 production via a mechanism dependent of dysregulated NF-κB signaling. Furthermore, the synergistic anti-tumor efficiencies benefit from the combinational usage of these two drugs and the underlying molecular mechanisms were also evaluated and confirmed in athymic nude mice with xenografts of human colon cancer cells. All the findings revealed a role for Aspirin in sensitizing colon cancer cells to Cisplatin treatment and provided a basis for the potential of their combined application in clinical setting for colon cancer therapy.
Results
Discussion
Colorectal cancer, the second leading cause of death from cancer among adults, begins as a benign adenomatous polyp, which develops into advanced adenoma with high-grade dysplasia and then progresses to an invasive cancer as a result of complex genetic and epigenetic changes [27, 38]. Even though surgery has achieved important advances as the basic therapy for colon cancer, still 40 to 50 percent of patients who undergo potentially curative surgery alone ultimately relapse and die of metastatic disease [2, 39]. Hence, adjuvant therapeutics, including radiochemotherapy, targeting therapy and immunotherapy, appear to be of high significance in decreasing the recurrence and improving the survival rate [40]. However, the gradually developed resistance to the adjuvant therapeutics mentioned above in the course of treatment and the inevitable side effects to normal cells seriously limit their applications and compromise their therapeutic efficacies. The same prominent hurdle related to the use of Cisplatin in the clinical practice is posed [8, 41], although it is a highly effective chemotherapeutic drug and displays a broad spectrum of antitumor activities, especially favored in the treatment of colon cancer [42]. Here, we identified an unexpected function of Aspirin in sensitizing colon cancer cells to Cisplatin treatment. Cisplatin displayed remarkably improved anti-tumor efficiencies in vitro and in vivo upon co-treatment with Aspirin.
In recent years, Aspirin has become increasingly popular as a kind of preventive agent against CVD (cardiovascular disease) and CRC (colorectal cancer) in adults aged 50 to 59 years suffering a 10% or greater 10-year CVD risk [43]. In addition, a more pronounced protective effect is seen at substantially higher does (>14 tablets/wk) than those recommended for the prevention of CVD [44]. Furthermore, prediagnostic aspirin use was reported to reduce mortality by approximately one-half among women with lymph node-negative breast cancer [45]. Combined with the epidemiological data indicating that people who regularly take Aspirin or other NSAIDs have a 40-50% reduced risk of dying from colon cancer [30], and the earlier studies demonstrating that treatment of colon cancer cells with Aspirin resulted in a concentration-dependent decrease of cell proliferation, migration and invasion [46, 47], we deduce that combining Aspirin with traditional chemotherapeutic agents Cisplatin in colon cancer therapy might be of potential interest. In agreement with what we propose, the synergistic potential of Aspirin or Aspirin analogues with Cisplatins by their combined use or the use of Asplatin, a fusion compound of aspirin and cisplatin against cancer cells, including gastric cancer, oesophageal cancer and even colorectal cancer, have preliminarily been confirmed in the previous studies [48–50]. Nevertheless, these studies only stay at in vitro level and lack systematic clarification of the underlying molecular mechanisms. On contrary, our research not only demonstrates the largely enhanced inhibiting effects by the combined treatment of Aspirin and Cisplatin on colon cancer cell progression in vitro and in vivo, but also provided the potential molecular mechanisms responsible for such improved anti-cancer cytotoxicity.
Since the disruption of apoptosis is highly implicated in various malignancies, targeting apoptotic cell death has been the center of attraction for therapeutic intervention in all cancers. Cisplatin is known to play its cytotoxic role in anti-cancer therapy by forming platinum-DNA adducts triggering various cellular responses, including replication arrest, transcription inhibition and DNA repair, and finally leading to cell apoptosis. Consistently, Aspirin and other non-steroidal anti-inflammatory drugs also induce apoptosis in most cell types, which is considered to be an important mechanism for their anti-tumor activity and prevention of carcinogenesis. Therefore, reasonably, the elevated cytotoxicity to colon cancer cells mediated by the combined usage of Aspirin and cisplatin might also be realized via initiating more cell apoptosis. Here, without precedent, our data has confirmed this hypothesis. The combined treatment of Aspirin and cisplatin increased levels of apoptosis in colon cancer cells accompanied by the significant apoptotic morphological changes, more cytochrome-c release into cytosol and expression variations of apoptosis related proteins. Of note, all the changes at the molecular level mentioned above was completely consistent with the molecular events happening at the mitochondria-associated apoptotic pathways. We thereby conclude that Aspirin sensitized colon cancer cells to cisplatin-induced apoptosis by activating mitochondria-associated apoptosis signaling in colon cancer cells.
Our further goal for this investigation was to elucidate potential molecular mechanism of actions for the combined treatment contributing to the synergistic anticancer capacity of human colon cancer cells. Considering the specialized dysregulation of aspirin on COX-2/PGE2 signaling and then on PI3K/Akt, RAF/MEK/ERK, and NF-κB signaling in its anti-tumor activity [51], we hypothesized perhaps the same mechanism works in the synergistic anti-tumor effect mediated by the combined treatment. In line with our expectations, the results suggested that the significantly down-regulated PI3K/Akt, RAF/MEK/ERK, and NF-κB/COX-2/PGE2 signaling pathway were indeed to be responsible for the synergistic inhibition of colon cancer cell growth mediated by Aspirin combined with Cisplatin, as Aspirin combined with Cisplatin treatment caused more serious blockade of any of these three pathways compared to Aspirin treatment alone. Given that the activation of Akt inhibits GSK3 and further prevents the phosphorylation of the cytoplasmic signaling molecule β-catenin, which impedes its degradation, hence promoting its translocation to the nucleus and consequently promoting cell cycle progression [52, 53], most likely, the combined treatment of aspirin and cisplatin similarly exerts a synergistic impact on the subcellular localization of β-catenin and cell cycle distribution. Moreover, Akt also regulates the apoptotic machinery by phosphorylating and inactivating pro-apoptotic proteins, such as Bad. It also phosphorylates and activates IKKα, which, in turn, phosphorylates IκBα, triggering its degradation and leading to the nuclear translocation and activation of NF-κB and NF-κB-dependent pro-survival genes [54, 55]. Therefore, the apoptosis induction and inhibition of NF-κB signaling pathway caused by aspirin combined with cisplatin might be resulted from the inactivation of PI3K/Akt signaling. Of course, considering the results from Figure 2E and 2F that the inactivation of PI3K/AKT or ERK pathways combined with aspirin and cisplatin co-treatment induced more cell viability blockade compared to inactivation treatment alone, which implies the existence of some other pathways besides PI3K/AKT and ERK to be involved in the synergized anti-cancer effect mediated by Aspirin combined with Cisplatin, it is not excluded that the combined drug treatment directly activates pro-apoptotic signals and dysregulates NF-κB signaling independent of PI3K/Akt signaling, just as what was shown in the schematic in Figure 7. All these points deserve to be better explored in our further study.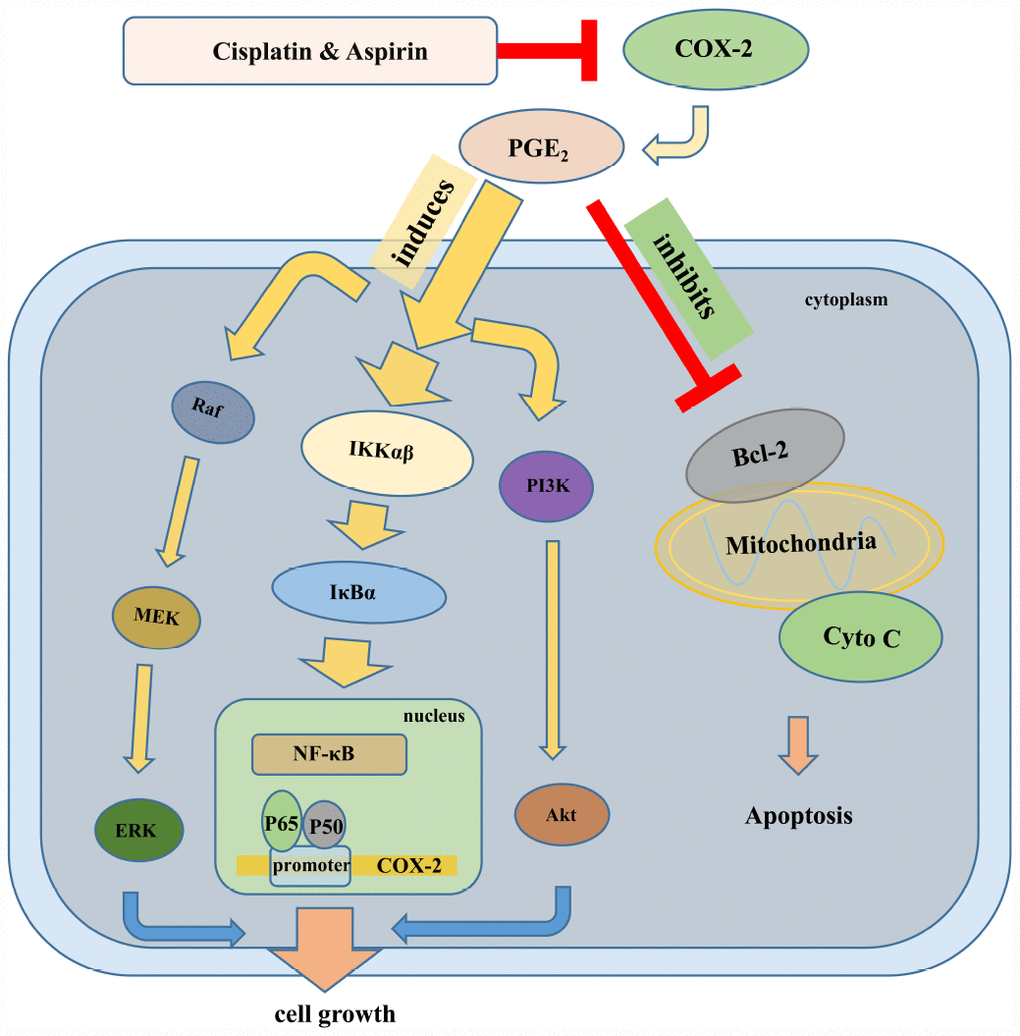 Figure 7. The schematic of the molecular mechanisms involved in the synergistic anti-tumor effect of Aspirin and Cisplatin in colon cancer. Aspirin in combination with Cisplatin enhanced the inhibition of cell proliferation, migration and invasion by reducing COX-2 mediated prostaglandin E2 synthesis and attenuating downstream PI3K/AKT, RAF-MEK-ERK and NF-κB/COX-2 signaling activities. Meanwhile, combination with Aspirin and Cisplatin could induce more apoptosis through triggering cytochrome-c release.

Yamamoto et al. previously demonstrated that aspirin inhibits the activation of NF-κB pathway by inhibiting IKKβ activity in colon cancer cells and suggested that this specific interference may be involved in the antineoplastic property [56]. Another study by Li Ming et al. indicated that Aspirin irreversibly inhibited enzymatic activity of COX-2, a downstream oncogenic gene regulated by NF-κB, and blocked PGE2 production in esophageal cancer cells [57]. Consistently, we found that Aspirin combined with Cisplatin synergistically inhibited nuclear translocation of NF-κB p65/p50 and prevented p65/p50 binding to COX-2 promoter, finally suppressing COX-2 expression and PGE2 production. Of note, in line with the inactivation of PI3K/AKT or ERK signaling pathway, the inhibition of COX-2 activity does not necessarily extinguish cell viability suppression caused by Aspirin and Cisplatin co-treatment based on the data from Figure 5C, similarly suggesting the involvement of other mechanisms besides NF-κB/ COX-2 in the synergized anti-cancer effect mediated by Aspirin combined with Cisplatin, for instance, PI3K/AKT and ERK pathways. By referring to David's review [58], we drew a schematic representation to elucidate the underlying molecular mechanisms involved in synergistic anti-tumor efficacy of this combined therapy on colon cancer (Figure 7).
In addition, the almost identical mechanisms of Aspirin sensitizing Cisplatin-mediated antineoplastic effect have been validated in our in vivo experiments. More importantly, although the clinical trial performed by Crabb et al. was not powered to test the hypothesis that Aspirin could reduce Cisplatin-induced ototoxicity [59], our results at least imply that in synergy with Aspirin, the equal inhibiting effect on colon carcinogenesis could be attained by applying lower-dose Cisplatin. In other words, more strikingly, we found that this combined therapy was capable to relieve the toxic side effects caused by using Cisplatin alone at high dosage, but to get the same or even better treatment outcome. Our results taken together suggest that Aspirin combined with Cisplatin has the potential to become a novel approach for colon cancer treatment.
Conclusions
In summary, our study demonstrated that Aspirin sensitized the chemotherapeutic effect of Cisplatin in colon cancer as evidenced by the enhanced anti-proliferation, anti-migration, and proapoptotic activities in vitro and in vivo. Furthermore, we provided the mechanistic insights into such combinational treatment and found that the combined effects of Aspirin and Cisplatin might be achieved through better activating cytochrome-c-triggered apoptotic signaling, and more significantly inhibiting PI3K/AKT/ERK and NF-κB/COX-2 pathway. Our data therefore illustrated the potential of Aspirin in elevating Cisplatin's anti-tumor effects in colon cancer, and also provided the possibility to develop the combinational use of Aspirin and Cisplatin as a novel therapeutic strategy for colon cancer treatment.
Materials and Methods
Cell lines and cell culture
Human colon cancer cell lines SW620, LoVo, RKO and DLD-1 were obtained from ATCC (American Type Culture Collection). SW620 and RKO were cultured in DMEM medium (Invitrogen, Carlsbad, CA), meanwhile LoVo and DLD-1 cultured in RPMI 1640 medium (Invitrogen, Carlsbad, CA), supplemented with 10% fetal bovine serum (Gibco). All cells were cultured in the incubator (Thermo Fisher Scientific) with 5% CO2 at 37 °C consistently.
Reagents and antibodies
Cisplatin and Aspirin applied to in vitro tests were purchased from Sigma-Aldrich. Antibodies against p50 (Cat: sc-8414), Bcl-2 (Cat: sc-7382) and Cytochrome C (Cat: sc-13560) were purchased from Santa Cruz Biotechnology. Antibodies against β-catenin (Cat: 8480T), Vimentin (Cat: 5741T), Snail (Cat: 3879T), Slug (Cat: 9585T), p-p65 (Cat: 3033S), p65 (Cat: 8242T), p110-α (Cat: 4255S), p110-β (Cat: 3011T), p110-γ (Cat: 5405T), p-PI3K p85(Tyr 458)/p55 (Tyr 199) (Cat: 4228S), p-PDK1 (Cat: 3438T), Akt (Cat: 9272S), p-Akt(Ser 473) (Cat: 4060T), Pten (Cat: 9188T), p-c-Raf (Cat: 9421T), p-mek1/2 (Cat: 9154T), Erk1/2 (Cat: 4695T), p-Erk1/2 (Cat: 4370T), COX-2 (Cat: 12282T), IKKα (Cat: 11930S), IKKβ (Cat: 8943S), p-IKKα/β (Cat: 2697T), IκB-α (Cat: 4814T) and p-IκB-α (Cat: 2859T) were purchased from Cell Signaling Technology. Antibodies against N-Cadherin (Cat: 22018-1-AP), β-actin (Cat: 20536-1-AP), MMP2 (Cat: 10373-2-AP), MMP9 (Cat: 10375-2-AP), Bax (Cat: 50599-2-Ig), PARP (Cat: 13371-1-AP), Lamin B1 (Cat: 12987-1-AP) and c-myc (Cat: 10828-1-AP) were purchased from Proteintech group. The NF-κB signaling inhibitor QNZ was purchased from Selleck Chemicals, China. Unless peculiarly noted, other chemicals were purchased from Sigma-Aldrich.
siRNA sequences and transfection
The siRNAs targeting Akt, MEK1 and MEK2 were purchased from Shanghai GenePharma Company (Shanghai, China). The Akt siRNA sequence was 5'-CUCACAGCCCUGAAGUACUtt-3'. MEK1 siRNA sequence was 5'-AAGCAACTCATGGTTCATGCTTT-3'. MEK2 siRNA sequence was 5'-AAGAAGGAGAGCCTCACAGCA-3'. Cells plated into 96-well plates (5000 cells/well) were transfected with siRNA duplexes (1-2 μg) encapsulated by Lipofectamine 3000 (Invitrogen, Carlsbad, CA). At 48 hours after treatment, cell viabilities were tested by MTT analysis.
Cell viability assay
About 5000 cells were seeded in each well of 96-well plates. After culture overnight, they were treated with different concentrations of Aspirin and/or chemotherapy drug Cisplatin for 48 h. Cell viability was measured by MTT assay. The drug concentration required to cause 50% cell growth inhibition (IC50) was determined by interpolation from dose-response curves.
Colony formation assay
After treatment with Cisplatin alone or Aspirin alone or their combination for 48 hours, RKO and LoVo were harvested and seeded into six-well plates (2×103 cells per well), and then they were cultured for 10 days. The cell clones were washed with PBS, and then fixed in methanol for 10 minutes, finally stained with 0.1% crystal violet. Colonies that contained more than 50 cells were counted.
Wound-healing assay
Wound-healing assay was performed to detect cell migration ability. RKO and LoVo were seeded into six-well plates and then cultured to 90% confluence. Cell monolayers were wounded by a sterile 200μl pipette tip, and then washed with PBS for three times to remove detached cells. Cells were treated with indicated doses of Cisplatin alone or Aspirin alone or their combination for 56 hours. Then medium was replaced with PBS, the wound gap was observed and photographed by inverted microscope.
Cell invasion assay
The transwell assay was performed to test the cellular capacity of invasion. RKO and LoVo were cultured in medium containing Cisplatin and/or Aspirin for 48 hours, then collected and about 104 cells were resuspended in 100μl serum-free medium. The upper chamber was coated with Matrigel in 50μl serum-free medium and dried naturally. The lower chamber were filled with 500μl medium containing 20% FBS. After culture for 96 hours, invasive cells were stained with 0.1% crystal violet.
Western blot analysis
Proteins from cell or tissue lysate were separated by 10% SDS-PAGE gel and electrophoretically transferred to PVDF membranes. After being blocked by 5% disposable milk for 2 hours at RT (room temperature), the protein bands were incubated with specific antibodies against β-actin (1:5000), Lamin B1 (1:2000), COX-2 (1:1000), or other antibodies from EMT kit, PI3K signaling pathway kit, ERK signaling pathway kit and NF-κB signaling pathway kit overnight at 4°C. After washing 3 times with TBST, the membranes were incubated with the second antibodies at RT for 2 hours. Finally the protein bands were detected by enhanced chemiluminescence according to the manufacturer's instructions.
Acridine orange/ethidium bromide (AO/EB) fluorescence staining
RKO and LoVo plated in 6-well plates were treated with Cisplatin alone or Aspirin alone or their combination for 48 hours. Then 250μl AO/EB (10μg/ml) was gently added into each well. The apoptotic, necrotic and live cells were observed by a inverted fluorescence microscope (IX81, Olympus).
Apoptosis assay
Drug-induced apoptosis was detected by FACS analysis using an Annexin V-FITC/PI staining kit (KeyGEN BioTECH, China). RKO and LoVo seeded into six-well plates were cultured overnight. After treatment with Cisplatin alone or Aspirin alone or their combination for 48 hours, cells were collected and washed once with cold PBS, subsequently stained with FITC-labeled Annexin V and PI. The stained cells were analyzed by flow cytometry (BD Accuri™ C6).
Confocal immunofluorescence assay
Cells grown onto glass slides located into the 6-well plate were treated with Cisplatin and/or Aspirin for 48 hours. Then the samples were fixed with 4% paraformaldehyde for 30 min, permeabilized with PBST (PBS with 0.2% Triton-X100) for 5 min, and blocked with 10% BSA for 1 hour. Antibodies against Cytochrome-c, p65 and p50 diluted in PBS containing 1% BSA (1:200) were added to the cells and incubated overnight at 4°C. After washing with PBS, slides were incubated with fluorescein isothiocyanate- and rhodamine- conjugated secondary antibodies for 1 hour. The nuclei were counterstained with 4′,6-diamidino-2phenylindolde (DAPI, 5mg/ml storage solution diluted to 1:5000 with PBS). After five additional 10 minutes washes, samples were detected with Leica confocal microscope.
Pulldown assay
The biotin-labeled double-stranded oligonucleotide probe, which corresponds to -892/+9 fragments of COX-2 promoter sequence were synthesized by PCR using biotin-labeled primers from TAKARA Company (sense, 5′-ACGTGACTTCCTCGACCCTC-3′; antisense, 5′-AA GACTGAAAACCAAGCCCA-3′). After treatment with Cisplatin and/or Aspirin for 48 hours, 400 μg nuclear protein, 4 μg DNA probe and 50 μl streptavidin-conjugated agarose beads were mixed and rotated gently at 4°C overnight. The beads complexed with binding proteins were obtained through centrifugation. After being washed with PBSI twice, the beads were resuspended by 2× loading buffer and boiled at 100°C for 10 min. Ultimately, the supernatant containing the pulled down proteins were detected by western blot using antibodies against p65 and p50.
Dual-luciferase reporter assay
RKO and LoVo cells seeded in 6-well plates were transfected with COX-2 promoter (-892/+9 fragments) driven-luciferase plasmids and pRL-TK Renilla luciferase constructs (Promega) by Lipofectamine 3000 according to the manufacturer's instructions. After 24 hours, the cells were treated with Cisplatin and/or Aspirin for 48 hours. Then luciferase activities were measured according to the Dual-Luciferase Assay System protocol (Promega).
PGE2 assay
RKO and LoVo plated in 6-well plates were treated with Cisplatin and/or Aspirin for 48 hours, then cell culture media were collected. The amounts of PGE2 in the media were detected by Prostaglandin E2 High Sensitivity in vitro competitive ELISA Kit (Abcam 133055).
Mouse xenograft
All animal experiments were approved by the Animal Research Committee of Dalian Medical University and performed in accordance with established guidelines. LoVo cells (5×106 or 5×105) suspended in 100μl PBS were subcutaneously injected into the left or right flank of each male BALB/c nude mice aged 4-5 weeks (Charles River). Three days later, when the diameter of the tumor formed in the left flank by injecting 5×106 LoVo cells reached 3mm×4mm, the mice were randomly separated into four groups (6 mice each group). The mice were treated with DMSO, Aspirin (100 mg/kg) by intragastric administration every day, and/or DDP (3 mg/kg) by intraperitoneal injection every three days according to the reported dosage application [18]. The tumor size was measured with a caliper once every three days and volumes were calculated as following: V=(width2×length)/2. On day 21 after tumor cell inoculation, all experimental mice were sacrificed, and the tumor xenografts were harvested and weighted. A portion of tumor tissues were fixed in 10% formalin and embedded in paraffin for immunohistochemical staining with antibodies against N-Cadherin (1:100), P-Akt (1:100), p-p65 (1:50), p65 (1:50), p50 (1:50), p-Erk1/2 (1:200), and COX-2 (1:50). Meanwhile, at the endpoint of therapy, blood samples of mice in each group were collected for renal toxicity testing. Serum levels of creatinine (Cr) and Blood Urea Nitrogen (BUN) were measured by detection kit (Cat: C011-2-1 and C013-2-1 from Nanjing Jiancheng Bioengineering Institute, China).
Statistical analysis
The data were presented as the means ± standard deviation (SD) of at least three independent experiments. The error bars indicate the SD. Analysis of variance and Student's t test were used to compare the values of the test and control samples. *, P<0.05 was considered to be significant; **, P<0.01 and ***, P<0.001 was considered to be strongly significant.
Ethics approval
All animal maintenance and procedures were carried in accordance with the National Institute of Health Guide for the Care and Use of Laboratory Animals, with the approval of the Animal Research Committee of Dalian Medical University.
Abbreviations
FBS: Fetal Bovine Serum; PGE2: Prostaglandin E2; IHC: Immunohistochemistry; FACS: Fluorescence Activated Cell Sorter; CB: Celecoxib; LPS: Lipopolysaccharides; DDP: Cisplatin; ASP: Aspirin.
Author Contributions
This work was carried out in collaboration between all authors. WG, XW and WD defined the research theme, designed the experimental approach and revised the manuscript critically. WJ, MC, JH, SH, PG and WY designed methods and carried out the experiments. WJ, MC, SH, WG and WD analyzed the data and interpreted the results. WJ, WD and WG wrote the manuscript. All authors read and approved the final manuscript.
Acknowledgments
We thank Wei Cheng, Haibo Chen and Hui Wang at the Institute of Cancer Stem Cells in Dalian Medical University for their support at confocal microscopy and FACS service.
Conflicts of Interest
The authors have declared that no Conflicts of interest exists.
Funding
This work was supported by the funds from the National Natural Science Foundation of China (81772975, 81772925), the Natural Science Foundation of Guangdong Province, China (2015A030313056).
References