Molecular switch in human diseases-disintegrin and metalloproteinases, ADAM17
1 Department of Hepatobiliary and Pancreatic Surgery, The Second Hospital of Jilin University, Changchun 130041, P.R. China
2 Jilin Provincial Key Laboratory on Molecular and Chemical Genetic, The Second Hospital of Jilin University, Changchun 130041, P.R. China
3 Department of Orthopaedic, The Second Hospital of Jilin University, Changchun 130041, P.R. China
Received: February 13, 2021

     

Accepted: May 18, 2021

     

Published: June 28, 2021

     
https://doi.org/10.18632/aging.203200
How to Cite
Copyright: © 2021 Yang et al. This is an open access article distributed under the terms of the Creative Commons Attribution License (CC BY 3.0), which permits unrestricted use, distribution, and reproduction in any medium, provided the original author and source are credited.
Abstract
The ADAMs (a disintegrin and metalloproteinase) are a family of cell surface proteins with crucial roles in the regulation of cell adhesion, cell proliferation to migration, proteolysis and cell signaling transduction pathways. Among these enzymes, the ADAM17 shows significant effects in the "ectodomain shedding" of its substrates such as cytokines (e.g., tumor necrosis factor α, TNFα), growth factors (e.g., epidermal growth factor, EGF), adhesion proteins (e.g., L-selectin), and their receptors (e.g., IL-6R and TNFα). Several studies focus on the underlying molecular mechanisms of ADAM17 in diseased conditions. Here, we took several different approaches to elucidate the function of ADAM17, the participation of ADAM17 in several human diseases, and the potential as targeted therapy reagents. As more and more studies verify the miRNA-mediated expression variation of ADAM17, the specific regulation network of miRNAs and ADAM17 was exploited in this review as well.
Introduction
A disintegrin and metalloproteinase (ADAMs) are a family of membrane-anchored proteins with variety functions in multicellular organisms. ADAMs are important in both physiological and pathological processes and becoming promising molecules in targeted therapy [1]. Proteins of the family perform functions including proteolysis, cell adhesion, cell fusion, and cell signaling [1]. Among the 21 members of ADAM family, 13 are active enzymes. Other ADAMs lacked the catalytic site of Zn-binding sequence (HEXXHXXGXXH) or with destroyed metalloenzyme domain, resulting in proteolytically inactive [2]. However, these molecules were important in intracellular cell signal transduction [1].
ADAM17 is a member of ADAM family, the ADAM17 gene is located on chromosome 2p25, including 19exons and 18 introns (Figure 1A). Its protein is multi-domain that consist of a prodomain, a metalloenzyme or catalytic domain, a disintegrin domain, a cysteine-rich domain and a transmembrane domain (Figure 1B, 1C). ADAM17 was discovered in 1997 as the enzyme that could proteolysis TNF-α while it was regarded as adhesion proteins in the previous [3, 4]. These two properties enable ADAM17 to participate in cellular adhesion and proteolytic cleavage of various cell surface molecules [1]. Proteolysis is one of the important post-translational modification of transmembrane proteins, while the ADAM17-mediated ectodomain shedding is the main form of proteolysis [5]. More than 10% of all cell surface proteins and most of the transmembrane proteins need to be proteolytically cleaved to release soluble form to be active [6], and the proteolysis usually occurs at the membrane-adjacent part of the molecule [2]. At least 90 substrates were reported to be processed by ADAM17 [7], of which interleukin-6 receptor (IL-6R), the pro-inflammatory cytokine tumor necrosis factor α (TNFα) and the epidermal growth factor receptor (EGFR) were most important [5]. ADAM17 knockout mice develop TGF-α related phenotype such as open eyes and wavy hair at birth, indicating that both TGF-α and TNF-α could be the substrates and cleaved by ADAM17 [8]. Lacking of ADAM17 (ADAM17-null mice) influenced the ADAM17-derived EGFR activation and result in defective valvulogenesis in newborn mice [7, 9]. The proteolytically activated ADAM was localized mainly in the plasma membrane [10]. Protein cleavage can regulate cellular signaling and affect cell behavior, but the results always differs. Both substrate and receptor can be cleaved. The activation of either substrate or receptor can result in different biological functions which partly depend on the pathway the substrate or receptor involved in [11]. ADAMs could be tissue-specific and has preferences for certain proteins [2].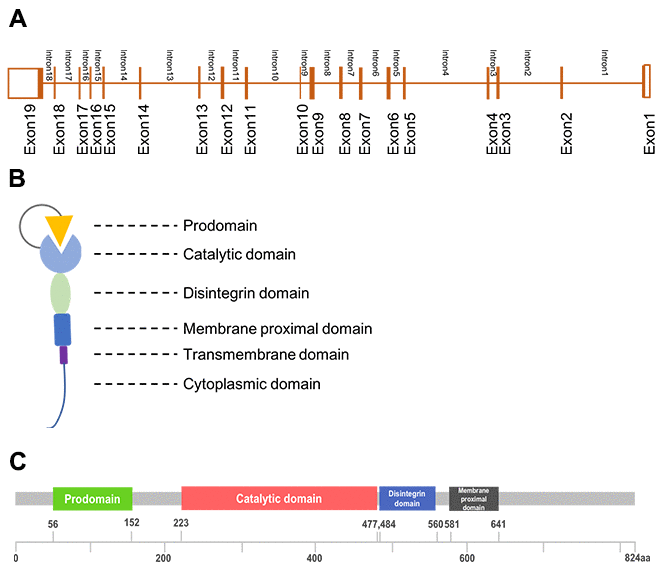 Figure 1. The structure of ADAM17. (A), Gene structure; (B), Generalized domains of ADAM17; (C), Conserved domains of ADAM17.

Our review focuses on ADAM17, one of the most well studied ADAM enzymes.
Functions of different domain of ADAM17
Post translational modifications of ADAM17
Post translational modifications of ADAM17 including the removal of pro-domain, and glycosylation or phosphorylation of the enzyme. It is not very clear whether there are differences in glycosylation of ADAM17 between normal and cancer cells and so does the relationship of glycosylation and enzymatic activity. Kinetic parameters analysis for hydrolysis of TNFα-based substrates by insect- and mammalian-expressed human ADAM17 showed that glycosylation of ADAM17 can influence the enzyme activity in vivo [29]. Furthermore, zinc-binding and non-zinc-binding inhibitor of ADAM17 exhibit different potency, suggesting that glycosylation of ADAM17 may participate in the cell signaling regulation [29]. An experiment using TNFα substrate with and without a glycan moiety attached to test the change of ADAM17 activity and results indicated that glycosylation enhanced ADAM17 activity [30]. N-linked glycosylation sites on different domain ADAM17 also explained the glycosylation can be the important regulator of ADAM17 [31].
As to another important post-translational modification-phosphorylation, including serine and threonine residues of its cytoplasmic domain was confirmed to be related to many diseases. Protein kinase C and kinase G (PKC, PKG) [32], extracellular-signal regulated kinase (ERK) [33], p38-mitogen-activated protein kinase (p38-MAPK) [33, 34], phorbol ester (PMA) [35], Epidermal Growth Factor (EGF) [35] and phosphoinositide dependent kinase 1 (PDK1) [36] were kinases that confirmed to regulate the phosphorylation of ADAM17. The phosphorylation of the cytoplasmic tail of ADAM17 by ERK or p38-MAPK increase ADAM17-mediated proteolysis of TNFα, which associated with the cell surface dimerization [37]. The C-terminal T735 and/or S791 phosphorylation of ADAM17 in gastric epithelial cells induce the activation of ADAM17, while the threonine phosphorylation by p38 MAPK promote the tumorigenic activity of ADAM17, and the proportion of phospho-ADAM17 was highly correlate with KRAS mutation in lung adenocarcinoma [34]. Other studies also demonstrated that PMA and EGF induce the phosphorylation of ADAM17 on T735 and S819 by extracellular signal-regulated kinase [35]. PDK1 and phosphatidylinositol 3-kinase (PI3-K) contribute to the ADAM17 phosphorylation and induce EGF receptor activation which may enhance the therapeutic effects of EGFR inhibitors in non-small cell lung cancer (NSCLS) patients [36]. However, there are controversy results showed that the activation of ADAM17 was independent of the intracellular portion of ADAM17 [38, 39]. Deletion of entire cytoplasmic portion of ADAM17 could shed the TNFα from the cell surface also [40].
Regulation network of miRNAs and ADAM17
Accumulating evidence suggested that ADAM17 was up-regulated in various cancers and was involved in tumor growth, invasion and metastasis. However, miRNAs function as upstream regulators in ADAM17 cell signaling pathway and more and more studies focus on the regulation network of cancer-related miRNAs and ADAM family (Table 1) [82–87].
Table 1. The regulation network of miRNAs and ADAM17 in different human diseases.
| | | | |
| --- | --- | --- | --- |
| miRNAs targeted ADAM17 | Regulation network | Pathology conditions | Reference |
| miR-152 | miRNA↑, ADAM17↓ | NSCLC | Su et al. 2014 |
| miR-338 | miRNA ↓, ADAM17↑ | NSCLC Neuroblastoma. Gastric Cancer. HCC | Chen et al. 2013; Hong et al. 2020; Sun et al. 2015; Wang et al. 2015 |
| miR-122 | miRNA ↓, ADAM17↑ | HCC | Li et al. 2012; Jopling 2012; Thakral et al. 2015 |
| miR-708 | miRNA ↓, ADAM17↑ | Idiopathic Pulmonary Fibrosis | Liu et al. 2018 |
| miR-143, miR-145 miR-148a, miR-152 | miRNA ↓, ADAM17↑ | Colon Cancer | Dougherty et al. 2020 |
| miR-326 | miRNA↑, ADAM17↓ | Hashimoto's Thyroiditis | Liu et al. 2020 |
| miR-148 | miRNA ↓, ADAM17↑ | Nasopharyngeal Carcinoma | Shi et al. 2020 |
| miR-145 | Feedback Loop | Renal Cell Carcinoma | Doberstein et al. 2013 |
Some miRNAs are mainly expressed as tumor suppressors, and ADAM17 were proved to be the direct target of miRNAs [82, 85]. In non-small cell lung cancer (miR-338-3p was down-regulated [83–85, 88]. However, miRNA-mediated overexpression of ADAM17 and activation of downstream substrates lead to the attenuation of suppressive function of miRNA [83–85]. Other tumor suppressor miR-152 showed an inversely correlation with the expression of ADAM17. miR-152-induced tumor suppression effect was partially mediated by down-regulation of ADAM17 expression [89]. In addition, positive and negative feedback loops have been described for ADAM and miRNA in cancer. High level of miR-145 decrease the expression of ADAM17, whereas ADAM17 negatively regulates miR-145 through cleaved substrates such as TNFα [82]. Increased TNFα in tumor microenvironment was responsible for more metastasis. Inhibitors of ADAM family were promising options for cancer treatment through reduction of ADAM substrates and increased tumor suppressive miRNAs in tumor microenvironment [90, 91].
On the other hand, some miRNAs are closely related to the tumorigeneses and development of cancer which may responsible to the target genes and regulation network. miR-122 is a relative tissue specific miRNA which abundantly expressed in liver [92]. It is essential for the metabolism of cholesterol, glucose, lipid and iron homeostasis and it was the first miRNA carry out clinical trial in HCV infected patients [93]. Results from our research group confirmed the function of miR-122 in the regulation of gluconeogenesis and lipid metabolism in HepG2 cells [94]. Moreover, miR-122 was downregulated in HCC and correlated with more aggressive tumor behavior [95]. Targeted transportation of miR-122 to cancer cells using viral vector or liposomal nanoparticles resulted in tumor suppression in HCC animal models [93]. Circulating miR-122 was becoming a prognostic marker in patients with HCC [96]. Additionally, the mechanism that miR-122 involved in the regulation of a large number of target mRNAs has been explored as well. Microarray analysis and 3'-UTR synthetic miR-122 were used to identify the targets of miR-122, whereas CAT-1, ADAM17, BCL-w and interferon-inducible double-stranded RNA-dependent activator (PRKRA) were confirmed [93]. Two independent expression microarray datasets analysis identified 32 candidate target genes of miR-122, most of which were enriched in the cell-cell signaling and gene transcription. ADAM17, one of the target genes of miR-122, was crucial in metastasis. The invasion, migration and angiogenesis were reduced in HCC mice model once ADAM17 was knocked down. miR-122 reduced angiogenesis, inhibit intrahepatic metastasis and functioned as tumor suppressor through the regulation of ADAM17 [97]. Overexpression of ADAM17 was also seen in other cancers including breast cancer, brain tumor and colorectal cancer [98–100]. Of note, ADAM17 was proved to be associated with invasion and metastasis either [98–100].
In other diseases, ADAM17 participated in idiopathic pulmonary fibrosis (IPF) via miR-708-3p/ADAM17/STAT3 signaling pathway. miR-708-3p/ADAM17 axis aggravated IPF and miR-708-3p was verified concentrate in the lungs of animal models [101]. However, in Hashimoto's Thyroiditis (HT), the expression of miR-326 was closely related to the occurrence of HT via the regulation of TH17 cells differentiation [102].
All these results suggested that miRNAs functioned as the upstream regulators of ADAM17 and the miRNA–ADAM17 link participated in various pathological process and diseases.
Conclusions
In this review, the functions of different domains and post-translational modifications of ADAM17 have been performed. The links of ADAM17 with different physiological and pathophysiological processes and human diseases are well discussed. As the important role of ADAMs in transcriptional regulation and maintenance of homeostasis, we analysis the regulation network of ADAM17 and miRNAs. The ADAM17 is not simply the target gene of miRNAs, the dual regulation and feedback loops between ADAM17 and miRNAs are also needed to be further understand. All these may contribute to the understanding of ADAM17 and thus provide new insights on the development of more selective ADAM inhibitors and reagents of targeted therapy.
Acknowledgments
This work was supported by grants from Natural Science Foundation of China (No. 81902484), China Postdoctoral Science Foundation funded project (2020M670864) and Medical and Health Talents Project of Jilin Province (2019SCZT003).
Conflicts of Interest
The authors declare that they have no conflicts of interest related to this work.
References