A prognostic fibroblast-related risk signature in colorectal cancer
1 Division of General Surgery, Peking University First Hospital, Peking University, Beijing 100034, People's Republic of China
2 Translational Cancer Research Center, Peking University First Hospital, Peking University, Beijing 100034, People's Republic of China
Received: July 1, 2021

     

Accepted: October 26, 2021

     

Published: November 4, 2021

     
https://doi.org/10.18632/aging.203677
How to Cite
Copyright: © 2021 Xu and Pan. This is an open access article distributed under the terms of the Creative Commons Attribution License (CC BY 3.0), which permits unrestricted use, distribution, and reproduction in any medium, provided the original author and source are credited.
Abstract
Colorectal cancer (CRC) is the third most common cancer in the world. The accessibility of the Cancer Genome Atlas (TCGA) and Gene Expression Omnibus data allows the prognostic evaluation of CRC. Fibroblasts play a key role in the development and progression of tumors while fibroblast-related risk signature in CRC patients has rarely been mentioned. In this study, TCGA data was classified into high-fibroblast and low-fibroblast groups according to the median of fibroblast content. Among 3845 differentially expressed genes between two groups, 14 prognostic genes commonly expressed in GSE39582 and TCGA were identified by LASSO-COX analysis. Then we established a fibroblast-related risk signature in TCGA training group and validated in the GSE39582 testing group. The risk score was significantly associated with the overall survival (OS), and the poor prognosis of patients in high-risk group might relate to the immune cell infiltration in the tumor microenvironment, epithelial-mesenchymal transition, and extracellular matrix related processes. Overall, we proved that the fibroblast-related signature could predict the prognosis of patients which might shed light on the treatment of CRC.
Introduction
According to the latest data from 2020, colorectal cancer (CRC) is the third most common and the third most fatal cancer in the United States. The aging population and the prevalence of low-fiber diets will likely lead to a gradual increase in the incidence of CRC. And the 5-year relative survival rate for CRC is 65% which is expected to improve [1]. Therefore, an effective prognostic model is particularly important for the treatment of CRC.
The fibroblast maintains the structural integrity of tissues by synthesizing the extracellular matrix (ECM) of connective tissue [2]. Recent studies revealed the functional heterogeneity of the fibroblast according to the organ of origin and body site, and advances in tumor microenvironment (TME) research also demonstrated fibroblasts played an important role in the progression of cancer [3–6]. Within the TME, cancer-associated fibroblasts (CAFs) had been proved to secrete growth factors, inflammatory ligands, and extracellular matrix proteins which could promote cancer cell proliferation, therapy resistance, and immune exclusion [7]. Single-cell multi-omics sequencing identified fibroblast-specific biomarkers significantly related to the poor prognosis of CRC patients [8]. Although various prognostic models of CRC, such as the hypoxia-related signature, autophagy score signature, and aging-related signature had been developed [9–11], the fibroblast-related risk signature based on open database had rarely been mentioned.
In this study, according to the median of fibroblast content, TCGA data was divided into high- and low-fibroblast groups, the OS was significantly longer in the low-fibroblast group than in the high-fibroblast group. 3845 differentially expressed genes (DEGs) were further identified. Among the 1720 genes shared by TCGA and GSE39582, we finally identified 222 prognostic-related genes by Univariate Cox. Next, based on the LASSO regression analysis, a 14 gene-fibroblast-related risk signature was established, which was significantly associated with the overall survival (OS) of CRC patients in the training and testing groups (Supplementary Figure 1). Besides, the signature was also an independent prognostic factor, whose accuracy was demonstrated using the receiver operating characteristic (ROC) curve. Then, we performed correlation analysis of tumor infiltrating immune cells, protein-protein interactions (PPI), and copy number alteration (CNA) analysis. The gene set enrichment analysis (GSEA) and functional enrichment analysis suggested that epithelial-mesenchymal transition (EMT), and ECM related processes were enriched in high-risk group. Taken together, above results indicated that the fibroblast-related risk signature could predict the OS of CRC patients and the 14 hub genes might be potential therapeutic targets.
Materials and Methods
Training set collection
Processed RNA-seq data of TCGA CRC and paired clinical information (version: September 8, 2017) were obtained from UCSC Xena webserver (https://xenabrowser.net/). After data quality control (QC) with excluding missing values, a total of 55 normal samples and 375 tumor samples data set were downloaded, and 375 tumor samples data set were collected as training set in this study. The log2 (Counts + 1) value and log2 (FPKM +1) value were both downloaded, if not explained, log2 (FPKM + 1) value means the gene expression in this study.
Testing set collection
Processed microarray data of CRC and related meta-data were downloaded from NCBI Gene Expression Omnibus (GEO, https://www.ncbi.nlm.nih.gov/geo) with accession code GSE39582. By performing the same QC as training set, we have a validation set with 566 samples.
Quantification of tumor immune and stromal content
MCP-counter is a wide used computational tool for quantification of tumor immune and stroma content from bulk RNA-seq data [12], such as analysis of immune cells associated with immunotherapy response [13], identification of different TME subtypes [14]. For the ten major cell types in TME, MCP-counter can efficiently derive the semi-quantitative scores which predict the enrichment of specific cell types in a sample based on well-defined marker genes [15]. Thus, we could obtain the quantification value of a specific cellular content and perform inter-sample comparisons in the next analysis.
In this study, we applied R package MCP-counter (https://github.com/ebecht/MCPcounter) to obtain the abundance scores of ten major stromal and immune cell types (endothelial cells, fibroblasts, CD3+ T cells, CD8+ T cells, cytotoxic lymphocytes, natural killer cells, B lymphocytes, monocytic lineage cells, myeloid dendritic cells and neutrophils). And the enrichment scores of TME were hierarchically clustered by R package pheatmap (Figure 1A) and grouped by the fibroblast enrichment (Figure 1B). Also, after the construction of risk model, we compared the quantification of different cell types across samples grouped into high risk and low risk. Another deconvolution-based software EPIC was also applied for the cellular composition analysis as previously described [16], and the implementation of MCP-counter was documented in detail elsewhere [12].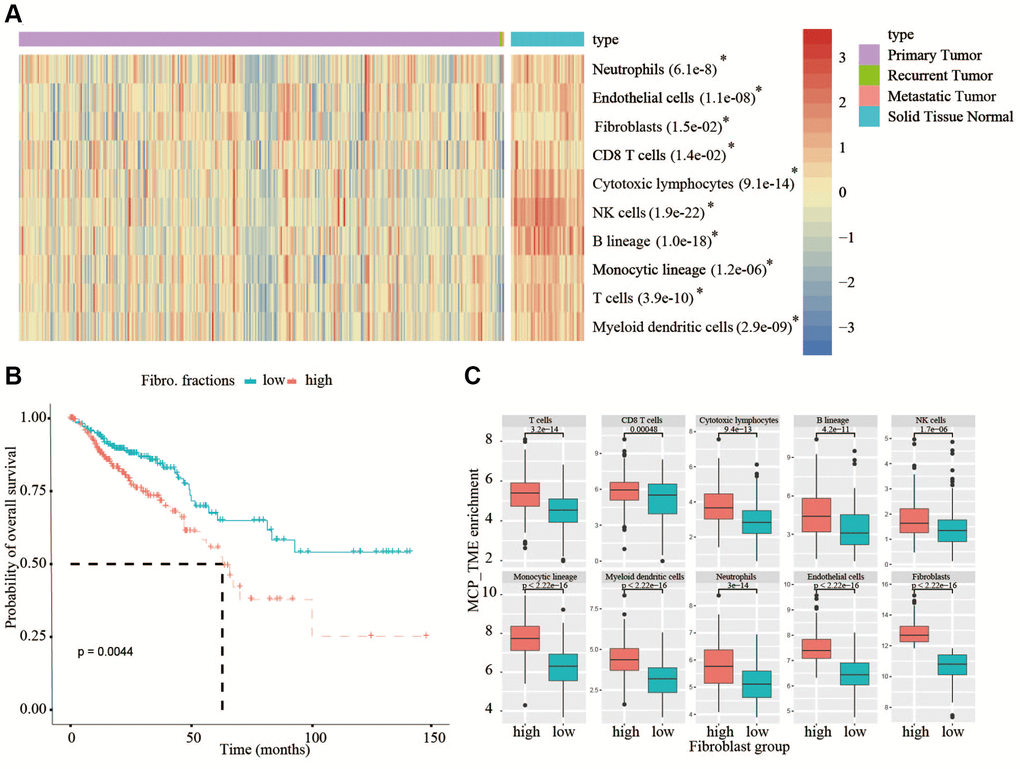 Figure 1. Analysis of TME in TCGA database and analysis of OS in high- and low-fibroblast groups. (A) In TCGA, all types of immune cells and mesenchymal cells in adjacent normal tissues are higher than that in tumor tissues. (B) We divided the 375 patients into a high-fibroblast group and a low-fibroblast group according to the median of the fibroblast content, the OS in the high-fibroblast group is shorter than in the low-fibroblast group. (C) The abundance of immune cells in the high-fibroblast group was significantly higher than that in the low-fibroblast group.

Differential expression analysis
For differentiated expressed genes (DEGs) of TCGA with high/low fraction of fibroblasts or high/low risk fibroblast score, we used raw count value of genes as input with R package DESeq2 [17]. Briefly, we performed deseq() function with default parameters, then we defined the DEGs which had higher absolute log2 (fold-change) value than 1.5 and tested significantly (p.adj value < 0.05). Out of 3845 DEGs, we chose 1720 genes which had expression in validation set as well. The same criteria was applied to DEG of high/low risk samples.
Development and validation of the prognostic signature
The OS was defined as the time from diagnosis to death or the last follow-up date. Univariate Cox was used to obtain 222 prognostic genes in training set through traversing all DEGs in fibroblast high/low condition, and LASSO-penalized Cox regression was used to construct optimal prognostic risk signatures in training group. The COX regression model with the LASSO penalty successfully achieved compression and selected 14 fibroblast-related genes simultaneously. The risk score formula was as follows: where exp represented the gene expression value while β represented the LASSO coefficient. This model was utilized to estimate the OS of each patient in the training dataset and testing dataset. The predictive potential of the signature was evaluated via area under the curve (AUC) value of the receiver operating characteristic (ROC) curve. The performance of proposed risk score was also tested by calibration curve and DCA curve in both datasets, which were implemented by R package rms and R package rmda, respectively.
Survival analysis
R package survival and survminer were applied to investigate the difference of prognosis between two groups by log-rank test. By using median expression as a cutoff, we obtained 222 prognostic genes in training set through traversing all DEGs in fibroblast high/low condition. As for prognosis analysis of high risk/low risk in training set, validation set or subgroup analysis of two datasets, we set the median risk score as a metric of risk.
Enrichment analysis
For pathway enrichment and functional annotation, R packages clusterprofiler and GSEA software were performed [18, 19]. Basically, we investigated upregulated genes (or downregulated genes) whether significantly enriched in particular pathways or terms refer to GO (http://geneontology.org) database. Next, we used a ranked genelist to GSEA algorithm with default parameters, in order to find out which significant pathway (q < 0.25) involved the specific condition (i.e., high risk versus low risk) refer to HALLMARK and C2 from MsigDB database (https://www.gsea-msigdb.org/gsea/msigdb).
Genomic alteration analysis
The related public mutation and copy number alteration data were surveyed and analyzed in online webserver cBioPortal (https://www.cbioportal.org/) [20]. All analysis and plot were followed as the webpage UI guide. Network of gene interactions was obtained from GeneMANIA (https://genemania.org).
Statistical analysis
All statistical analyses in this study were performed in R version 4.04. P < 0.05 was considered as statistical significance. Significance in comparisons of gene expression and putative microenvironment components in figures was calculated by the Wilcoxon Rank-sum test. ROC curves were plotted by R package ROCR. Spearman correlation was the metrics between fibroblast contents and modeled risk scores.
Data availability statement
All data for this study are available from the corresponding public database.
Results
Discussion
The CRC is one of the most commonly diagnosed and fatal cancers worldwide [1]. Changes in diet habits and aging may lead to an increase in the incidence of CRC [21].
Fibroblasts are stromal cells involved in many biological processes, including deposition of the ECM, regulation of epithelial differentiation, regulation of inflammation, and wound healing [4, 22, 23]. Previous genetic and cell biology studies also indicated that fibroblasts were involved in tumor growth. A subset of fibroblasts called cancer-associated fibroblasts (CAFs) are associated with cancer cells during the different stages of tumor progression [24]. At the initial stages of malignancy, fibroblasts could secrete TGFβ and hepatocyte growth factor to induce the initiation of cancer within the normal human epithelium [25]. Stromal cell-derived factor 1 and high-mobility group box 1 released by CAFs also contributed to cancer proliferation and stemness [26]. In addition, CAFs might enhance cancer cell invasion by affecting ECM stiffness [27]. During tumor metastasis, TGFβ1-stimulated CAFs secreted IL-11 to enhance the survival of CRC cells and increased the efficiency of organ colonization [28]. PDGF-stimulated CAFs enhanced CRC cell intravasation and promoted the formation of distant metastases via the secretion of stanniocalcin 1 [29]. Overall, fibroblasts did have a positive effect on tumor progression.
Based on TCGA and GEO, many risk models have been developed to predict the OS of CRC patients; most of these are mechanism-driven models based on factors such as aging, hypoxia, and autophagy [9, 10, 11]. However, a fibroblast-related risk signature based on open database has not been established to date.
In this study, we established a 14-gene risk signature, which was significantly associated with the OS of CRC patients. Subgroup analysis and independent prognostic analysis of univariate and multivariate COX demonstrated that our signature was stable in predicting the prognosis. The signature could assist physicians to perform individualized survival predictions, which would facilitate the selection of better treatment options.
In this study, PPI showed the function of hub genes focused on cell chemotaxis and protein kinase binding. In the CNA analysis, MMP19, DACT1, SCG2, and CHST3 were the most frequent CNAs, with a 3% mutation rate among the 14 hub genes. The enrichment analysis showed that EMT and ECM related pathways or functions that contribute to tumor invasion were enriched in the high-risk group. The analysis of TME showed more anti-tumor immune cells and less immunosuppressive environment in the low-risk group. Taken together, the risk signature could predict the OS of CRC patients and might involve multiple mechanisms.
Previous studies suggested fibroblasts in the TME expressed chemokines to attract and retain suppressive immune cells such as myeloid-derived suppressor cells, mesenchymal stem cells, and CD4+CD25+FOXP3+ regulatory T cells, which could counteract the anti-tumor functions of natural killer (NK) and CD8+ T and favor tumor progression [30–32]. Other chemokines secreted by fibroblasts could attract macrophages, neutrophils, and T cells toward the juxtatumoral stroma instead toward cancer cell nests [33, 34]. In addition to recruiting immunosuppressive cell types to the TME and deviating anti-tumor immune cell types from cancer nests, chemokines secreted by fibroblasts, such as CXCL8, CXCL12, and CCL2, had been implicated in polarizing resident macrophages and neutrophils toward a protumor versus an antitumor phenotype [35, 36]. Related biological process of fibroblasts might also involved in promoting tumor progression. Deposition of the ECM was an important function of fibroblasts; however, fibroblasts were also an important source of ECM-degrading proteases, which highlighted their role in maintaining ECM homeostasis [37, 38]. CAFs played a role in the invasion of cancer cells by pulling and stretching the ECM, resulting in the formation of small holes through which cancer cells could spread. As the main component of the ECM, collagens secreted by CAFs could also modulate crucial steps such as proliferation, apoptosis, angiogenesis, invasion, and metastasis to promote tumorgenesis [39]. The enhancement of EMT might also involved in progression of tumor, CAFs could secrete TGFβ1 to promote EMT, and then promoted tumor invasion and metastasis [40, 41]. Above all, the poor prognosis of patients in high-risk group might relate to the immune cell infiltration in the TME, EMT, and ECM related processes.
Our study had some limitation. First, many fibroblast marker genes in the testing group GSE39582 were default, so we had to use the DEGs between high-fibroblast and low-fibroblast groups to establish the signature. Second, this signature needed further experimental trials and large-scale clinical trials to validate.
In summary, we developed a fibroblast-related signature that could be applied as a novel prognostic assessment tool to predict the prognosis of CRC and further analysis of the 14 hub genes was necessary to explore their possible clinical value.
Conclusion
We proposed a novel and efficient fibroblast-related risk signature by using accessible sequencing data of CRC patients. This would help to guide the disease management and individualized treatment of CRC patients.
Author Contributions
Yisheng Pan: Conceptualization, Methodology; Hao Xu: Software, Writing- Original draft preparation.
Acknowledgments
The results of this study are based on the data from TCGA (https://xenabrowser.net/) and GEO (GEO, https://www.ncbi.nlm.nih.gov/geo) We thank all the authors who provided the data for this study.
Conflicts of Interest
The authors declare no conflicts of interest related to this study.
Funding
This study was supported by the National Natural Science Foundation of China (81970459).
References