Identification and validation of ubiquitin-proteasome system related genes as a prognostic signature for papillary renal cell carcinoma
1 Department of Medical Oncology, Xiang'an Hospital of Xiamen University, Fujian 361005, China
2 Xiamen Key Laboratory of Endocrine-Related Cancer Precision Medicine, Fujian 361102, China
Received: July 30, 2022

     

Accepted: October 21, 2022

     

Published: November 16, 2022

     
https://doi.org/10.18632/aging.204383
How to Cite
Copyright: © 2022 Zhang et al. This is an open access article distributed under the terms of the Creative Commons Attribution License (CC BY 3.0), which permits unrestricted use, distribution, and reproduction in any medium, provided the original author and source are credited.
Abstract
Abstract: Dysregulation of the ubiquitin-proteasome system (UPS) pathway greatly affects uncontrolled proliferation, genomic instability, and carcinogenesis, particularly in those with renal papillary cell carcinoma (PRCC). However, there is little information at the molecular level about the full link between changes in the genes involved in ubiquitin-mediated proteolysis and PRCC.
Methods: The Cancer Genome Atlas (TCGA) and GeneCards databases were utilized to find the clinical data and gene expression patterns of patients with PRCC. Univariate Cox regression analysis and absolute shrinkage and selection operator (LASSO) analyses identified a risk signature formed by ten optimal UPS genes. The predictive value of the risk signature in TCGA-PRCC cohorts was evaluated using Kaplan-Meier analysis and receiver operating characteristic (ROC) curves. By utilizing GO enrichment and the KEGG pathway, the interactions of differentially expressed genes connected to ubiquitin-mediated proteolysis were functionally examined. The protein expression of the hub genes was affirmed using the Human Protein Atlas (HPA) database. The effectiveness of particular CDC20 and UBE2C in vitro was confirmed by experimental research.
Results: Ten of the best ubiquitin-mediated proteolysis genes (UBE2C, DDB2, CBLC, BIRC3, PRKN, UBE2O, SIAH1, SKP2, UBC, and CDC20) were detected to create a risk signature. The high-risk score group stratified was associated with advanced tumor status and poor survival of PRCC patients. 10 genes were also found to be associated with the cell cycle pathway and ubiquitin-mediated proteolysis to GO and KEGG analysis. Of these 10 genes, CDC20 and UBE2C are highly expressed in tumor tissue and correlated with cancer immunity founded on the analyses of the expression of human protein atlas and TISIDB. The downregulation of UBE2C facilitated tumor inhibition and the anti-immune effect was confirmed by in vitro experiments.
Conclusion: Our results indicate that the risk model created from the ubiquitin-mediated proteolysis genes can be reliably and accurately predict the prognosis of PRCC patients, highlighting its targeted value for PRCC treatment. Particularly, the expression of UBE2C may be crucial for the prognosis and immunological treatment of renal cancer.
Introduction
Renal papillary cell carcinoma (PRCC) represents about 15% of all renal cell carcinoma, which is the most common type of kidney cancer [1–3]. Despite multimodal conventional therapy, including surgical resection and radiotherapy, advanced and metastatic kidney cancers remain a major cause of death in human cancer [4]. Within decades, the amount of research on molecular markers and multitargeted drugs has produced a limited role in prolonging the life expectancies of advanced and metastatic kidney cancer patients.
Driven by the success of immune checkpoint blockade applied in many cancers, research on the immunotherapy of kidneys had increased exponentially in the past few years. The PD-1/PD-L1 axis and the CTLA-4 receptor are the most common immune checkpoint in advanced and metastatic PRCCs [5, 6]. However, most renal cancers have been proven to be refractory to current immuno-therapies [7]. This has raised our interest in finding molecular mechanisms that deeply regulate response to immunotherapy in PRCC. Previous studies investigated potential biomarkers for the clinical response of immunotherapies in PRCC by using bioinformatic methods. Xi et al. [8] analyzed and compared the differentially expressed genes of PRCC obtained from the Gene Expression Omnibus (GEO) databases and found high expression levels of PTTG1 significantly associated with tumor microenvironment including lymphocytes, immune modulators, and chemokines. Yutao et al. [9] constructed a three-gene risk model for predicting prognosis in patients with PRCC from TCGA and three GEO series (GSE) datasets.
Ubiquitination, which mostly consists of E1, E2, and E3, is one of the most significant post-translational modifications [10–12]. Dysregulation of ubiquitination has been observed in various types of cancers, including PRCC [13–16]. By way of illustration, TRIM37 is a novel discovered E3 ubiquitin ligase and can promote RCC cell EMT and malignant progression via TGF-β1 signaling activation [17]. TRIM13, a RING domain containing E3 ubiquitin ligase, may serve as a candidate for RCC prognostic marker and potential therapeutic target by decreasing the RCC metastasis and invasion ability [18]. These studies have revealed a connection between the development of PRCC and changes in certain genes relevant to ubiquitin-mediated proteolysis. However, no research has yet thoroughly examined alterations of the UPS ubiquitin-mediated proteolysis process in the carcinogenesis and development of PRCC.
In this study, by analyzing the dataset from the TCGA database, we aim to systematically study and verify the expression characteristics of ubiquitin-proteasome system-related genes in PRCC. We identify a number of ubiquitination-related genes that were strongly correlated with PRCC patients' prognoses using a variety of statistical techniques. Finally, based on the screened risk genes, we developed a new and accurate risk model to forecast the prognosis of PRCC patients.
Materials and Methods
The cancer genome atlas cohort
The TCGA (https://portal.gdc.cancer.gov/) and cbioportal (http://www.cbioportal.org) databases were used to gather the molecular mRNA seq data and clinical information of 539 PRCC patients with 72 normal samples. The pathological characteristics of the tumors and clinical features of these patients with PRCC are all included in the data cohort.
Identification of prognostic UPS genes for the construction of a risk model
Ubiquitination-related genes selected based on the Genecard database that was substantially correlated with the prognosis of PRCC patients were filtered out using univariate Cox regression (P < 0.05). These ubiquitination-related genes chosen by univariate Cox regression were analyzed using the Least Absolute Shrinkage and Selection Operator (LASSO) algorithm with the "glmnet" R package [19]. Selected candidate UPS genes were finally obtained to make the risk model in PRCC. All p-values were lower than 0.05.
Construction of the prognostic risk model in the PRCC cohort
After enrolling into the LASSO algorithm, hub genes were screened founded on the minimum criteria. The risk score of each patient was estimated according to the expression levels of mRNA and estimated regression coefficients of the hub genes. The coefficients of the hub genes were obtained from the Cox proportional hazards regression analysis. The formula was given as follows: RiskScore (RS) = (expression of mRNA1 × Coefficient of mRNA1) + (expression of mRNA2 × Coefficient of mRNA2) + (expression of mRNAn × Coefficient mRNAn). We determined each patient's risk score, depending on the coefficient and expression level of the ten genes. Cancer patients were separate into two risk score subgroups, each representing the high and low RS group founded on the median value of the RS by using the "Rtsne" R package. T-Distributed Stochastic Neighbor Embedding (t-SNE) was performed to explore the distribution of different risk groups. The low-risk group gets a better prognosis.
Evaluating the prognostic value of the gene signature
To validate the stability and reliability of the risk model, multivariate Cox analysis with LASSO and Kaplan Meier analysis with the log-rank test was utilized. Receiver operating curves (ROC) and calculated the area under the curve (AUC) were developed to ascertain if the current model can accurately predict the overall survival (OS) of PRPP patients. A C-index value of 0.75 or above was deemed to have strong predictive power, and a value of more than 0.6 was deemed adequate for survival predictions [20]. We considered whether UBE2C has an impact on the prognosis and immune-related genes in PRCC. Information was mined regarding the clinicopathological features, KM curve, and correlation between UBE2C and CDC20 from the UALCAN portal (http://ualcan.path.uab.edu/).
Comprehensive and enrichment analysis of protein-protein interaction
A large database of consolidated and integrated information about protein-protein interactions was found on the public website Search Tool for the Retrieval of Interacting Genes/Proteins (STRING). Network data of selected top 20 protein-protein interactions (PPI) was obtained after importing those hub genes into the STRING database (https://string-db.org/). Gene set enrichment analysis (GSEA) was carried out on twenty interacting genes and ten hub genes in the TCGA cohorts to find enriched pathways linked to risk models. Based on the R package "clusterProfiler," the study was shown using "ggplot2" (|log2FC| ≥ 1, FDR < 0.05).
The human protein atlas and statistical analysis
Human Protein Atlas (https://www.proteinatlas.org) is an online database that enables the mapping of all human proteins in cells, tissues, and organs utilizing antibody-based imaging, mass spectrometry-based proteomics, transcriptomics, and systems biology. Utilizing the website, we compared the level of gene transcription to the level of protein expression for the CDC20 and UBE2C.
GraphPad Prism (Version 7.0) and ImageJ (V. 1.8.0.112) were used to create figures and conduct statistical analysis. The expression of hub genes in various groups was compared using one-way ANOVA, unpaired or paired t-test, and Dunnett's test. The Chi-square test, fisher's exact test, and logistic regression was performed to analyze the correlation of hub genes expression with clinicopathological factors and immune infiltration around tumors.
Correlation between mRNA expression and immunity
TISIDB (http://cis.hku.hk/TISIDB) is a web server for comprehensive analysis of tumor-infiltrating immune cells, and immunoinhibitor, etc. The abundance of immune infiltrate cells and immunoinhibitor can be estimated from gene expression profiles as described (Figures 1 and 2).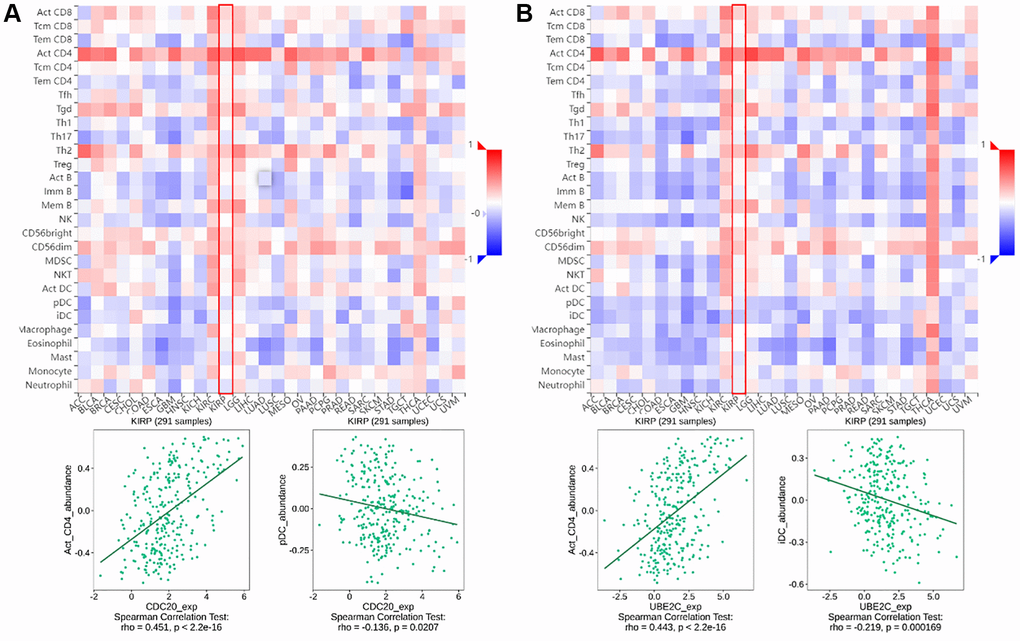 Figure 1. The relationship between CDC20 and UBE2C and immune infiltration levels in PRCC is based on the TISIDB website. (A) Heatmap of the relationship between CDC20 and abundance of the 28 immune infiltration lymphocytes in PRCC. The two highest positive and negative lymphocytes correlation with CDC20 expression are Act_CD4 T cell and pDC in PRCC patients. (B) Heatmap of the relationship between CDC20 and abundance of the 28 immune infiltration lymphocytes in PRCC. The two highest positive lymphocytes and negative lymphocytes correlated with UBE2C expression are Act_CD4 T cell and iDC in PRCC patients. "Red" represents a positive correlation and "Blue" represents a negative correlation. *P < 0.05, **P < 0.01, ***P < 0.001.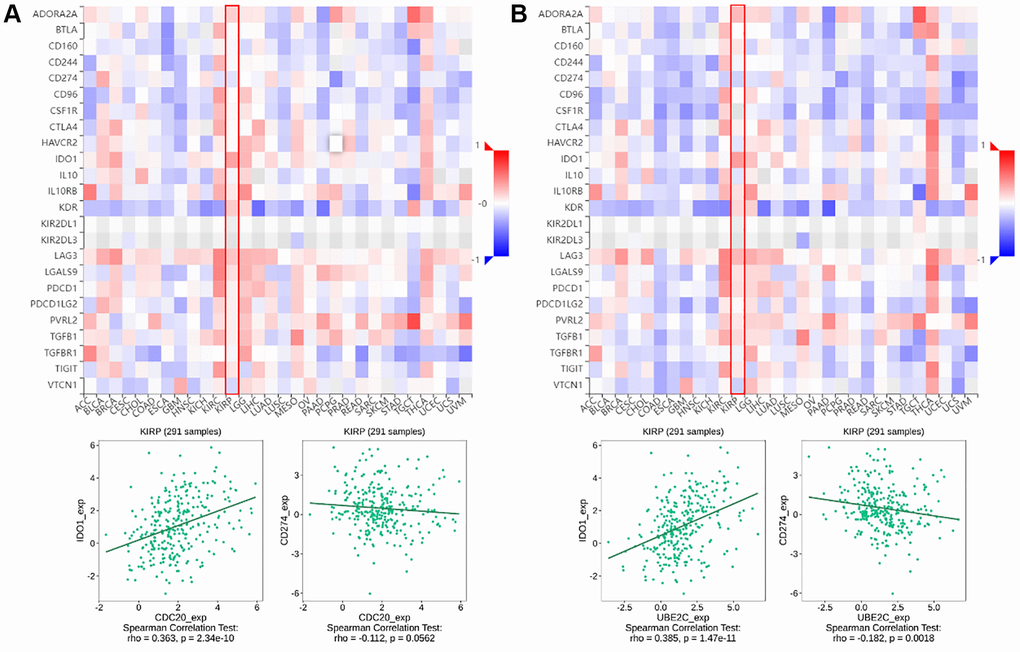 Figure 2. The relationship of CDC20 and UBE2C with immunoinhibitors in PRCC patients is based on the TISIDB website. (A) Heatmap of the relationship between CDC20 expression and abundance of the 24 immunoinhibitors. The two highest immunoinhibitors correlated with CDC20 expression are IDO1 and CDC274 in PRCC patients. (B) Heatmap of the relationship between UBE2C expression and abundance of the 24 immunoinhibitors. The two highest immunoinhibitor correlated with UBE2C expression are IDO1 and CDC274 in PRCC patients. "Red" represents the positive correlation and "Blue" represents the negative correlation. *P < 0.05, **P < 0.01, ***P < 0.001.

Cell line and cell culture
The human RCC cell line 769-P was acquired from the Chinese Academy of Sciences and cultured in RPMI 1640 medium supplemented with 10% FBS and 1% penicillin-streptomycin. Cells were incubated at 37°C in a humidified atmosphere of 5% CO2.
Cell viability and proliferation assay
Cell proliferation was calculated by MTT assay. The medium with the different groups was removed and cells were incubated with 20 μl MTT (5 mg/mL) for 4 h at 37°C. The optical density was recorded at 490 nm using a Microplate Reader (Thermo Scientific, USA) after dissolving the formazan with volatile DMSO for 10 minutes in a swing bed.
Migration and invasion assays
Cell migration was assessed using a QCM™ 24-well Cell Migration Assay. 24 h after transfection, cells were trypsinized and seeded in chambers at the density of 5 104 cells per well and cultured with RPMI 1640 medium with 1% serum, while 700 μl of 20% FBS–1640 medium was added to the lower chamber. After 48 h, the bottom of the membrane was fixed to 100% methanol at room temperature for 30 minutes. With cotton swabs, non-migrated cells were removed. The membrane was subsequently 0.5% crystal violet dye for 10 minutes. The image of the cells was caught in the microscope after the membrane had dried at room temperature. Five random fields of view were counted and the relative fold of migration in each group was comparable to the control group.
siRNA transfection
Silencer siRNA and Negative Control siRNA are directly purchased from RiboBio (Guangzhou, China). Interference sequences are below: siR UBE2C-1, 5′-CACAGACACTCACCTTACT-3′; siR CDC20-1, 5′-GCAGAAACGGCTTCGAAAT-3′. 769-P cell were transfected with siRNA using TurboFect™ Transfection Reagent (Thermo Fisher, USA) in serum free media following the manufacturer's protocol. Firstly, 2 × 105 cells were seeded in 6 wells in 1640 media complemented with 10% FBS (without antibiotic) overnight. The following day, the media was replaced by 2 mL of 1640 serum free media (SFM). 3 μg of siRNA was mixed with 10 ul transfection reagent in 250 ul 1640 SFM and incubated for 20 min then added to 2 mL 1640 media. After 8 h of incubation, the transfection media was removed from the cells and the cell was incubated for further experiments.
Results
Discussion
The ubiquitin system is complicated, and multifaceted, and is crucial for the modulation of a vast number of cellular processes. The ubiquitin-proteasome system (UPS) directs protein degradation at the epigenetic, genomic, or post-translational levels through the proteasome, and regulates a wide array of cellular processes as well as key suppressors or oncoproteins in select tumors. Previous studies have noted that UPS genes be involved in the regulation of pathogenesis and progression of various types of tumors [26, 27]. The F-box protein Skp2, a component of RING E3 ubiquitin ligases, was significantly correlated with several cancer-associated signaling pathways, including proliferation, cell cycle progression, migration, and invasion of cancer cells [28]. U-box-type E3 ubiquitin ligase PPIL2 can inhibit EMT and invasion of breast cancer by interacting with the classical EMT transcription factor, SNAI1, to enhance its ubiquitin-dependent degradation [26]. Ubiquitin-conjugating enzyme E2H (UBE2H) can regulate the EMT program and metastasis in LUAD [27]. Akinobu et al. reported that FBXW7, a well-studied F-box protein, can affect the pathological development of cancer by degrading the Notch pathway and being a useful diagnostic marker for cancers [29]. These studies suggest that the gene signature in the regulation of UPS demonstrates marked clinical availability.
However, the effect of a single gene on the tumor is fairly limited, and the predicating role for the prognosis of patients is not reliable. Besides, few studies have addressed prognostic and predictive evaluation biomarkers for immunotherapy utilizing UPS genes. To further understand of mechanisms underlying UPS expression in cancer, we concentrated on the expressive features and prognostic value of UPS genes and finally constructed a risk model. Based on our findings in this study, UPS genes are highly enriched in PRCC compared to normal tissues. In our study, we obtained 10 genes from 140 genes involved in UPS that was significantly related to PRCC as prognostic factors via Lasso regression analyses. Subsequently, a prognostic signature constructed using these 10 hub genes was utilized to better distinguish outcomes in PRCC with distinctive clinical features and genetic alterations. KEGG pathway enrichment analysis based on 10 hub genes and 20 interacted genes was enriched in the cell cycle pathway and ubiquitin-mediated proteolysis. In accordance with cellular functions, UBE2C and CDC20 displayed a dynamic increase from pre-PRCC status to PRCC, suggesting that UBE2C and CDC20 might be key driver genes for PRCC progression through enhanced aggressive behaviors of PRCC cells with overexpression of both genes. Instead, founded on the observation in this TCGA dataset, UBE2C and CDC20 might serve as hub genes that participate in tumorigenesis and PRCC progression. We further explored the potential function of UBE2C and CDC20 in PRCC. In renal cell carcinoma (RCC), the topmost two signaling pathways affected by UBE2C are cell cycle and DNA replication pathways. Knockdown of UBE2C significantly inhibited proliferation and migration in renal cancer 786-O cells in vitro, confirming our bioinformatics analyses.
These results seem to be compatible with extra research which found that UBE2C, CDC20, and other key genes within this prognostic signature are related to the occurrence and development of tumors. UBE2C encodes a member of the E2 ubiquitin-conjugating enzyme family and participates in the regulation of the expression and activity of the mTOR/PI3K/AKT pathway [30]. UBE2C is overexpressed in various types of cancer including cervical cancer, breast cancer and non-small cell lung cancer (NSCLC) participates in the progression of these tumors [21, 31]. CDC20 is a crucial target of the spindle assembly checkpoint and can activate the anaphase-promoting complex/cyclosome (APC/C) [32]. Aberrant expression of CDC20 is associated with malignant progression and poor prognosis in various types of cancer, including gastric, urothelial bladder cancer, oral squamous cell carcinoma, and hormone-positive breast cancer [33–36]. One study by Yongwen (2019) identified 9 key genes in clear cell renal cell carcinoma, which including UBE2C and CDC20 [37]. Detailed information of the investigation showed that both of UBE2C and CDC20 were clinically independent prognostic factor for ccRCC patients. Taken together, these studies support the notion that UBE2C and CDC20 are hub genes in different types of renal cancer. Apart from that, UBE2C and CDC20 can also be found in other cancers [38]. Although the mechanisms of the hub genes in PRCC were not examined, the carcinogenesis of these hub genes can indicate from the protein-protein interaction (PPI) and the gene enrichment analysis.
The tumor microenvironment plays a vital role in the development of tumors, especially in the immune infiltration of tumor cells [39]. This not only influences tumor formation but also the efficacy of ICIs [40]. Significant correlations between two hub genes and immune-related genes were found.
CDC20 and UBE2C have been found to be increased Act CD4 T cell infiltration but less extensive infiltration of pDC and iDC cells. Poor clinical outcomes for patients and immunosuppression status have been proven be correlated with Act CD4 T cell infiltration levels [41, 42]. At both the transcriptional and protein levels, the quantity of DCs is positively connected with T cell infiltration in human neuroblastoma and is associated with a good prognosis [43]. Considering that immune cell infiltration is an important factor in predicting the treatment effect of ICIs, we intend to investigate the predictive value of the hub genes in PRCC. Additionally, our research revealed a weak link between the expression of PD-L1 and UBE2C and CDC20. The key to immunotherapy relied on immune cell infiltration, and PD-L1 expression was no longer a useful biomarker for immunotherapy. Constructed signature that can predict the efficacy of ICIs may be ascribed to the fact that the signature was related to immune cells rather than PD-L1 expression.
Conclusion
In summary, this study has presented the subsequent contributions to PRCC research. First, a prognostic signature based on UPS regulator-related genes is established, and validated its applicability via several methods. This signature can be utilized to effectively evaluate the prognoses of PRCC patients and may also potentially predict responses to ICI treatments. Second, UBE2C and CDC20 within this signature may participate in the progression of PRCC and act as potential therapeutic targets. Certain shortcomings and deficiencies in this study remain. To begin with, the establishment and validation of the signature were based on the public sequence data. Further validation, such as prospective studies and clinical trials of PRCC patients in multi-centers, might make the signature more convincing. Although we test some functions of these key genes in experimental assays, the precise regulatory mechanism of these genes in PRCC remains to be clarified.
Author Contributions
Prof. Dr. Hanxiang An designed and designed the project and revised the manuscript. Xin Zhang analyzed the data and drafted the manuscript and figures. Xinli Liu and Renhua Xiong contributed analysis of the data.
Conflicts of Interest
The authors declare that they have not been any known competing financial interests or personal relationships that could have appeared to influence the work reported in this paper.
Funding
This project is supported by the grand "Peking Medical and Health Foundation", Nr.: F3142C.
References