Inhibiting Th1/2 cells influences hepatic capillarization by adjusting sinusoidal endothelial fenestrae through Rho-ROCK-myosin pathway
1 Department of Hepatobiliary Surgery, The Third Affiliated Hospital of Sun Yat-sen University, Guangzhou 510630, Guangdong, China
* Equal contribution
Received: January 13, 2020

     

Accepted: November 10, 2020

     

Published: February 1, 2021

     
https://doi.org/10.18632/aging.202425
How to Cite
Copyright: © 2021 Zhong et al. This is an open access article distributed under the terms of the Creative Commons Attribution License (CC BY 3.0), which permits unrestricted use, distribution, and reproduction in any medium, provided the original author and source are credited.
Abstract
CD4+ T cells are considered to be vital in chronic liver diseases, but their exact roles in hepatic capillarization, the typical characteristic of liver fibrosis, are poorly understood. This study aimed to assess the roles of typical subtype of CD4+ T cells, named T helper 1 (Th1) and Th2 cells in liver fibrosis. Taking advantage of well established fibrotic rat model, we conducted in vitro and in vivo experiments to explore the interactions between liver sinusoidal endothelial cells (LSECs) and Th1/2 cells; meanwhile we evaluated the degree of hepatic capillarization when inhibiting these interactions with inhibitory antibodies. Our results showed that prohibiting interactions between Th2 cells and LSECs caused the restoration of fenestrae, increased cytokine level of Th1 cells and reduction of hepatic capillarization; inhibiting the interaction between Th1 cells and LSECs produced the opposite effects. Moreover, increased Rho and myosin light chain phosphorylation were observed when Th1 cells were inhibited with the corresponding inhibitory antibody; Th2 cell inhibition yielded the opposite results. This study indicated that Th1/2 cells steer the capillarization process in different directions and this effect is probably mediated by the Rho-Rho kinase (ROCK)-myosin signaling pathway.
Introduction
Liver fibrosis results from a variety of chronic damages, such as viral hepatitis, metabolic diseases, and nonalcoholic fatty liver disease [1–3], and hepatic capillarization is the characteristic manifestation during this process. Numerous factors influence the occurrence and development of hepatic capillarization, and among them, immune regulation is a core one [4]. Infiltration of T cells, particularly the CD4+ T cell subpopulation, was reported to be vital during fibrosis in humans [5]. It was reported that homeostasis of CD4+ T cells is pivotal in liver fibrosis [6, 7]. T helper (Th) cells, particularly classical Th1 and Th2 cells, can profoundly influence the fibrotic response and dominate the development of liver fibrosis [8, 9]. However, the ways in which Th1/2 cells affect hepatic capillarization and the mechanism underlying these effects remain largely unknown. In addition, the contribution of adaptive immunity in liver fibrosis is poorly understood.
Liver sinusoidal endothelial cells (LSECs) are microvascular endothelial cells in the liver which possess unique immunological characteristics. Many studies have confirmed that LSECs could be potent antigen-presenting cells priming naïve CD4+ T cells and affecting cytokine secretion of Th cells [10, 11]. The mechanism that mediated the recruitment of Th1/2 cells to LSECs was controversial until Bonder C et al. verified in 2005 that Th1 and Th2 cells adhered to LSECs via integrin α4 and vascular adhesion protein (VAP)-1, respectively [12], which was totally different from the proven selectin-dependent recruitment paradigm [13, 14].
Sinusoidal endothelial fenestrae (SEF), which commonly arranged in sieve plate-like pores under normal conditions was the unique morphological structure of LSECs. These pores commonly lack diaphragm and basal lamina, therefore, they are viewed as open channels between sinusoidal lumen and the space of Disse, mediating the exchange in hepatic sinusoids [15, 16]. However, when chronic liver damage cannot be eliminated, the LSECs will undergo defenestration, which was characterized by the formation of basement membrane and decrease in the number of SEF [17, 18]. SEF is a type of dynamic structure, its diameter and number may vary in response to different substances and circumstances [19]. Changes of cytoskeleton and Rho signaling pathway exerted critical influence in modulating SEF in liver fibrosis [20–22].
In this study, we reported that Th1/2 cells can actively interact with LSECs in fibrotic rats. We found that inhibiting the interactions can alter the process of hepatic capillarization, and this effect probably relied on cytoskeletal change of LSECs through the Rho-ROCK-myosin signaling pathway.
Results
Discussion
Previous studies have reported that CD4+ T cells participate in immune regulation in the liver [27, 28]. In this study, we found the importance of the balance between Th1 and Th2 cells in maintaining the process of hepatic capillarization, consistent with previous studies [11, 14, 29]. We provided evidence that inhibiting the interaction of Th1/2 cells with LSECs can affect hepatic capillarization or even liver fibrosis in different directions. Specifically, after the interaction of Th2 cells with fibrotic LSECs was inhibited, the structure of SEF could be altered, thus leading to a reduction of defenestration and even recovery of hepatic capillarization; inhibiting Th1 cells with LSECs with specific inhibitory anti-integrin α4 antibody delayed these effects. Moreover, we showed that the structural alteration of SEF was mediated by the Rho-ROCK-myosin pathway. These findings were consistent with previous observations that splenic Th2 cells promoted liver fibrosis and that actin dilatation caused the restoration of fenestrae [7, 22, 26].
The mechanism that mediated the recruitment of Th1 and Th2 cells was largely unclear for many years. The classic paradigm for leukocyte recruitment was based on a selectin-dependent mechanism until Bonder C et al. verified in 2005 that Th1 and Th2 cells interact with LSECs via integrin α4 and VAP-1, respectively [12]. After that, roles of integrin α4 and VAP-1 in lymphocyte recruitment in liver sinusoids were gradually established (Figure 8A). As shown in our study, blocking interactions between Th1/2 cells and LSECs with inhibitory antibodies induced different effects, which were consistent with previous studies [12, 30]. Additionally, under physiological conditions, Th1 and Th2 cells have been proven to be in dynamic balance, maintaining immune system activity. However, after the liver is affected by some chronic liver diseases, the balance is disrupted and predominantly shifts towards one direction, a process called "polarization" [7, 31]. As previously shown [7, 32], Th2 cells are crucial in fibrotic disorders by shifting the cytokine balance towards Th2 dominance; this finding was consistent with our results that inhibiting Th2 cell recruitment using the anti-VAP-1 antibody alleviated the progression of hepatic capillarization or even liver fibrosis by altering the Th2 dominance.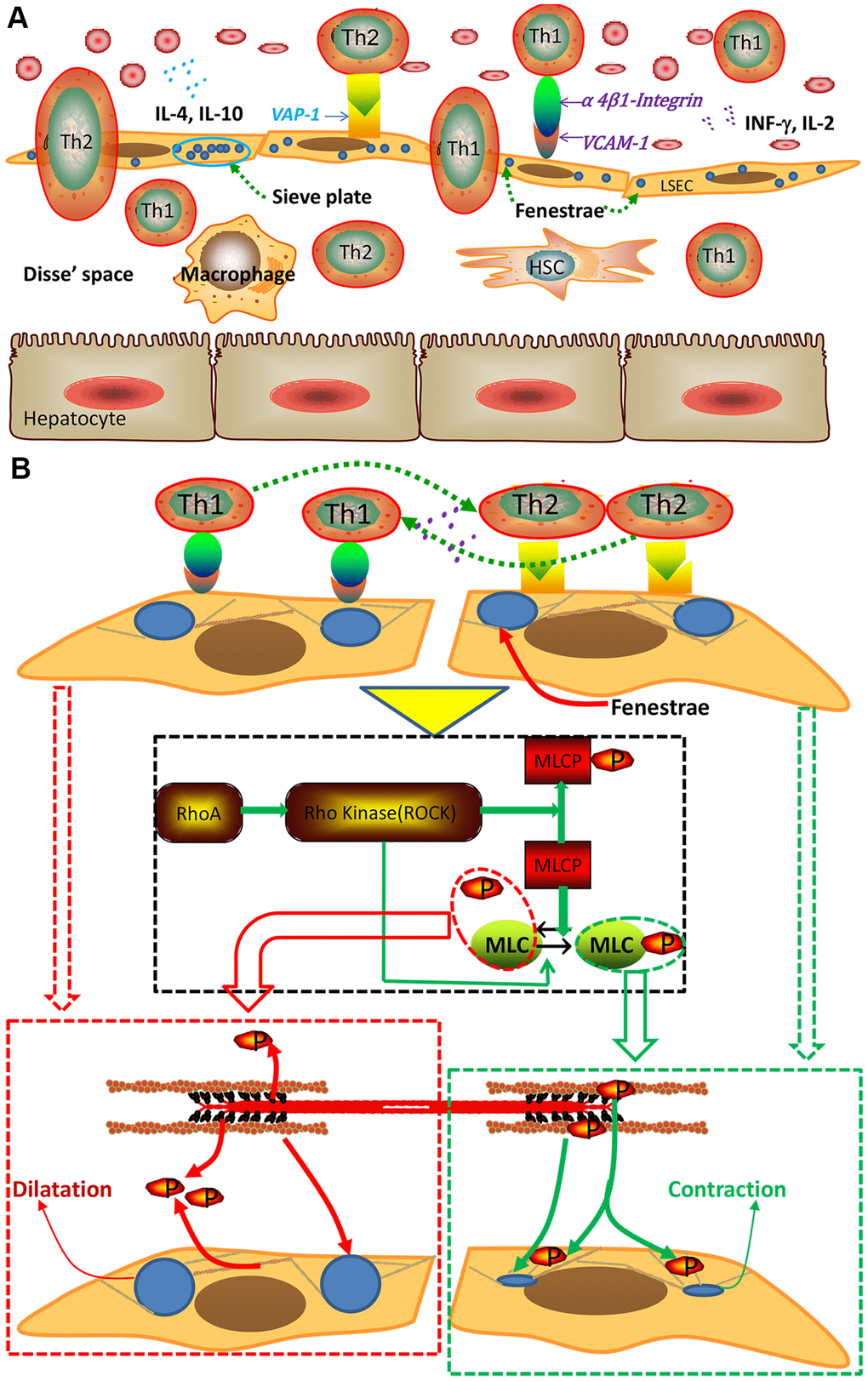 Figure 8. Schematic of the interaction between Th1/Th2 cells and LSECs and the mechanism underlying this interaction. (A) Interaction between Th1/Th2 cells and LSECs. (B) Pattern of cytoskeletal alteration mediated by the Rho-ROCK-myosin pathway. Interactions between Th1/2 cells and LSECs exerted different effects. Specifically, interactions between Th2 cells and LSECs activated the signal pathway to promote phosphorylation of myosin light chain (MLC), hence causing the contraction of cytoskeletal actin around LSECs and subsequent defenestration, however interactions between Th1 cells and LSECs exerted an opposite effect. MLCP, myosin light chain phosphatase.

Fenestration, which is characterized by scattered fenestrae on the surface of LSECs, constitutes the unique phenotype of LSECs. Commonly, under long-term exposure to hepatotoxic substances, differentiated LSECs will lose their normal phenotype and transition into another state preceding fibrosis, a process called "capillarization" [33]. Then, lymphocytes recruited into sinusoids, where they interacted with different cells such as LSECs, hepatic stellate cells (HSCs) and hepatocytes to regulate progression from capillarization to liver fibrosis [34–37]. Our study revealed a similar defenestration phenomenon in the fibrotic rat model. However, the stimulus initiating these changes—in other words, the trigger of defenestration—is not yet fully known, although numerous factors, such as aflatoxin [38–40], the c-terminal fragment of thrombospondin-1 (P4N1) [41] and iron overload [42] have been reported as possible causes. Because cytoskeletal changes can alter the size of fenestrae and because the cytoskeleton is regulated by actomyosin (Figure 8B) [22, 25, 26], we explored changes in cytoskeletal signaling after preventing the interaction of Th2 cells with LSECs and found decreased Rho activation and MLC phosphorylation, which caused the subsequent dilatation of cytoskeletal actin around LSECs and alleviated hepatic capillarization (Figure 8B).
Our research still has some limitations. Firstly, changes of the Rho-ROCK-myosin pathway may not be the direct results caused by Th1/2 lymphocytes, the specific mechanism and possible intermediate medium still need to be further explored. Secondly, additional studies are still needed in the future to reveal the relevance between the Rho-ROCK-myosin pathway and another classical nitric oxide (NO)-mediated pathway [18] and to develop new drugs.
This research creatively studied the effect of blocking the recruitment and interaction of Th1/2 lymphocytes to LSECs in the fibrotic liver and explored the possible mechanism at the cytoskeletal level. We elucidated the correlation between circulating Th1/2 cells and liver sinusoids, and provided new insights into the alleviation or even regression of liver fibrosis.
Conclusions
Taken together, our data provided evidence that Th1/2 lymphocytes interacted with LSECs through different adhesion molecules and that inhibiting these interactions influenced the progression of hepatic capillarization or even liver fibrosis to some extent, which was likely mediated by the Rho-ROCK-myosin pathway.
Materials and Methods
Animals
One-month-old male wistar rats weighing 80-100 grams were used to establish the model of liver fibrosis according to a previous method [43]. Briefly, repeated intraperitoneal injection of 50% carbon tetrachloride (CCl4) dissolved in corn oil (0.3 ml/100 g, twice a week for 6 weeks) were administered. The animals were housed two per cage and were fed standard laboratory chow. The study was approved by the Sun Yat-sen University Animal Ethics Committee. The rats either received access to rat chow and water ad libitum until the time of surgery or received only water for 24 h prior to surgery. Anesthesia was induced by the intraperitoneal injection of 3% sodium pentobarbital solution (30 mg/kg).
Administration of inhibitory antibodies to model rats
After the model was established, the rats were treated with corresponding inhibitory antibodies. The binding specificities of anti-VAP-1 monoclonal antibody (mAb) (174–5, mouse IgG1, Abcam, MA, USA) and anti-integrin α4 mAb (TA-2, mouse IgG1, ThermoFisher, USA) were fully demonstrated in published studies [44, 45]. A dose of 2 mg/kg anti-VAP-1 antibody was conducted for each rat every second day after the initial injection (anti-VAP-1 group); some fibrotic rats received daily injections of anti-integrin α4 antibody (5 mg/kg) (anti-integrin α4 group) or both two (co-injection group); irrelevant isotype-matched control antibody (NS1) 2mg/kg every other day was administrated to some rats as the control group (NS1). We divided the fibrotic rats into 4 experimental groups, named the anti-VAP-1 group, the anti-integrin α4 group, the combined injection (coinjection) group with anti-VAP-1 and anti-integrin α4 and the control group (NS1), and normal rats from the same batch were selected as the normal control (NC) group. Each group had at least 21 rats, and antibody diluted with sterilized physiological saline to a volume of 500 μl was injected i.v. via a tail vein. Then, we detected the changes of cytokine secretion, transaminase level, CD34 expression, fenestrae number, and cytoskeletal morphology in each group.
Isolation and purification of rat LSECs
According to a previous method [46], collagenase perfusion and percoll layers of different density gradients (25% and 50%) (GE Healthcare, MA, USA) were used to isolate LSECs. After harvested, they were seeded on 12 mm coverslips (Electron Microscopy Sciences, PA, USA) coated with type I collagen (Thermo Fisher Scientific, MA, USA) at a density of 2.5×105 cells/cm2. The purity of the cultured LSECs was > 90%, as determined by immunofluorescence assays with anti-von Willebrand factor (vWF) (11778-1-AP, Proteintech) and anti-endothelial cell antigen-1 (RECA-1) antibodies (ab9774, Abcam, UK) (Supplementary Figure 2).
Purification of CD4+ T cells and differentiation of Th1 and Th2 cells
We used superparamagnetic polystyrene beads (Miltenyi Biotec GmbH, Germany) coated with a mouse anti-rat CD4 mAb (isotype: mouse IgG2a, κ; clone: OX-38) to harvest CD4+ T cells from spleen-derived lymphocytes, which were extracted using rat tissue lymphocyte isolation kit according to the protocol. The purity of CD4+ T cells was > 90%, as determined by a flow cytometry assay (Supplementary Figure 3). Then CD4+ T cells were stimulated to differentiate Th1 or Th2 with stimulating factors for 6 days, followed by published studies previously [12, 47–49]. Briefly, for Th1 polarization, 10 ng/ml recombinant interleukin-2 (rIL-2), 5 ng/ml rIL-12 and 30 μg/ml anti-IL-4 were used; for Th2 polarization, 10 ng/ml rIL-2, 40 ng/ml rIL-4, 30 μg/ml anti-IL-12 and 30 μg/ml anti-IFN-γ were used (all cytokines and antibodies against cytokines were purchased from PeproTech Inc., NJ, USA). After the differentiation into Th1 and Th2 cells, we detected the levels of IFN-γ and IL-4, IL-5 and IL-13, which could be viewed as the signature cytokines of Th1 and Th2 respectively [50] to identify the purity of Th1 and Th2 cells (Supplementary Figure 4).
Coculture of LSECs with Th cells
Isolated LSECs from fibrotic rats were seeded at a density of 1×106 cells/ml in culture plates, and Th1 and Th2 lymphocytes (at an adjusted concentration of 9×104 cells/ml per type) were then added into the culture system. After adding antibodies, we assessed cytokine level, fenestrae structure and protein level of the Rho-ROCK-myosin pathway in each group. Each assay was conducted at least 3 times, and 20 μg of each inhibitory antibody was added to each well.
Enzyme-linked immunosorbent assay (ELISA)
The concentrations of IFN-γ, IL-4, IL-5, IL-13, ALT and AST were measured by ELISA (R&D Systems, USA) [51].
Hematoxylin-eosin (HE)/masson staining
HE and Masson staining (all reagents were purchased from Beyotime Institute of Biotechnology, Shanghai, China) were conducted as a published study [52]. The liver fibrosis score was evaluated according to the method described in a previous study [53].
Immunohistochemical staining
Paraffin-embedded and formalin-fixed samples were cut into 4-μm-thick sections, which were then processed for immunohistochemical staining [54].
Hydroxyproline content measurement
Liver tissues were homogenized in ice-cold distilled water (1 ml). The subsequent steps were conducted according to a previous protocol [7]. The results are shown as nanograms of hydroxyproline per milligram of liver tissue.
Scanning electron microscopy (SEM)
The structure of SEF was observed by SEM [55]. Briefly, samples were fixed with 2.5% glutaraldehyde and postfixed with 1% osmium tetroxide. Then, samples were critical point dried, sputter coated with gold, and finally examined with a JSM-T200 SEM (JEOL, Tokyo, Japan).
Image analysis
Measurements of the fenestrae number and porosity (total fenestration area) were performed using Image J software [56]. The index fenestrae/μm2 was calculated according to the total fenestrae number normalized to the cell area per image. To calculate the porosity/μm2, the fenestrated area in each image was summed to yield the total area, which was then normalized to the total area of the cell. For each experiment, at least five images were analyzed per sample.
Transmission electron microscopy (TEM)
We used TEM to examine the changes of SEF and the basement membrane [25].
Confocal immunofluorescence microscopy
Specimens were fixed, stained with an anti-phosphorylated myosin light chain (p-MLC) rabbit mAb (#3671, CST, MA, USA) and an anti-F-actin mouse mAb (ab205, Abcam), and then incubated with the corresponding secondary antibodies (Alexa Fluor 488 and Alexa Fluor Plus 555 (ThermoFisher), respectively) at room temperature for 1 h. Samples were visualized using a laser scanning confocal microscope (LSM780, Zeiss).
Western blot analysis
Total protein of cultured LSECs was separated on 12% SDS-PAGE gels and transferred to nitrocellulose membranes (0.45 μm or 0.2 μm). The levels of RhoA and p-MLC were detected with an enhanced chemiluminescence (ECL) kit (#6883S, CST, MA, USA) according to the instructions. The antibodies used were as follows: an anti-RhoA primary antibody (ab54835, Abcam, MA, USA) and an anti-p-MLC primary antibody (#3671, CST, MA, USA). An anti-β-actin antibody (Abcam, MA, USA) was used as a control.
Statistical analysis
The data are shown as the means ± standard deviation (SD). Differences between groups were analyzed using Student's t-test if only two groups were compared or using one-way analysis of variance (ANOVA) if more than two groups were compared. All statistical tests were two-tailed. All experiments were performed at least three independent times. P < 0.05 was considered statistically significant.
Abbreviations
LSECs: liver sinusoidal endothelial cells; Th1: T helper 1; IFN-γ: interferon-γ; IL-4: interleukin-4; ELISA: enzyme-linked immunosorbent assay; SEM: scanning electron microscopy; TEM: transmission electron microscope; p-MLC: phosphorylated myosin light chain; ROCK: Rho associated coiledcoil forming protein kinase; NAFLD: nonalcoholic fatty liver disease; ASH: alcoholic steatohepatitis; NASH: nonalcoholic steatohepatitis; CCl4: carbon tetrachloride; VAP-1: vascular adhesion protein-1; Co-injection: combined injection; NS: normal saline; NC: normal control; vWF: von Willebrand factor; RECA-1: endothelial cell antigen-1; ALT: alanine aminotransferase; AST: aspartate transaminase; HE: haematoxylin-eosin; HSC: hepatic stellate cell; NO: nitric oxide.
Author Contributions
Y.S.Z. and M.X.X. made substantial contribution to the conceptual design, data analysis and manuscript writing and editing. J.X.H., X.H., N.L. and M.H.D. collected the data, conducted the experiments, analyzed the results, and revised the figures. All authors have read and approved the final version of the manuscript.
Conflicts of Interest
The authors declare that they have no conflicts of interest.
Funding
This work was supported by the National Natural Science Fund of China (81470860), the National Natural Science Foundation Regional Science Fund of China (81760112), the Science and Technology Planning Project of Guangdong Province (2017b020247057) and National Natural Science Foundation Special Support Project of the Third Affiliated Hospital of Sun Yat-sen University (2020GZRPYQN09).
References