N6-methyladenosine (m6A) modification and its clinical relevance in cognitive dysfunctions
1 Department of Neurology, Shanghai Changhai Hospital, The Second Military Medical University, Shanghai, PR China
2 Department of Psychiatry, Faculty of Medicine and Dentistry, University of Alberta, Edmonton, AB, Canada
3 Faculty of Basic Medical Sciences, The Second Military Medical University, Shanghai, PR China
4 Department of Biochemistry and Cell Biology, Geisel School of Medicine, Dartmouth College, Hanover, NH 03755, USA
5 Department of Oral and Maxillofacial-Head Neck Oncology, Shanghai Ninth People's Hospital College of Stomatology, Shanghai Jiao Tong University School of Medicine, Shanghai, PR China
* Equal contribution
Received: March 18, 2021

     

Accepted: August 2, 2021

     

Published: August 30, 2021

     
https://doi.org/10.18632/aging.203457
How to Cite
Copyright: © 2021 Du et al. This is an open access article distributed under the terms of the Creative Commons Attribution License (CC BY 3.0), which permits unrestricted use, distribution, and reproduction in any medium, provided the original author and source are credited.
Abstract
Background: N6 adenosine methylation (m6A) is the most abundant internal RNA modification in eukaryotic cells. Dysregulation of m6A has been associated with the perturbations of cell proliferation and cell death in different diseases. However, the roles of m6A in the neurodegenerative process and cognitive dysfunction are unclear.
Methods: We systematically investigated the molecular alterations of m6A regulators and their clinical relevance with cognitive dysfunctions using published datasets of Alzheimer's Disease (AD), vascular dementia, and mild cognitive impairment (MCI).
Findings: The expressions of m6A regulators vary in different tissues and closely correlate with neurodegenerative pathways. We identified co-expressive m6A regulators SNRPG and SNRPD2 as potential biomarkers to predict transformation from MCI to AD. Moreover, we explored correlations between Apolipoprotein E4 and m6A methylations.
Interpretation: Collectively, these findings suggest that m6A methylations as potential biomarkers and therapeutic targets for cognitive dysfunction.
Funding: This work was supported by the National Natural Science Foundation of China (81871040) and the Shanghai Health System Talent Training Program (2018BR29).
Introduction
Alzheimer's disease (AD) and vascular dementia (VD) are common neurocognitive disorders [1–3]. The cerebrospinal fluid (CSF) concentrations of phosphorylated Tau 181 (Tau-181) and amyloid-beta 42 (Aß-42) are considered biomarkers for AD [4–6]. There are no diagnostic or therapeutic biomarkers for VD [7]. Mild cognitive impairment (MCI) is a transitional and reversible stage that can diverge to normal aging and neurocognitive disorder [8, 9]. MCI increases the risk of developing neurocognitive disorders [9], but the trajectory of individuals varies. Identifying biomarkers of neurocognitive disorders in the MCI stage is critical for early diagnosis and intervention [10].
With the advances in biochemistry and sequencing techniques, over 150 RNA modifications have been identified in the past decade [11, 12]. N6-methyladenosine (m6A) is the most common RNA modification in eukaryotic cells [13–17]. The abundance of m6A in the brain gradually increases with age and peaks in adulthood [18]. M6A is highly enriched in adult brain tissue [19, 20] and plays a critical role in neurogenesis, neurodevelopment, and neurological disorders [18, 20–23]. M6A modification on messenger RNA (mRNA) affects the proliferation and differentiation of neural progenitor cells [24–26], and elucidating dysregulations and alterations of m6A perturbations facilitates a comprehensive understanding of RNA methylation-based stem cell or gene-targeted diagnosis and therapy [17, 27].
M6A modification is dynamically regulated by methyltransferases (also known as "writers"), demethylases ("erasers") and binding proteins ("readers") (Figure 1A, 1B) [15, 28]. This methylation installed by the "writers" can be reversed by "erasers" [29]. Dysregulations of m6A have been associated with the perturbations of cell proliferation and cell death in different diseases [11, 30, 31].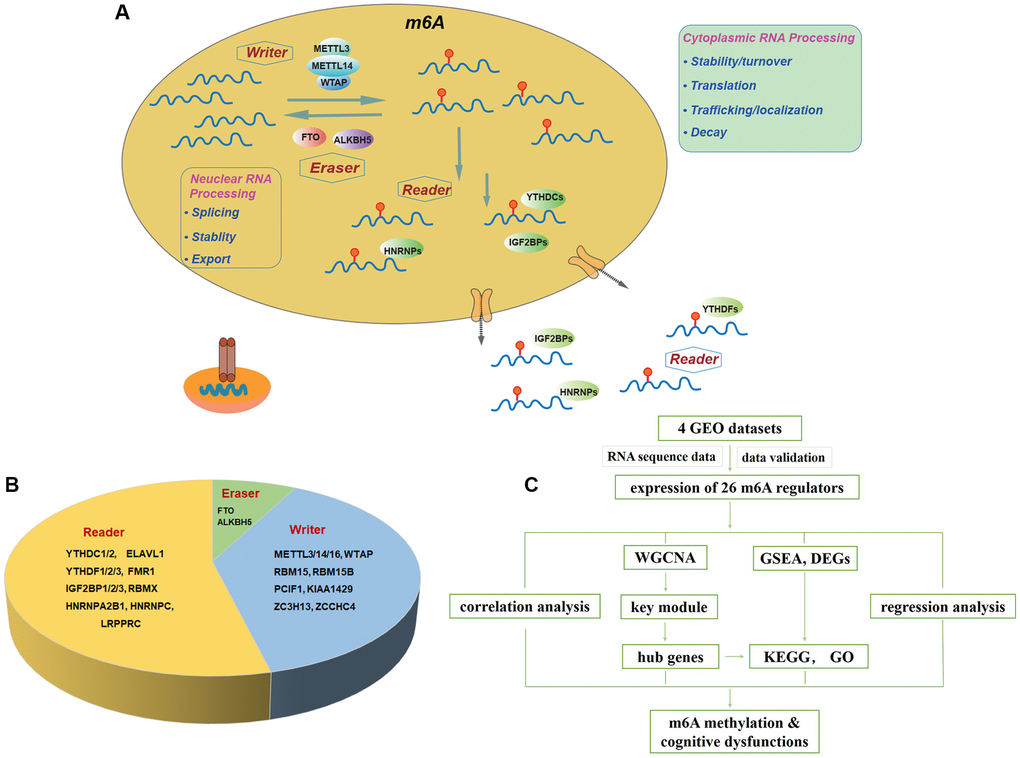 Figure 1. Landscape of included m6A regulators. (A) Overview of dynamic biological processes of m6A RNA methylation mediated by "writers", "erasers" and "readers" in nucleus and cytoplasm. (B) Distribution of "writers", "erasers" and "readers" among included 26 m6A regulators. (C) Workflow of the study design. Abbreviations: GEO: Gene Expression Omnibus; WGCNA: Weighted Gene Co-expression Network Analysis; GSEA: Gene Set Enrichment Analysis; DEGs: differentially expressed genes; KEGG: Kyoto Encyclopedia of Genes and Genomes; GO: Gene Ontology.

Alternations of RNA methylation modified genes in the central nervous system (CNS). Little evidence has elucidated the relationships between m6A regulators and neurodegeneration, such as dementia [32]. A recent study by Han et al. using APP/PS1 transgenic mice indicated that m6A abnormality (such as METTL3 and FTO genes) is closely related to AD [33]. To gain a thorough understanding regarding cognitive malfunction from a new perspective, we systematically investigated the molecular alterations of m6A regulators and their associations with AD, VD, and MCI using the database search.
Materials and Methods
Collection of m6A regulators
Our study was designed and conducted according to the flow chart (Figure 1C). Briefly, twenty-six m6A regulators were selected accordingly to recent publications [15, 34–37], including ten writers (METTL3, METTL14, METTL16, RBM15, RBM15B, WTAP, KIAA1429, PCIF1, ZCCHC4, ZC3H13), two erasers (FTO, ALKBH5) and fourteen readers (YTHDC1, YTHDC2, YTHDF1, YTHDF2, YTHDF3, IGF2BP1, IGF2BP2, IGF2BP3, HNRNPA2, HNRNPC, FMR1, RBMX, LRPPRC, ELAVL1) (Figure 1B). Figure 1A summarized the landscape of related regulators, including classification, biological functions, and molecular mechanisms.
Acquisition of microarray datasets and preprocessing
The gene-expression dataset with full clinical annotation was obtained from Gene Expression Omnibus (GEO), a publicly sponsored genomic database operated by the National Institutes of Health (NIH). GEO provides open access to many gene expression data from biological and statically comparable samples [38]. In total, four eligible datasets regarding AD, VD, or MCI, including GSE122063, GSE63060, GSE63061, and GSE84422, were selected. There are 711 blood samples from GSE63060 (n = 382) and GSE63061 (n = 329), including 238 control, 189 MCI and 284 AD. GSE122063 consists of 136 brain samples from either frontal or temporal lobe, and patients are divided into control (n = 11), VD (n = 8), and AD (n = 12) groups. GSE84422 collected 1053 post-mortem brain samples from 125 subjects with a full spectrum of AD.
The microarray platforms provided by Illumina and Agilent were downloaded in the format of normalized matrix files. The dataset retrieved from Affymetrix was downloaded in raw "CEL" form. The R/Bioconductor algorithm "RMA" and package "SVA" were used to preprocess gene chips normalization among datasets and to remove batch effects and other latent variations [39]. The overall workflow was presented in Figure 1C.
Analysis of unsupervised clustering for m6A regulators
Unsupervised clustering analysis is an effective machine learning tool for exploring the patterns of datasets in a complex system, which has been applied to AD studies [40] and single-cell RNA sequencing applications [41]. In the current study, the m6A-related regulators were classified into several distinct endotypes by employing unsupervised clustering methods [42, 43] and m6A modification patterns based on the mRNA sequencing of 21 m6A regulators were hereafter determined for further research. Consensus Cluster Plus R package was conducted to perform 1000 times repetitions to guarantee the stability of classification [44]. The number of clusters was determined by the consensus clustering cumulative distribution function (CDF) result (Supplementary Figure 1). The purpose of the CDF plot is to find the k at which the distribution reaches an approximate maximum, which indicates maximum stability, and after which divisions are equivalent to random picks rather than the true cluster structure [44]. Besides, patients were classified into different groups for deeper analysis by adopting an unsupervised clustering method for analyzing the significant difference in different clusters by consensus clustering.
Identification of differential gene expression
After data normalization, differentially expressed genes (DEGs) in datasets of GSE122063, GSE63060, and GSE63061 were identified using the "Limma" package from R/Bioconductor software [45]. The significance of DEGs was set as the adjusted P-value <0.05 and threshold of |log2FC|≥1. Different expression levels of 26 m6A regulators among groups were further verified by unsupervised clustering analysis.
Exploring KEGG pathway enrichment
After identifying DEGs in frontal and temporal cortices, Database for Annotation, Visualization and Integrated Discovery (DAVID, https://david.ncifcrf.gov/, ver. 6.8) was further used to identify Kyoto Encyclopedia of Genes and Genomes (KEGG) pathway enrichment of DEGs in the above two brain regions. The cutoff criteria were set as P values of 0.05. The results of top10 KEGG pathways in both cortices were picked up and constructed in a bubble plot via R Studio.
Gene set enrichment analysis and functional annotation
Gene set enrichment analysis (GSEA) has successfully been applied to interpret the molecular pathway activated in different biological states [46]. In this study, software "GSEA" (https://www.gsea-msigdb.org/) was utilized to identify the gene up- or down-regulation after filtering for gene set size (min = 5, max = 500) and ranked by t-score [47]. The gene sets of "c2.cp.kegg.v7.1.symbols" (MSigDB database) were used for GSEA analysis. The FDR-corrected q-value <0.25 and P-value <0.05 were set for significance.
Weighted gene co-expression network analysis
Weighted gene co-expression network analysis (WGCNA) was used to extract highly correlated clinical traits and calculate module membership measures from the data sets [48]. "WGCNA" R package was applied to determine hub genes and clinical traits-related modules among microarrays [48]. Genes with variations in the top 25% were extracted from DEGs analysis. Biweight miscorrelation (corType = "Pearson") was set to detect the outliers. The topological overlap matrix (TOM) was transformed to find the connectivity in the adjacent matrix. Genes were after that divided into multiple sensitive modules according to the TOM-based dissimilarity measurement. Other analysis setting regarding the identification of key modules included soft-threshold power = 7, scale free R2 = 0.9, height = 33, cut height = 0.2, and minimal module size = 10. Subsequently, genes from the highest correlated module were picked up to perform Gene Ontology (GO) and Kyoto Encyclopedia of Genes and Genomes (KEGG) pathway analyses. Hub genes were determined by defying gene significance (GS) >0.3 and module membership (MM) >0.8.
Comparing the expression levels according to genotypes of apolipoprotein E gene
The association between apolipoprotein E (APOE) gene ɛ4 allele and m6A methylation regulators in AD patients was examined by extracting data from GSE29652. Eighteen post-mortem brain samples of AD were categorized into APOE ɛ4+ or APOE ɛ4− subtype. The expression levels of m6A regulators were compared between APOE ɛ4 genotype groups after data normalization and DEGs extraction.
Statistical analysis
The Statistical Package for the Social Sciences (SPSS) version 24.0 was used for statistical analysis. Patients in GSE63060 and GSE63061 were sub-grouped by age according to their cognitive functions. Normal distributed continuous variables were described using mean ± SD; categorical variables were presented as percentages (%). Differences between groups were compared by t-test, one-way ANOVA, or Kruskal-Wallis test for continuous variables, and chi-square for categorical variables.
Correlation analyses were carried out to compute the strength of interrelationships between clinical traits and gene expression traits. Correlations between m6A regulators were computed by Spearman correlation analyses and visualized by the "corrplot" package in the R program. Univariate analysis examinations, filtering the meaningful independent variables, followed by multivariate logistic regression analysis, were conducted to estimate the association between m6A methylation levels and MCI and AD.
All statistical P values were two-tail, and p < 0.05 was regarded as statistically significant.
Data sharing statement
All relevant data supporting the key findings are available from the corresponding author upon reasonable request.
Results
Discussion
The discovery of m6A mRNA methylation has extended a new dimension in post-transcriptional gene expression [29]. Various animal experiments have previously suggested the modulation roles of m6A on neuronal functions [19, 20, 54–57]. However, the relevance of m6A RNA methylation in cognitive dysfunction remains mostly unexplored. The current study has identified certain m6A-related regulators and related modification patterns, which might serve as novel biomarkers and therapeutic strategies for cognitive dysfunction.
Firstly, we found that m6A-related regulators' expression differs in different tissues and different cognition levels. A little evidence has confirmed that m6A regulators were closely related to hippocampal-dependent learning and memory [22, 56] and further proved the inner regulating mechanisms [58, 59]. We found that FTO, YTHDC2, and YTHDF2 were the most divergently expressed regulators in the brain between different cognitive groups. However, different from the above findings, we found that expression of METTL3 had no significant difference between CTL, MCI, and AD, while METTL14 had the highest expression in CTL but lowest in MCI. This may partly explain that the above two studies were based on animal research and tissue from the hippocampus, while we analyzed samples of blood from the elderly [22, 56]. Besides, recently reported studies have proved that oligodendrocyte (OL) lineage progression was accompanied by changes along with m6A-related regulators, such as METTL14, YTHDF2, or even a novel reader PRRC2A [60, 61]. Considering our previous findings that OLs and myelin were closely associated with animal cognition [62, 63], we may uncover a m6A-specific cognition modification. Conditional inactivation of m6A components might result in decreased OLs numbers, and CNS hypomyelination and the latter have been implicated in the development of cognitive impairment. Together, we hypothesize that it is possible to regulate OLs proliferation and differentiation by modulating RNA methylation and improving hippocampus-dependent cognitive function. Further in vivo and in vitro experiments are needed to validate the conjecture.
KEGG analysis revealed that DEGs in the brain were significantly enriched in neuroactive ligand-receptor interaction, consistent with a previous study. They reported that the regulation of neuroactive ligand-receptor interaction associated with AD was not preserved in healthy and MCI networks [64]. Another multinational study confirmed that genes regarding neuroactive ligand-receptor interaction were closely related to memory-modulation [65]. As for DEGs in blood, GSEA results surprisingly revealed enrichment of taste transduction. The alterations of taste perception were commonly found in aging and neurodegenerative disorders [66–68]. For example, frontotemporal dementia (FTD) is characterized by alterations in gustation, eating behaviors [69, 70], and appetite alteration are also significantly found in AD [70, 71]. The type 1 taste receptor member 3 (T1R3) is closely involved in taste perception and highly abundant in cognition-related brain areas, such as the hippocampus and cortex [72]. Besides, bioinformatics tools confirmed that the T1R3 receptor processes a strong structural similarity with metabotropic glutamate receptors, and the latter is crucial for learning, memory, and behavior [73, 74]. The loss of the T1R3 subunit is thereby demonstrated to cause learning and memory impairment [68]. Taken together with our and others' data suggest that taste transduction plays a crucial role in cognition procession, and alterations of taste might implicate as an indicator of cognitive dysfunction.
The present study has dug out critical proteins associated with MCI and AD through WGCNA. Belonging to the small nuclear ribonucleoprotein peptide family, SNRPG has been identified as one of the bridge regulators in the module network closely connected to MCI and AD [75, 76]. The decreased expression level of SNRPG might participate in the progression from MCI to AD [76]. Meanwhile, SNRPD2 interacts with nuclear retention elements, and a decrease of SNRPD2 also correlates with pathogenesis from MCI to AD [76, 77]. Moreover, several genes show overlaps in the potential pathogenesis of cancers. It is consistent with a previous bioinformatic study regarding VD by our group [accepted but unpublished] and another PD-associated research [78], which collectively indicated that genes associated with neurodegenerative diseases were always abnormally dysregulated in cancers [76]. Therefore, we may conclude that our study contributed to a better understanding of the pathological mechanisms from MCI to AD. Proteins like SNRPG, SNRPD2, or even cancer-related are expected to be novel biomarkers to predict for patients with MCI who are more likely to progress to AD.
For the first time, we demonstrated in the present study that APOE ɛ4 is closely correlated to five RNA methylation regulators (METTL3, METTL16, YTHDC2, RBMX, LRPPRC) in the AD brain. The ε4 allele of APOE is the most common and influential genetic risk factor for developing AD [79]. Lee et al. once reported that expression of all APOE RNA species was significantly higher in the AD brain than those in the control brain [80]. Similarly, we found a significant increase in most m6A-related regulators within the AD APOE ɛ4+ group, suggesting a complex regulation of epigenetic alterations between the ɛ4 allele and AD. A prospective cohort study by Keller et al. once reported an interaction between FTO and APOE. It proved that those carrying genes of both FTO and AOPE ɛ4 had an increased risk for dementia [81]. They further figured out that FTO's effect on dementia or AD risk mainly was through interaction with the APOE ɛ4 allele [81]. We did not find the difference of FTO expression between APOE ɛ4+/− groups, suggesting that we adopted different samples (brain vs. blood). Consistent with Han's study reporting an elevated level of METTL3 in AD mice, we found that the AD APOE ɛ4 + group has a higher expression of METTL3 [33]. Ectopic expression of RBMX was reported to decrease the APOE receptor's splicing and was critical to cholesterol homeostasis and, possibly, AD development [82]. Loss or mutation of LRPPRC may contribute to manifestations of neurofibromatosis type 1, which has characteristics of cognitive dysfunction [83]. No previous studies have ever reported relationships between METTL16, YTHDC2 with AOPE ɛ4, or cognition.
Conclusions
The current study has demonstrated the prevalent genetic and expression alterations of RNA methylation regulators according to cognitive impairment. These differently modified patterns of m6A regulators deserve to be highlighted because they are tightly correlated with cognitive malfunctions. The systematic evaluation of m6A regulators-related molecular alterations might lay a critical foundation for understanding the characteristics of cognition. It will also contribute to guiding more therapeutic strategies for dementia.
Author Contributions
YJ and XB conceived and studies and provided supervision. BD, YJ, ML, and ZD collected the data and performed the bioinformatics analysis. BD and YZ wrote the original manuscript, and HL provided the edited version. BD and YJ completed the tables and figures, CF and HZ interpreted the results from clinical perspectives. All the authors read and approved the final manuscript.
Acknowledgments
We thank the National Natural Science Foundation of China and Health System Talent Training Program of Shanghai Municipal Health and Family Planning Commission for their financial support. The funders had no role in study design, data collection, data analysis, interpretation or writing of the report. We thank Ph.D. Qilin Huang from Department of Neurosurgery, Central Theater General Hospital, Wuhan, P.R. China for his technical support.
Conflicts of Interest
The authors declare no conflicts of interest related to this study.
Funding
This work was funded by the National Natural Science Foundation of China (81871040) and the Shanghai Health System Talent Training Program (2018BR29).
References