Bone morphogenetic protein 9 enhances osteogenic and angiogenic responses of human amniotic mesenchymal stem cells cocultured with umbilical vein endothelial cells through the PI3K/AKT/m-TOR signaling pathway
1 Department of Sports Medicine, Peking University Third Hospital, Institute of Sports Medicine of Peking University, Beijing Key Laboratory of Sports Injuries, Beijing 100191, China
2 Department of Orthopaedics, The First Affiliated Hospital of Zunyi Medical University, Zunyi 563000, Guizhou, China
3 Department of Orthopaedics, The First Affiliated Hospital of Chongqing Medical University, Chongqing 400042, China
4 Department of Orthopaedics, The Second People's Hospital of Yibin, Yibin 644000, Sichuan, China
* Equal contribution
# Co-first author
Received: March 16, 2021

     

Accepted: October 25, 2021

     

Published: November 27, 2021

     
https://doi.org/10.18632/aging.203718
How to Cite
Copyright: © 2021 Liu et al. This is an open access article distributed under the terms of the Creative Commons Attribution License (CC BY 3.0), which permits unrestricted use, distribution, and reproduction in any medium, provided the original author and source are credited.
Abstract
Background: Neovascularization plays an essential part in bone fracture and defect healing, constructing tissue engineered bone that targets bone regeneration. Bone morphogenetic protein 9 (BMP9) is a regular indicator that potentiates osteogenic and angiogenic differentiation of MSCs.
Objectives: To investigate the effects of BMP9 on osteogenesis and angiogenesis of human amniotic mesenchymal stem cells (hAMSCs) cocultured with human umbilical vein endothelial cells (HUVECs) and determine the possible underlying molecular mechanism.
Results: The isolated hAMSCs expressed surface markers of MSCs. hAMSCs cocultured with HUVECs enhance osteogenic differentiation and upregulate the expression of angiogenic factors. BMP9 not only potentiates angiogenic signaling of hAMSCs cocultured with HUVECs also increases ectopic bone formation and subcutaneous vessel invasion. Mechanically, the coupling effect between osteogenesis and angiogenesis induced by BMP9 was activated by the BMP/Smad and PI3K/AKT/m-TOR signaling pathways.
Conclusions: BMP9-enhanced osteoblastic and angiogenic differentiation in cocultivation with hAMSCs and HUVECs in vitro and in vivo also provide a chance to harness the BMP9-regulated coordinated effect between osteogenic and angiogenic pathways through BMP/Smad and PI3K/AKT/m-TOR signalings.
Materials and Methods: The ALP and Alizarin Red S staining assay to determine the effects of osteoblastic differentiation. RT-qPCR and western blot was measured the expression of angiogenesis-related factors. Ectopic bone formation was established and retrieved bony masses were subjected to histochemical staining. The angiogenesis ability and vessel invasion were subsequently determined by immunofluorescence staining. Molecular mechanisms such as the BMP/Smad and PI3K/AKT/m-TOR signaling pathways were detected by ELISA and western blot analysis.
Introduction
Bone formation and rehabilitation are successive processes that in possession of highly coordinated interactions in different type of cells and tissues to form new mineralized tissues, including vascular endothelium and autonomic or sensory nerves; the process is primarily mediated by osteoblasts [1, 2]. Blood vessels are structural templates for bone development that aggregate key substances of bone homeostasis into the osteoblastic micro-environment, including mineral salts, growth factors, and osteoblastic related cells [3]. Mesenchymal stem cells (MSCs) possess multiple differentiation potential, such as osteogenic, chondrogenic, and adipogenic lineages [4, 5]. The human amniotic mesenchymal stem cells (hAMSCs) have become popular since it is a highly vascular membrane, with noninvasive isolation from an unlimited source and lacks ethical controversy. hAMSCs have been tremendously used in bone surgeries, including spine surgeries and in sports medicine [6–8]. Due to its advantageous properties of favorable proliferation, migration, and immunomodulation, hAMSCs are becoming clinically promising [9, 10]. Most if not all osteogenic differentiation is a continuous waterfall that reproduces molecular events that occur during embryonic bone development [11, 12]. Bone morphogenetic proteins (BMPs) exert a vital role in the development of bone formation and rehabilitation, which have shown to enhance proliferation and osteogenic and angiogenic differentiation of stem cells [13, 14]. They be part of the transforming growth factor-β super family, and rodents have been discovered [15, 16].
Upon osteogenic activity analysis, we found that BMP9 is most latent capacity among the 14 types of BMPs in the induction of osteoblastic differentiation of MSCs in vitro and in vivo [17, 18]. BMP9, as one of the least studied BMPs can regulating endothelial cell function and angiogenesis, inducing choline-like phenotype of embryonic basal precholinergic neurons which possess restraining the production of hepatic glucose [19, 20]. Through transcriptional profiling, we demonstrate that BMP9 regulates a diverse set of downstream target genes in MSCs and cross-talk with other pathways as well. As one of the hot part of BMPs, BMP9-induced osteoblastic differentiation of MSCs still need to be fully illuminated.
Studies have shown that angiogenesis precedes bone formation, and the bone vessel system not only provides the necessary nutrients, growth factors, hormones, cytokines for bone formation, also removes metabolic waste, acts as a bridge between bone and surrounding tissue [21, 22]. Therefore, the "ternary regulation theory" of bone metabolism was put forward which includes angiogenesis, osteogenesis and bone resorption with osteoclasts [23, 24]. Angiogenesis may provide a new target for prevention and treatment of bone mass loss. MSCs could differentiate into other cell types, originating from a mesoblast, in appropriate culture condition. Among these cells, endothelial cells (ECs) can express some cytokines induce osteogenic differentiation when exposed to MSCs [25–28]. Therefore, the application of co-culture of MSCs and endothelial cells to expand the number of MSCs and promote angiogenesis and osteogenesis may provide a promising method for bone tissue engineering and bone regeneration. However, the specific mechanism of cell co-culture has not been fully studied.
Here, the objectives of this study were to: (1) investigate whether hAMSCs cocultured with human umbilical vein endothelial cells (HUVECs) enhance osteogenic differentiation; (2) determine whether BMP9 can enhance osteogenic and angiogenic differentiation of hAMSCs cocultured with HUVECs in vitro and in vivo; (3) investigate the molecular mechanism underlying BMP9 functions in hAMSCs cocultured with HUVECs.
Results
Discussion
In this study, we discussed the regulatory effect of BMP9 on osteoblastic and angiogenic differentiation in cocultured hAMSCs and HUVECs, and the possible signaling pathway underlying this process. Also we analyzed the effect of osteoblastic and angiogenic differentiation in cocultivation of hAMSCs and HUVECs. In this study, we found that cocultured hAMSCs and HUVECs could upregulate osteogenic and angiogenic markers. Additionally, we found that BMP9 can enhance osteoblastic markers, mRNAs and protein levels, while hAMSCs and HUVECs alone did not strengthen ALP activity like cells transfected with BMP9, as well as the subcutaneous ectopic bone formation and vessel invasion. We found that, mechanistically, BMP9 may exert the functions of osteogenesis and angiogenesis through intensifying BMP/Smad signaling transduction, and so does the activation of PI3K/AKT/mTOR signaling. These results strongly indicated that BMP9 exerts a crucial role in regulating osteogenic and angiogenic differentiation in cocultured hAMSCs and HUVECs, which may be initialized by regulating BMP/Smad signaling and PI3K/AKT/mTOR signaling.
hAMSCs is a group of non-hematopoietic stem cells derived from amnion tissue. These are pluripotent stem cells and can differentiate into osteoblasts, chondrocytes, and myoblasts under specific physicochemical conditions and by cytokine action [31–33]. Multi-lineages differentiation potential is one of the characteristics of hAMSCs, which is also an important reason for its stable source of seeding cells in tissue engineered bone in vitro. In this experiment, by using enzymatic digestion to isolate quantities of hAMSCs and HUVCEs with high purity. The cell proliferation results demonstrated that the proliferation of hAMSCs and HUVECs reached the peak at 2-3 d. Flow cytometry analysis illustrated that hAMSCs expressed the positive surface markers CD73, CD105, CD44, and CD90 and negatively expressed CD19, CD45, CD34, and HLA-DR; this is in accordance with the minimal criteria for defining multipotent mesenchymal stromal cells. It has been reported that hAMSCs expressed low or no expression of hematopoietic surface markers, immunological factor CD14, human leukocyte antigen-antigen D related (HLA-DR), which represents the main histocompatibility antigens type I including HLA-A, B, and C. Our results showed that hAMSCs have a low expression level of CD45 and HLA-DR, suggesting that hAMSCs possess low immunogenicity and immune-modulatory function [34–37]. Hence, hAMSCs can be a potential seed cells for tissue regeneration leave out immune rejection.
Tissue engineered bone is based on loading of cells with osteogenic potential, osteo-conductive scaffolds, release of osteogenic growth factors and bone tissue engineering vascularization or adequate blood supply [38, 39]. Hence, research on tissue engineered bone is currently focused on selection of excellent seeding cells and reconstruction of blood supply after implanted bone tissue engineering scaffolds. Angiogenesis has a close temporal and spatial connection with bone formation during embryonic development, bone growth and fracture healing [40]. Angiogenesis not only precedes bone formation at the temporal level, but also at the spatial level, where 80% of osteoblasts are distributed around blood vessels during bone healing [41]. Vascular endothelial cells continuously cover the intima of blood vessels, having vital physiological functions and are widely involved in physiological and pathological processes such as inflammatory response, angiogenesis, immune response, atherosclerosis, and vascular tone regulation [42, 43]. In our study, we isolated HUVECs and the immunofluorescence staining showed the HUVECs expressed the basic markers of endothelial cells. We found that hAMSCs cocultured with HUVECs can increase proliferation ability, osteogenic differentiation and bone mineralization, as well as angiogenic function including subcutaneous vessel invasion. Collectively, our results verified the stimulative effect of cocultured hAMSCs and HUVECs on osteogenic and angiogenic differentiation, and this cell-to-cell connection of cocultivation may attach great importance for regulating cell behavior and bone growth and remodeling.
BMPs are part of TGF-β super family and played an indispensable role in regulating the vital physiological destiny for cells, including proliferation, apoptosis and differentiation [44]. BMP9, also passed as growth differentiation factor 2 (GDF2), was initially discovered from the cDNA library of mouse liver [45, 46]. BMP9 has been shown to exert some effects in preserving the cholinergic phenotype of the neurons, regulation of angiogenesis, iron, stimulating hepcidin 1 expression and commitment of MSCs to osteoblastic lineage etc. [17, 47, 48]. Study have shown that BMP9 is one of the most potent regulators to induce osteoblastic differentiation among the 14 types of BMPs [19, 49]. In our study, we demonstrated that BMP9 not only upregulates the expression of osteoblastic differentiation relative factors Runx2, COL-I, BSP and OCN, it also increases the level of angiogenesis relative factors such as ANT-1, VEGF, vWF, and CD31 in mRNA as well as protein levels of cocultured hAMSCs and HUVECs. Moreover, BMP9 augments the expression of osteogenic and angiogenic factors in hAMSCs and HUVECs alone. This may suggest that BMP9 is in possession of the regulatory function of vascularization in MSCs and endothelial cells. BMP9 works its function through BMP/Smad signaling, including p38-MAPK and ERK1/2-MAPK pathway [50–52]. For the canonical BMP signaling pathway, which activates the R-Smad named phosphorylated Smad1/5/8 (p-Smad1/5/8) through binding with its membrane receptor, and then forming a complex with the phosphorylated Smad 4. The complex translocates into the nucleus and exerts its function to regulate downstream target genes [53, 54]. The results in our study shows that BMP9 increases p-Smad1/5/8 expression level of coculturing hAMSCs and HUVECs. Hence, we conclude that BMP9 enhance the osteogenic and angiogenic differentiation of cocultured hAMSCs and HUVECs by increasing the level of osteogenic and angiogenic relative factors and upregulating the BMP/Smad signaling pathway.
The osteogenic and angiogenic differentiation process is an elaborately planned progression and a number of factors take part in it, such as bFGF, BMPs, and PI3K, Akt [55, 56]. The PI3K/AKT/mTOR pathway has been shown in many types of cells including tumor cells, endothelial cells and MSCs to regulate cell functions like proliferation, angiogenesis, viability and cell migration [57, 58]. It has been reported that the PI3K/AKT/mTOR axis exerts a protective effect in tissue injury and bone development both in experimental and clinical interventions [59–61].
Angiogenesis is a necessary condition for bone development. It involves a number of cytokines and signaling pathways, in which VEGF and its receptors bind to important signaling molecules that promote angiogenesis [62–64]. Our previous study reported that VEGF synergistically promote angiogenesis of MSCs, and current studies have confirmed that the PI3K/AKT/mTOR signaling pathway can also cause angiogenic differentiation by affecting multiple pro-angiogenic factors. In our study, the ELISA assay demonstrated that BMP9 could enhance protein expression of VEGF in cocultured hAMSCs and HUVECs and upregulated the expression level of corresponding angiogenic relative factors including CD31, vWF and ANT-1. Mechanically, by induction with BMP9, the phosphorylation of PI3K and AKT were significantly increased in cocultured hAMSCs and HUVECs. Similarly, the expression of mTOR was also upregulated by BMP9 of cocultured cells (Figure 8). Hence, the osteogenic and angiogenic differentiation of cocultured hAMSCs and HUVECs was intensified by BMP9 through BMP/Smad and the PI3K/AKT/mTOR signaling pathway.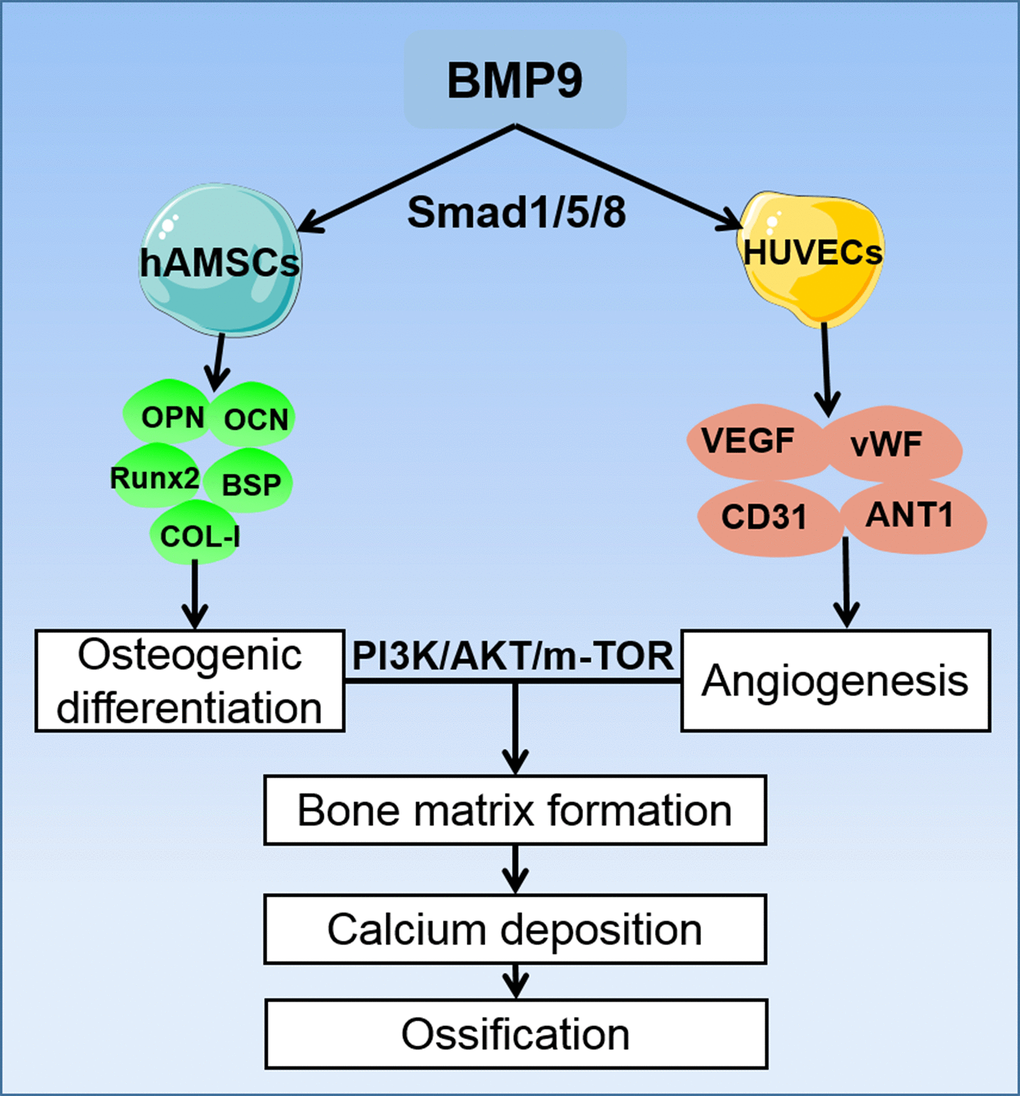 Figure 8. A proposed regulatory loop of BMP9 enhanced osteogenesis and angiogenesis of hAMSCs cocultured with HUVECs. BMP9 upregulates the osteogenic relative factors such as OPN, OCN, Runx2, BSP, and COL-I in hAMSCs, and increases the expression of angiogenic factors VEGF, vWF, CD31, and ANT-1 in HUVECs. Hence, BMP9 potentiates only osteogenic also angiogenic differentiation by coculturing hAMSCs with HUVECs. This coupling effect of osteogenesis and angiogenesis may lead to efficient bone matrix formation and ossification, and BMP9 exerts its osteogenic and angiogenic functions via BMP/Smad1/5/8 and PI3K/AKT/m-TOR signaling pathways.

However, there are some limitations exist in our study. Firstly, we only used the adenovirus to upregulate BMP9 expression, but no dose-effect studies were investigated. Secondly, We did not detected the osteogenic and angiogenic potential by using different cell ratios or different MOIs in this experiment, though the results do not affect the conclusion, it is still necessary to be determined in further experiment. Additionally, the role of BMP9 in the coupling of osteoblastic differentiation and angiogenesis in bone injury and regeneration remains to be further investigated.
Conclusions
In conclusion, osteogenesis and angiogenesis are well coordinated in bone formation and rehabilitation. In this study, we demonstrated BMP9 directly enhances osteoblastic differentiation and angiogenesis in cocultivation of hAMSCs and HUVECs, which in turn, upregulate osteogenic and angiogenic factors. The coupling effect between osteoblastic differentiation and angiogenesis induced by BMP9 of cocultured cells was mainly through enhancement of BMP/Smad and PI3K/AKT/mTOR signaling pathways. Thus, favorable osteoblastic factors, including BMP9, may induce an efficaciously regulated convergence of osteogenesis and angiogenesis in cocultured hAMSCs and HUVECs.
Materials and Methods
Study groups
All experiments were performed in triplicate. The hAMSCs were used as Group A and HUVECs as Group B; Group C was composed of cocultured hAMSCs and HUVECs, and Group D, hAMSCs infected with Ad-BMP9. Group E was composed of HUVECs infected with Ad-BMP9. Group F was composed of cocultures of hAMSCs and HUVECs, in which, both were infected with Ad-BMP9.
Animals and ethics statements
This experiment was approved by the Research Ethics Committee of the First Affiliated Hospital of Zunyi Medical University. Human placentas were obtained from the Obstetrics Department of the First Affiliated Hospital of Zunyi Medical University and informed consent was provided by all patients before surgical retrieval and application. hAMSCs were isolated from five full-term puerperants, and their basic information is demonstrated in Table 1. Informed consent was provided by patients before delivery. Surgical procedures were performed on thirty-three adult male athymic nude mice (four to six weeks old, weighing 15-20 g).
Table 1. Characteristics of puerperants and babies providing research materials.
| | |
| --- | --- |
| Parameters | Mean±Std Dev |
| Mother's age (years) | 25.2±1.924 |
| Gestational age (weeks) | 39±1.581 |
| Baby sex | 2F,3M |
| Child weight (gr) | 3713±355.3 |
Isolation and culture of hAMSCs
The amniotic membrane was bluntly peeled from the placenta and washed three times with phosphate-buffered saline (PBS) with 1% penicillin and streptomycin. The amniotic membrane was minced with sterile scissors into 1-2 mm2 sized pieces, and digested twice (30 min each) with 0.05% trypsin/0.02%. Then, the amniotic pieces were incubated with 0.75 g/L collagenase, digested at 37° C in a water bath for 60 min. hAMSCs were collected and passed through a 300-mesh filter, suspended in culture dishes containing Dulbecco's modified Eagle's medium (DMEM) with 10% fetal bovine serum (FBS), 1%penicillin and streptomycin, 1%L-glutamine, and nonessential amino acids. The medium was replaced every 48h, and morphology were recorded. Cells were passaged upon attaining 80% confluence, and seeded at a 1:2 ratio for subculture. hAMSCs at P3 were used for experiments.
Phenotypic identification of hAMSCs
Specific surface markers
In accordance with the minimal criteria for defining MSCs proposed by the International Society for Cellular Therapy (ISCT) [65], the phenotypic markers were evaluated using flow cytometry. Cells were adjusted to 2 × 106 cells/mL were incubated with FITC-conjugated anti-CD90,-CD44, anti-CD105, and -CD73. Cells were combined with negative control antibodies, including PE-conjugated anti-CD34, anti-CD19, anti-CD45, anti-CD11b, and anti-HLA-DR in the dark for 30 min, washed by the addition of 2mL. The labeled cells were washed with PBS three times and resuspended in 250μL of flow buffer, and expression of surface markers was analyzed by BD Software (BD AccuriTM C6 Plus Corporation, USA).
Multilineage differentiation of hAMSCs
HAMSCs at P3 were adjusted to 105 cells/mL. When cells reached 50% confluence then were cultivated in osteogenic, chondrogenic and adipogenic differentiation medium (Gibico™, USA). The osteogenic differentiation was detected by Alzarin Red S staining (Solarbio, Beijing, China). The chondrogenic differentiation was assessed by Alcian Blue staining (Solarbio, Beijing, China). Oil Red O (Solarbio, Beijing, China) staining was performed to determine the adipogenic differentiation.
Isolation and identification of HUVECs
The umbilical cord was removed and rinsed three times in 4° C PBS with 1% penicillin and streptomycin. The hematoma was removed from the umbilical cord with PBS, then pre-heated PBS was injected to flush the blood in the umbilical vein. A hemostat was used to clamp the end of the umbilical cord and 1 g/L pre-heated type 2 collagenase was injected using a syringe into the other end of the umbilical vein to fill the lumen. The umbilical cord was placed into a petri dish containing the pre-warmed PBS, incubated at 37° C for 30 min. The digestive mixture was collected in a centrifuge tube containing 200 mL/L FBS complete medium. The cells were replaced with endothelial conditioned medium containing 10% FBS, 2 mM/L-glutamine, 1 mM sodium pyruvate, 100 U/mL penicillin, 100 μg/mL streptomycin and 1% endothelial cell growth supplement (ECGS) (ScienCell, CA, USA) after 24 h adherence, and cultured every 2 d. Immunofluorescence staining was used to identify specific markers of HUVECs, including CD31, VEGF, EMCN, and vWF.
Cell counting kit- (CCK-8) assays
Cells were trypsinized and prepared into a cell suspension at 105 cells/mL. One hundred microliters of cell suspension was added to each well. Marginal wells were filled with sterile PBS and incubated at 37° C with 5% CO2. Thereafter, cells were cultured for 7 days. Ten microliters of CCK-8 solution was added to each well, the plate mixed by gentle tapping for 2 h. The absorbance was detected at 450 nm using a microplate reader, and the cell proliferation activity was calculated.
Immunofluorescence staining
Cells were seeded on cover slips at 104 cells/mL, and treated as the experimental design. Cells were washed with PBS for 10 min each, then fixed with 4% paraformaldehyde at 37° C for 15 min at the indicated time point. The cover slips were gently washed with PBS then washed with 0.4% Triton X-100 for 30 min. Thereafter cells were blocked by using goat serum for 30 min, then incubated with the first antibodies overnight. Incubation with the corresponding FITC antibodies for 60 min. Slips were washed with PBS for 10 min and stained with DAPI for 5-10 min. Results were observed by fluorescence microscope and images were assessed by Image Pro Plus software.
Construction and infection of recombinant adenovirus
By using Ad-Easy technology as described previously, the recombinant adenoviruses were constructed [66, 67]. Briefly, the coding areas were amplified with the real time polymerase chain reaction and cloned into adenoviral vectors. The shuttle vectors were recombined with BJ5183/AdEasy-1 cells. Then, the correct recombinant vectors were linearized and transduced into HEK293 cells to package recombinant adenoviruses. The resulting adenoviruses were designated as Ad-BMP9 [68] and the Ad-BMP9 expresses GFP (green fluorescent protein). The multiplicity of infection (MOI) of transduction of hAMSCs and HUVECs was adjusted to 40% and the cell ratios of two type of cells in co-culture system was 1:1.
ALP activity assays
Cells were adjusted into 30-40% confluence and treated as the experimental design. ALP activities were detected quantitatively by a modified Great Escape SEAP Chemiluminescence assay (Beyotime, Beijing, China) as described according to the manufacturer's protocol [69, 70]. For the chemiluminescence assay, the results were repeated in three independent experiments.
Alizarin S staining and mineralization assay
Cells were treated with recombinant adenovirus as the experimental design. Cells were cultivated with osteogenesis conditioned medium containing 50 mg/L vitamin C, 0.1 μmol/L dexamethasone, and 10 mmol/L β-glycerol phosphate disodium for 14 and 21 d. Mineralization was determined by Alizarin Red S staining as described previously [71, 72].
RNA isolation and RT-qPCR reaction
Total RNA was collected to synthesize cDNA by using reverse transcription reaction kit (RR047a, Takara, Japan) following the manufacturer's instructions. Thereafter, the cDNA were diluted 5-fold and as templates for detection by PCR. The reactions were run on a Bio-Rad CFX-96 system. All samples were normalized with the level of glyceraldehyde phosphate dehydrogenase (GAPDH). Custom-specific primers (Sangon Biotech, Shanghai, China) are as shown in Table 2. The relative expression level of mRNAs in groups was calculated using the 2ΔΔCT method and was normalized to the gene expression of the control.
Table 2. Primer sequence of the target genes.
| | | | | |
| --- | --- | --- | --- | --- |
| Gene | Accession no. | Forward primer (5'-3') | Reverse primer (5'-3') | Length |
| BMP9 | NM_019506.4 | GATGTTTCTGGAGAACGTGAAG | TACAGGTCAATCATGTACTGCG | 111 |
| Runx2 | NM_001015051.3 | AACAGCAGCAGCAGCAGCAG | GCACCGAGCACAGGAAGTTGG | 183 |
| BSP | NM_004967.4 | GTCTATAGAACCACTTCCCCAC | GCTGTACTCATCTTCATAGGCT | 168 |
| COL-I | NM_000088.3 | TCCGACCTCTCTCCTCTGAA | TGCTTTGTGCTTTGGGAAGT | 121 |
| OPN | NM_000582.2 | AGCGAGGAGTTGAATGGTGCATAC | AATCTGGACTGCTTGTGGCTGTG | 152 |
| ANT1 | NM_001146.5 | GGGAGGTTGGACTGTAATACAA | TGTCATACTGTGAATAGGCTCG | 209 |
| CD31 | NM_000442.5 | TCGTGGTCAACATAACAGAACT | TTGAGTCTGTGACACAATCGTA | 161 |
| vWF | NM_000552.4 | CCTGTTACTATGACGGTGAGAT | CATGAAGCCATCCTCACAGTAG | 86 |
| VEGF | NM_001025366.3 | ATCGAGTACATCTTCAAGCCAT | GTGAGGTTTGATCCGCATAATC | 132 |
Western blotting analysis
Total protein was collected after cleared lysates were denatured by boiling for 10 min. Protein were separated by 8% or 10% (wt/vol) SDS-PAGE as manufacturers' described [73]. Proteins were separated by electrophoresis and transferred onto polyvinylidene difluoride (PVDF) membranes. The PVDF membrane was blocked with 5% milk for 2 h and incubated overnight with first antibodies. Then the membranes were probed with secondary antibody. Immune-reactive signals were detected and captured using Bio-Rad. The β-ACTIN (60004-1; Proteintech) antibody was used as the internal control. Concentrations of proteins were quantified by using Image-Pro Plus software.
ELISA
Cells were treated according to the experimental design. The cell culture medium were centrifuged to remove debris. Supernatants were diluted 5-fold. Protein level of VEGF (DVE00, R&D, MN, USA) were detected by ELISA. Standard and sample were added per well and covered with the adhesive strip and the plate was incubated for 30 min. Standard concentration holes were added as follows: 0, 1.25, 2.5, 5.0, 10.0, 20.0, 40.0, and 80.0 ng/mL, in accordance with the manufacturer's instructions.
Cell implantation, ectopic ossification and micro computed tomographic (Micro-CT) assay
Cells were treated with specific adenoviruses and cocultured according to the experimental design. Then the ectopic bone masses were collected for injection (5 × 106 cells) from the flanks of nude mice (4-6-week old males, adult male athymic nude mice). After injection for 4 weeks, the nude mice were euthanized the samples were collected for micro-CT (Bruker Company, Belgian) and histologic staining.
Retrieved samples were decalcified for 14 days and then processed for paraffin embedding. The parameters including trabecular bone volume (BV/TV, %), trabecular number (Tb. N), trabecular separation (Tb. Sp), trabecular thickness (Tb. Th) and bone mineral density (BMD) were detected.
Histochemical staining
The tissues were decalcified with EDTA, washed with PBS and fixed in 4% paraformaldehyde overnight at 37° C, and embedded in paraffin. Serial sections of embedded bone masses were stained with (H&E), and Masson Trichrome staining Solarbio Company, Beijing, China carried out as previously described [69, 74].
Implantation to evaluate angiogenesis in vivo
Cells were seeded at 5 × 105 cells/mL on PLGA scaffolds (diameter 3.5 mm, thickness 200 μm) (Lepton Company, China) for 24 h. The morphology of PLGA scaffold seeded with cells was detected by scanning electron microscopy. Eighteen mice (6 week old males; BALB/cAnN, Beijing, China), weighing 20 g, were anesthetized with 1% Pentobarbital Sodium, and the cells-PLGA compounds were implanted into the subcutaneous skin. The composite were analyzed after 5 weeks. The composite was retrieved and fixed in 4% paraformaldehyde, immunohistochemical staining was performed for CD31 (ab28364, Abcam, Cambridge, MA, USA), then by incubation with secondary FITC antibodies. The results were analyzed using an Olympus auxiliary system.
Statistical analysis
All experiments were performed in three times. The data are reported as the mean ± SD and statistical analyses using the software package SPSS 14.0. Student q tests were used to commit significant differences. Statistical significance was set P < 0.05.
Author Contributions
Ziming Liu and Yuwan Li performed the experiment and contributed significantly in writing the manuscript; Yaping Tang analyzed and discussed the data; Jun Zhang and Changqi Luo interpreted results of experiments, gathered and collected the relevant data; Yingfang Ao designed the study and reviewed the manuscript. All authors read and approved the final manuscript.
Conflicts of Interest
The authors declare that they have no conflicts of interest.
Funding
This work was supported by the National Natural Science Foundation of China (No. 81972101) and China Postdoctoral Science Foundation (No. 2020M680258, 2020M680259).
References