miR-6745-TIMP1 axis inhibits cell growth and metastasis in gastric cancer
1 Institute of Biology and Medicine, College of Life and Health Sciences, Wuhan University of Science and Technology, Hubei 430081, P.R. China
2 Department of Medical Laboratory, Central Hospital of Wuhan, Tongji Medical College, Huazhong University of Science and Technology, Hubei 430014, P.R. China
3 Yueyang Key Laboratory of Chronic Noncommunicable Diseases, Yueyang Vocational and Technical College, Hunan 414000, P.R. China
* Equal contribution
Received: August 6, 2021

     

Accepted: October 27, 2021

     

Published: November 14, 2021

     
https://doi.org/10.18632/aging.203688
How to Cite
Copyright: © 2021 Liu et al. This is an open access article distributed under the terms of the Creative Commons Attribution License (CC BY 3.0), which permits unrestricted use, distribution, and reproduction in any medium, provided the original author and source are credited.
Abstract
Tissue inhibitor matrix metalloproteinase 1 (TIMP1) has been reported to act as a tumor oncogene in colon cancer. However, little is known about the biological role of TIMP1 in gastric cancer. In this study, we found that the expression of TIMP1 in GC tissues was upregulated compared with the normal gastric tissues. TIMP1 was confirmed as a direct target of miR-6745 and silencing TIMP1 mimicked the effects of miR-6745 in GC cells. Further mechanism studies have shown that miR-6745 inhibits the Wnt/β-catenin pathway by targeting TIMP1, thereby inhibiting cell proliferation, migration and invasion. In addition, through the analysis of GC tissues, a negative correlation between miR-6745 and TIMP1 was found in 42 GC tissues. Our findings indicate that the miR-6745-TIMP1 axis regulates Wnt/βcatenin signaling and participates in GC tumorigenesis and provide a potential therapeutic target for preventing GC progression.
Introduction
Gastric cancer (GC) is a frequently occurring malignant cancer [1, 2]. According to statistics from the World Health Organization, there are approximately 1 million new cases of GC patients every year, and GC has become the third leading cause of cancer deaths worldwide [2, 3]. Although an increasing number of GC diagnosis and treatment strategies have been developed in recent years, the prognosis of patients is still very poor [4, 5]. Thus, it is important to elucidate the molecular mechanism of the occurrence and development of GC.
MicroRNA is an endogenous small non-coding RNA that can regulate protein expression levels [6, 7]. It has been reported that miRNAs play important biological functions in various types of human cancers, including oncogenes or tumor suppressor genes [8, 9]. Exploring the molecular mechanisms that miRNA regulates the occurrence and development of cancer will help the treatment and diagnosis of tumors.
Tissue inhibitor matrix metalloproteinase 1 (TIMP1) is one of the tissue inhibitor members of the metalloproteinase family [10]. TIMP1 regulates the balance of matrix remodeling during the degradation of extracellular matrix by inhibiting the proteolytic activity of matrix metalloproteinases (MMPs) [10, 11]. Studies have shown that TIMPs also perform important biological functions in cell proliferation and metastasis [10, 12–14]. In clinical studies, the high expression of TIMP-1 in the serum of patients with various tumors is often associated with poor prognosis [15–17]. However, the molecular mechanism of TIMP1 in GC remain to be elucidated.
Our research is to explore the biological function of miR-6745 in the development of GC. miR-6745 regulates the expression of TIMP1 to inhibit cell growth and reduce the ability of metastasis in vitro and in vivo. In addition, we proved the role of miR-6745/TIMP1/Wnt/β-catenin signaling in the development of GC.
Results
Discussion
In our study, we found that miR-6745 inhibits the proliferation, migration and invasion of GC cells. We demonstrated that miR-6745 inhibits the Wnt/β-catenin signaling pathway by reducing the expression of TIMP1, thereby reducing cell proliferation, migration and invasion in vitro and in vivo. Moreover, the analysis of GC tissues showed that the expression of miR-6745 in GC tissues was low, and it was negatively correlated with TIMP1.
TIMP1, which is the first-discovered natural collagenase inhibitor, has been demonstrated to be related to the occurrence of a variety of cancers [1, 21, 22]. TIMP-1 has both MMPs-dependent anti-proteolytic activity and MMP-independent cell growth activity [23]. Our results show that TIMP1 promotes the occurrence and development of GC, which is consistent with previous reports about TIMP1 as an oncogene in other cancers, including breast cancer [24], colon cancer [10], glioblastoma [25], and non-small cell lung cancer [26].
Wnt pathway is usually divided into classic Wnt signaling pathway (depending on β-catenin protein) and non-canonical Wnt signaling pathway (not dependent on β-catenin protein), which is highly conserved signaling pathways in cells [27, 28]. After the classical Wnt pathway is activated, cytoplasmic β-catenin escapes the degradation of GSK3β, the steady-state concentration increases, and β-catenin enters the nucleus. It can bind to transcription factors, especially TCF/LEF, to regulate the transcription of target genes [29]. This pathway mainly regulates cell differentiation and proliferation [30, 31]. Abnormally activated Wnt signaling pathway promotes the formation of pancreatic cancer and affects tumor metastasis [32, 33]. Our results show that in GC, overexpression of TIMP1 can activate the Wnt pathway. Abnormal expression of β-catenin plays an important role in the formation and development of GC [34, 35]. In addition, TIMP1 can also enhance the expression of CyclinD1 [36].
In summary, we found that the downregulation of miR-6745 in GC tissues was negatively correlated with the high expression of TIMP1. As summarized in Figure 7, miR-6745 can inhibit the occurrence and development of GC by directly targeting TIMP1 to regulate downstream Wnt/β-catenin signaling. Therefore, we provide a new strategy for the prevention, diagnosis and treatment of GC.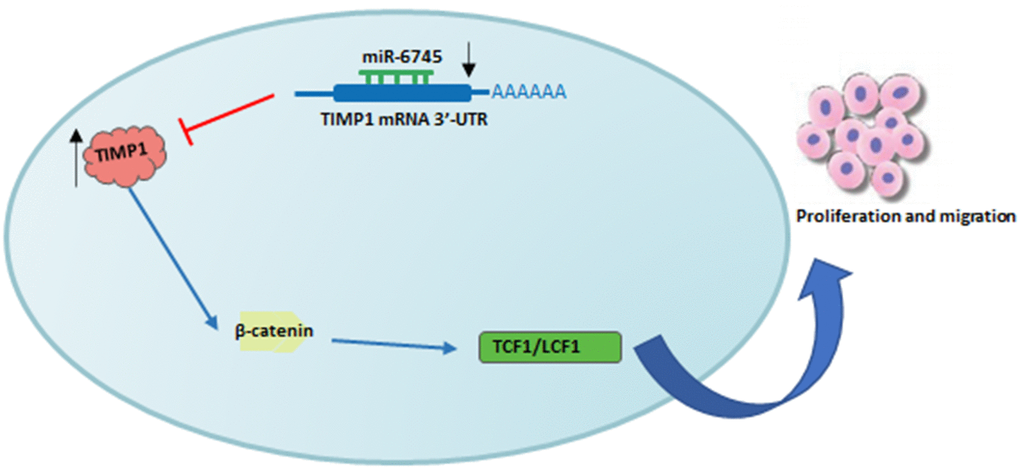 Figure 7. Schematic diagram of roles of miR-6745-TIMP1 axis on Wnt/β-catenin signaling and its function in gastric tumorigenesis. Under normal non-transformed conditions, miR-6745 binds to the 3-UTR in the TIMP1 mRNA and down-regulates TIMP1 protein levels. In GC, there is reduced levels of miR-6745 leading to elevated TIMP1 expression and activation of the Wnt/β-catenin signaling pathway.

Materials and Methods
Tissue samples and cell lines
GC tissue samples and normal gastric tissue samples were collected from the Cancer Hospital of Hubei (Wuhan, P. R. China). This study obtained the informed consent of all patients and the approval of the Ethics Committee of the Cancer Hospital of Hube. MGC-803 and SGC-7901 cell lines were obtained from the Cell Bank of the Chinese Academy of Sciences (Shanghai, China). GC cells were grown in Roswell Park Memorial Institute (RPMI) 1640 medium (DMEM, BI, Israel) supplemented with 10% FBS and cultured at 37° C in a 5% CO2 humidified incubator.
Transfection
GC cells were transfected with siRNAs, miRNAs, or plasmids using Lipofectamine 2000 (Invitrogen). miRNA mimics and miR-6745 inhibitor were obtained from RiboBio (Guangzhou, China). siTIMP1 was purchased from GenePharma (Shanghai, China). siRNA-TIMP-1 Target: ATCAACCAGACCACCTTATA; siRNA-Control Target: AATTCTCCGAACGTGTCACGT. The human TIMP1 overexpression plasmid TIMP1-bio-His was purchased from Addgene (Cambridge, MA).
Real-time RT-PCR
RNA was extracted using TRIzol reagent (TaKaRa, Japan). 2 ug RNA was reverse-transcribed into cDNA with MLV-reverse transcriptase (Invitrogen), and Hieff qRT-PCR SYBR Green Master Mix was used for qRT-PCR (Tiangen, China). The primer sequences were as follows, TIMP1: 5'-CGCAGCGAGGAGGTTTCTCAT-3' and 5'- GGCAGTGATGTGCAAATTTCC-3'; GAPDH: 5'- ATGACATCAAGAAGGTGGTG -3' and 5'- CATACCAGGAAATGAGCTTG -3'.
Western blotting
GC cells were lysed by RIPA buffer for 20min at 0° C. The proteins were processed by SDS-PAGE and transferred to PVDF membrane (BioRad). The primary antibodies used in Western blotting were as follows: anti-TIMP1 (ab211926; Abcam), anti-β-catenin (#8480; Cell Signaling Technology), anti-Ki67 (#9449; Cell Signaling Technology), anti-GAPDH (2188, Cell Signaling Technology), anti-p53 (10442-1-AP, Proteintech) and anti-phosphorylated β-catenin (Ser33/37/Thr41) (#9561, Cell Signaling Technology).
Cell proliferation assay
Cell proliferation was detected using MTS Assay Kit (Sigma).
Wound-healing assay
GC cells were seeded into 6-well plated and scratched with a pipette tip after an overnight incubation. Then, wash off the detached cells with PBS and continue incubating in serum-free medium.
Transwell migration and invasion assays
Chamber invasion ability were performed with Corning chambers (Corning, USA). 1×105 cells cultured with 200 μl serum-free media were seeded onto Transwell chambers. After incubating for 24 hours, cells were fixed with 4% polymethanol for 20 minutes, then stained with 0.1% crystal violet for 15 minutes, and pictures were taken under an inverted microscope for statistics.
Immunofluorescence
GC cells were seeded into 12-well plated for 24 hours, and then transfected with siRNAs, miRNAs, or plasmids. After fixation with 4% paraformaldehyde, the cells were incubated with primary antibody at 4° C overnight. After washing 3 times with PBS the next day, the cells were incubated with fluorescently labeled secondary antibodies. A Zeiss confocal microscope was used for photo analysis.
Animal studies
GC cells were transduced with a lentivirus expressing miR-6745 or a negative control (Genechem, Shanghai, China), and 500 ng/mL puromycin was used for selection. After 6 days, the cells were verified by real-time RT-PCR.
6-week-old male BALB/c nude mice were obtained from Beijing Vital River (Charles River Laboratories). And 5 × 107 Lv-miR-6745 or Lv-miR-NC cells in 150 μL PBS were subcutaneously injected into the mice. The mice were euthanized after 28 days. All animal experiments were approved by Institutional Ethics Committee of Wuhan University of Science and Technology (P. R. China).
Statistical analysis
All data are presented as means ± SEM. The experimental data were analyzed by SPSS v13.0. The statistical description of the experimental data in each group was represented by x±S. T-test and one way ANOVA with Tukey correction was used to analyze the presence of a difference among different groups. * P < 0.05. ** P < 0.01.
Abbreviations
IOD: integrated optical density; UTR: untranslated region; GC: gastric cancer.
Author Contributions
X.Y.L. conceived and devised the study. X.Y.L., H.L., and Y.X. designed the experiments and analysis. H.L., X.Y.Z., L. and Q.B.Z. performed the experiments and analyzed the data. H.L., and T.C.Z. contributed reagents and materials. X.Y.L., S.Q.F., and H.L. supervised the research and wrote the manuscript. All authors read and approved the final manuscript.
Conflicts of Interest
The authors have no potential conflicts of interest to disclose.
Funding
This work was financially supported by National Natural Science Foundation of China (No. 31501149, 31770815, 31570764) and Hubei Natural Science Foundation (2017CFB537) and Educational Commission of Hubei (B2020001), Hubei Province Health and Family Planning Scientific Research Project (WJ2021Q051, WJ2019M255), Frontier project of applied basic research in Wuhan (2020020601012250), Science and Education Joint Project of Hunan Natural Science and Technology Fund (2020JJ7072).
References