Phenotyping of immune and endometrial epithelial cells in endometrial carcinomas revealed by single-cell RNA sequencing
1 Clinical and Translational Research Center, Shanghai First Maternity and Infant Hospital, Tongji University School of Medicine, Shanghai, China
2 Department of Gynecology, Shanghai First Maternity and Infant Hospital, Tongji University School of Medicine, Shanghai, China
3 Department of Pathology, Shanghai First Maternity and Infant Hospital, Tongji University School of Medicine, Shanghai, China
* Equal contribution
Received: September 16, 2020

     

Accepted: October 27, 2020

     

Published: January 10, 2021

     
https://doi.org/10.18632/aging.202288
How to Cite
Copyright: © 2021 Guo et al. This is an open access article distributed under the terms of the Creative Commons Attribution License (CC BY 3.0), which permits unrestricted use, distribution, and reproduction in any medium, provided the original author and source are credited.
Abstract
Tumors are complex ecosystems harboring multiple cell types which might play a critical role in tumor progression and treatment response. The endometrial epithelial cell identities and immune microenvironment of endometrial carcinoma (ECC) are poorly characterized. In this study, a cellular map of endometrial carcinoma was generated by profiling 30,780 cells isolated from tumor and paratumor tissues from five patients using single-cell RNA sequencing. 7 cell types in lymphocytes, 7 types in myeloid cells and 3 types in endometrial epithelial cells were identified. Distinct CD8+ T cell states and different monocyte-macrophage populations were discovered, among which exhausted CD8+ T cells and macrophages were preferentially enriched in tumor. Both CD8+ T cells and macrophages comport with continuous activation model. Gene expression patterns examination and gene ontology enrichment analysis of endometrial epithelial cells revealed 3 subtypes: stem-like cells, secretory glandular cells and ciliated cells. Overall, our study presents a view of endometrial carcinoma at single-cell resolution that reveals the characteristics of endometrial epithelial cells in the endometrium, and provides a cellular landscape of the tumor immune microenvironment.
Introduction
Tumors are complex ecosystems characterized by extensive heterogeneity which plays a critical role in tumor progression and treatment response [1]. The tumor microenvironment (TME) consists of malignant cells and genetically stable stromal cells. Cancer cells are heterogeneous because of genetic diversification. Similarly, stromal cells also form heterogeneous cellular compositions by combining many different cell types with a range of biological roles [2]. Tumor cellular diversity is both a challenge and an opportunity for cancer diagnosis and treatment. Increasing cancer therapies targeting the TME such as immunotherapies have been developed to complement the traditional treatment options. However, TME diversity influences treatment response of targeted agents resulting in inconsistent outcomes among patients [3]. It is therefore essential to distinguish the specific cellular components in terms of morphological and phenotypic profiles as well as characterize the interactions between the diverse cell types.
Endometrial cancer (EC) is a common gynecologic tumor whose incidence is increasing [4]. Endometrioid carcinoma (ECC) is the most common type of endometrial carcinoma, accounting for approximately 85% of cases [5]. Most ECC patients can be diagnosed at an early stage and be treated successfully after hysterectomy. However, some young patients may have a need of fertility preservation, so conventional surgical treatment is not the best option [6, 7]. In addition, some patients are too old to tolerate surgery or its side effects. As such, more effort needs to be put into promoting trials that will improve more treatment options for patients. Moreover, novel biomarkers for prediction of treatment responses and clinical decisions are also needed. TME is a fertile ground for the development of novel therapies and is thus a target of expanding EC studies [8]. For example, pembrolizumab demonstrated a favorable safety profile and durable antitumor activity in a subgroup of patients with PD-L1 positive endometrial cancer as an anti PD-1monoclonal antibody [9]. Apart from tumor PD-L1 expression correlating with pembrolizumab response, other factors from subsets of malignant cells and the microenvironment also play essential roles [10]. Illuminating the spectrum of immune and other cell states of EC can therefore be helpful in understanding how the TME influence tumor behavior.
Single-cell RNA-sequencing (scRNA-seq) technology enables cell population profiling of tumors at single-cell resolution [11]. For instance, one recent study on lung tumor assembled a comprehensive catalog of the complex TME by characterizing the phenotype and co-optive behavior of stromal cell. These findings shed new light into lung cancer biology [12]. Advances in single-cell sequencing technologies such as those of aqueous droplets have enabled researchers to simultaneously sequence thousands of cells in a biopsy sample to obtain large datasets [13]. Further to this, multiple bioinformatics and algorithmic approaches have been developed to analyze these datasets as well as identify cell types by clustering scRNA-seq data while reducing their technological noise [14]. These advancements have allowed for the assessment of intra- and inter-tumoral heterogeneities of both stromal and cancer cell types. Moreover, they also help identify the states of these cells in the complex EC tumor cellular ecosystem.
In this study, bioinformatics analysis of the single-cell transcriptome was done. This data was used to reveal complexities of the endometrioid carcinoma's (ECC) immune and the endometrial epithelial cellular composition as well as their differences with their counterparts residing in paratumor tissues.
Results
Discussion
The host immune system can play paradoxical roles in tumor outgrowth. On one hand, tumor infiltrating lymphocytes (TILs) especially the CD8+ T cells are essential for tumor killing. On the other hand, myeloid compartment especially the macrophages exert tumor-promoting activities [43]. Despite the development of cancer immunotherapies such as immune checkpoint inhibitors, mechanisms of drug response or prediction of efficacy remain elusive. This is because of the heterogeneous immune composition in tumors. In this study, unbiased single-cell RNA-seq analysis was used to construct an immune atlas of endometrial carcinomas by combining immune cells isolated from tumor and paratumor tissues. This atlas revealed cellular diversities of both the lymphoid and myeloid compartment.
In this study, CD8+ T cells in endometrial carcinomas displayed a continuous spectrum of T cell activation states of early activated, effector memory, intermediate state between effector and exhausted, and exhausted. Exhausted CD8+ T cells were accumulated in tumor samples. However, immune checkpoint blockade of PD1/PDL-1 pathway was shown to reinvigorate exhausted CD8+ T cells with intermediate expression of PDCD1, but not those with high PDCD1 expression [44]. This meant that it was more beneficial if T cell exhaustion could be reversed earlier rather than later. GZMK cluster expressed both cytotoxic and exhausted genes possibly representing a transition state between effector and exhausted T cells [30]. As such, promoting transition of GZMK+ CD8+ T cells back to effector-like cells and preventing them from further exhaustion would be a strategy for cancer immunotherapy.
Ongoing studies revealed pro-tumor role of macrophages in endometrial carcinomas [45]. In this study, three macrophage populations were discovered that had a continuous range of macrophage activation states. Activated macrophage populations 2 and 3 were enriched in the tumor tissues and had lower expression of M1 phenotype signature compared to the OLR1+ macrophages. Activated macrophage populations 2 and 3 lowly expressed IL-1B suggesting that it had an anti-inflammatory property. Based on these findings, switching the macrophage transcriptome towards an M1 phenotype could be a potential EC therapeutic strategy. MARCO was reported to be associated with M2 phenotype [26] and was linked to poorer outcomes in human breast cancer [46]. Another study found that MARCO-positive macrophages secreted less TNF-α in response to LPS/ IFN-γ stimulation than MARCO-negative CD68+ macrophages [25]. Therefore, the subpopulation of macrophages which expressed MARCO might serve as a new immunotherapy target.
Characterization of endometrial epithelial cell subtypes is problematic because of the lack of specific markers for isolating and examining their functional properties. In this study, features of gene expression profiles of three identifiable endometrial epithelial cell subtypes were characterized through gene expression patterns examination and gene ontology analysis based on scRNA-seq data. Progenitor/stem cells are postulated to reside in the basalis layer and are the source of regrowth of the functionalis layer. However, the two major zones of the endometrium are not anatomically partitioned. Studies on endometrial epithelial cell types that exist in different regions of the endometrium are sparse. Because spatial information of cells in the tissue is often lost during the single-cell suspension preparation steps, direct correlation of the subtypes with endometrium regions/layers is essential. As such, new techniques such as single-molecule FISH (smFISH), laser capture microdissection and laser scanning microscopy are required [11]. These techniques were not a part of this study and thus the layer property of the cell subtypes requires more careful examination. In tissues that renew rapidly such as epithelium, skin and gastrointestinal tract, stem cells and their progeny in the epithelial lineage are responsible for tumor initiation because they have a long life span that allow accumulation of genetic damage [33, 47]. Currently, there are no credible specific epithelial stem cell surface markers [48] thus necessitating further investigations to answer whether there are stem cells in the stem-like cell subtype.
The host immune system can be leveraged to treat tumor and improve outcomes for cancer sufferers [49]. Reprograming the tumor immune microenvironment (TME) to attract the right type of immune infiltrate e.g., by reversing exhaustion status, switching the macrophage transcriptome towards an M1 phenotype or deletion of pro-tumor macrophages is a promising anti-tumor therapeutic strategy. Evidently, this study provides a deeper understanding of the complex immune and endometrial epithelial cell types and their functional states within the endometrioid carcinoma ecosystem (Figure 9). It further provides reference points for future translational applications. Nevertheless, further studies are necessary to clarify the interplay between immune and endometrial epithelial cell types as well as their functional states in space and time.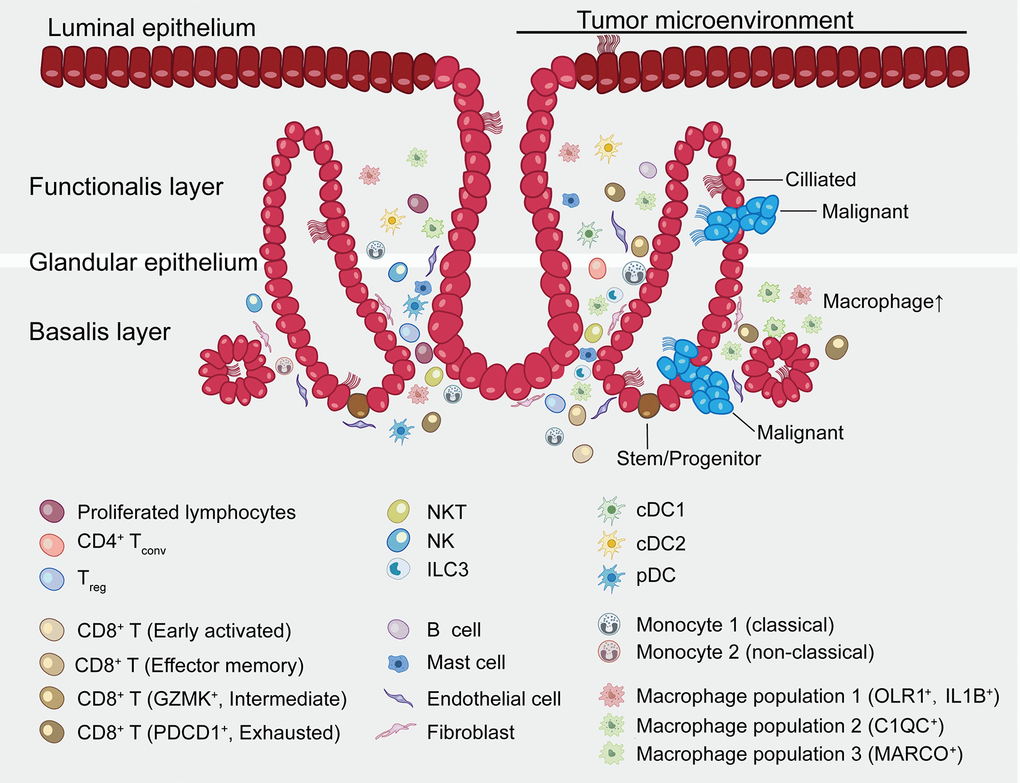 Figure 9. Summary map of the endometrial carcinoma ecosystem. The endometrium is the inner lining of the uterus and consists of epithelial and stromal cells. These are further divided into glandular (GE) and luminal (LE) epithelium. The basalis layer is the source for the regeneration of the endometrium. The two major zones of the endometrium, the basalis and the functionalis, are functionally divided while not anatomically partitioned. The subtype of epithelial cells was not confirmed by immunohistochemical staining and is inferred as a result of pathway analysis and transcriptional similarity to the published gene expression patterns. Stromal cells consist of endothelial cells, fibroblasts, myeloid cells- including DCs, monocytes, macrophages, mast cells, and lymphocytes- including B cells, T cells, ILC3s and NK cells. Exhausted CD8+ T cells and macrophages are preferentially enriched in tumor. CD8+ T cells and macrophages show continuous activation pattern among distinct cell subsets.

Materials and Methods
Ethics approval and consent to participate
This research project was approved by the Human Investigation Ethical Committee of Shanghai First Maternity and Infant Hospital. All patients participating in the study signed an informed consent.
Histopathology and immunohistochemistry
Tissue samples from representative lesions were collected and fixed in 10% formalin. 5 μM slides were obtained from paraffin-embedded tissues and stained with hematoxylin and eosin for histopathological examination. For immunohistochemistry analysis, the "UltraVision Quanto Detection System HRP DAB" IHC kit (TL-125-QDH, Thermo Fisher Scientific) was used for the tyramide signal amplification according to the manufacturer's protocol. Primary antibodies used in this assay are as follows: anti-Ckpan (GM351529, Gene Tech), anti-CD31 (M082329-2, Dako), anti-vimentin (VIM) (Y23037, Ventana), anti-CD3 (ab16669, Abcam), anti-CD20 (M0755, Dako), anti-CD68 (ab955, Abcam), anti-CD163 (ab156769, Abcam), and anti-CD8 (ab17147, Abcam), anti-Ki67 (M0350, Long Island Antibody), anti-p16 (F07961, Roche), anti-MSH6 (RMA-0770, MXB Biotechnologies). Images were taken and quantitative image analysis was performed using ImagePro software.
Preparation of single-cell suspensions
Following resection, a representative tumor fragment and paratumor tissues (1cm from the boundary of tumor) were isolated and transferred rapidly to the laboratory for study (Supplementary Figure 1A). For patients EC4 and EC5, the tumor sizes were too big to acquire the paratumor tissues. Fresh tumor and paratumor tissue samples were initially cut into segments, then transferred to 10 ml digestion DMEM medium containing 0.2% collagenase type I/II (Thermo Fisher Scientific, USA) and DNAse I (Sigma, USA), and were incubated for 15 min at 37° C. The digested pieces were triturated with a 1 ml syringe plunger and passed through a 70μm cell strainer (Coring, USA). The resulting suspension was centrifuged at 300 g for 5 min, then resuspended in red blood cell lysis buffer (Solarbio, China) and incubated on ice for 5 min. After washing with 1x PBS, live cells were enriched using a Dead Cell Removal kit (Miltenyi Biotec, Germany) as per manufacturer's instructions. Enriched live cells were washed and counted using a hemocytometer with trypan blue. Cells were then resuspended in PBS containing 0.04% BSA at a concentration of 1 × 106 cells/ml with a viability of > 80% as determined with the Countess. Overall, the entire dissociation procedure took about 2 h from obtaining samples to generating single-cell suspensions. The single-cell suspensions were then run on the Chromium 10X device (10 × Genomics, USA).
10× library preparation and sequencing
Single-cell library preparation was carried out using Chromium Single cell 3' Reagent v2 Kits (10 × Genomics, USA) according to the manufacturer's protocol. Cells were loaded on the Chromium Single Cell Controller Instrument to generate single cell gel beads in emulsions (GEMs). Next, reverse transcription was performed, cDNA was cleaned up with DynaBeads Myone Silane Beads (Thermo Fisher Scientific, USA), and was then amplified by PCR with appropriate cycles. Subsequently, the amplified cDNA was fragmented, end-repaired, A-tailed, index adaptor-ligated and subjected to library amplification. Then these libraries were sequenced on the HiSeq X Ten instruments (Illumina, USA) and 150 bp paired-end reads were generated.
Single-cell RNA-seq data preprocessing.
The Cell Ranger software pipeline (version 2.2.0, https://support.10xgenomics.com/single-cell-gene-expression/software/downloads/2.0) provided by 10xGenomics was used to process reads. Fastq files generated from Illumina sequencing output were mapped to the human reference genome (GRCh37) and transcriptome using the STAR aligner, and then read count matrices were generated by counting unique molecular identifiers (UMIs). Finally, we generate a gene-barcode matrix containing the barcoded cells and gene expression counts. We combine multiple libraries and generate normalized aggregate data across samples using the cellranger aggregation function.
We imported the count data into the Seurat (version 2.3.4) R package for quality control. We first excluded genes detected in < 3 cells and cells where < 100 genes had nonzero counts. We further discarded low-quality cells that had > 5% mitochondrial genes.
Library size normalization was performed in Seurat on the filtered matrix to obtain the normalized count. Additional cell–cell normalization was performed using the LogNormalize method, and inherent variation caused by mitochondrial gene expression and the number of unique molecular identifiers (UMIs) per cell was regressed out. Gene expression matrices were normalized to total cellular read count and to mitochondrial read count using linear regression as implemented in Seurat's ScaleData function. Before incorporating a sample into our merged dataset, we individually inspected the cells-by-genes matrix of each as a Seurat object.
Dimensionality reduction and clustering
Following normalization, highly variable genes we identified using the Seurat FindVariableGenes function. This function calculates the mean expression and dispersion for each gene, then places genes into 20 bins based on expression. Biologically variable genes were then captured as having a normalized log mean expression between 0.125 and 8, and a dispersion exceeding 1.
The generated variable genes were used to perform principle component analysis (PCA). We then used the first 20 principle components (PCs) to construct a two-dimensional representation of the data using t-distributed stochastic neighbor embedding (t-SNE) with perplexity 20. This representation was then used to visualize the data.
Clusters were identified from PCA-reduced expression data at a resolution of 1 using the Seurat "FindClusters" algorithm, which calculates the neighborhood overlap between every cell and its nearest neighbors. Graph-based clustering results were visualized in 2-dimension using t-SNE. Individual samples and sample groups were also visualized using t-SNE.
Cell clusters in the resulting two-dimensional representation were annotated to known biological cell types using canonical marker genes.
Identification of cluster marker genes and differential expression analysis
The cluster-specific marker genes were identified using differential expression analysis. The difference between clusters was analyzed by "FindAllMarkers" function in the Seurat package. A marker gene was identified when it was expressed in a minimum of 25% of cells and at a minimum log fold change threshold of 0.25. In paired analyses, we identified differentially expressed genes (DEGs) if the absolute log2 expression fold change was ≥ 0.4 and the Benjamini–Hochberg adjusted P value was ≤ 0.01.
Subclustering of the major cell types
To identify subclusters within epithelial, T, and myeloid cell types, we reanalyzed cells annotated to these three cell types separately. Briefly, first we get annotated clusters form cells form raw Seurat object using the "SubsetData" function of the Seurat package. We performed dimensionality reduction using PCA in each cell type on variable genes as described above. Using the graph-based clustering approach implemented in the "FindClusters" function of the Seurat package, with a conservative resolution of 1 and otherwise default parameters, each cell type was reclustered by its principle components. For visualization purposes, these informative principle components were converted into t-SNE plots as above. Gene expression data for subclusters are available in Additional File 3.
To identify marker genes for each of these subclusters within the immune cell types, we contrasted cells from that subcluster to all other cells of other subclusters using the Seurat FindMarkers function. Marker genes were required by log2FoldChange ≥ 1, adjust P value ≤ 0.01, and ranking top 100. When analyzing marker genes for several subclusters in aggregate, such as for tumor macrophages (myeloid clusters 0, 2, 4, 5, 6, 7 and 8 in Tumor), we simply combined the marker genes for all associated subclusters [12] (Additional File 4).
Gene set enrichment analysis
Gene set enrichment analysis for differentially expressed genes was performed using Gene Ontology (biological process, cell component, and molecular function), and Kyoto Encyclopedia of Genes and Genomes (KEGG) pathway database. In a pairwise comparison between paratumor vs tumor data in Figure 6B, DEGs were identified by |log2FoldChange| ≥ 0.4 and adjust P value ≤ 0.01 (Additional File 1). In the pairwise comparison between paratumor vs tumor data in Figure 7E, 7F, DEGs were identified by |log2FoldChange| ≥ 0.25 and adjust P value ≤ 0.01 (Additional File 2). When performing pathway enrichment analysis in endometrial epithelial clusters in Figure 8E, 8F, up-expressed genes in per cluster were used with log2FoldChange ≥ 0.25 and adjust P value ≤ 0.01. We used the "clusterProfiler" function implemented in R packages to identify significant altered pathways. The z scores were computed from normalized -log10(P value) generated from the Fisher exact test. Pathway enrichment heatmap results were visualized using R package heatmap (version 1.0.12).
Pseudo-time analysis
The monocle R package (version 2.10.1) was used to perform the trajectory analysis on the epithelial cells. Genes expressed in fewer than 3 cells were excluded, library size normalization was performed by the "estimateSizeFactors" function, and negative binomial over-dispersion was estimated for each gene using the "estimateDispersions" function. We selected genes that have mean expression > 0.5 and variance greater than the empirical dispersion (the best fit mean-dispersion trend-line). We used the DDRTree to do dimension reduction on the selected genes and then constructed a trajectory using the "orderCells" function.
State analysis in T cells and macrophages
T cell exhaustion, T cell activation, anti-inflammatory (immunosuppressive) and pro-inflammatory (immunostimulatory) gene signatures were taken from Azizi et al. [26] and used for CD8+ T cells state analysis. M1, M2, monocyte activation and macrophage activation gene signatures were taken from Azizi et al. [26] and used for macrophage state analysis. In all cases, the intensity of expression of the signature in question was computed as the mean expression of the genes included in the signature.
CNV estimation
The normalized scRNA-seq gene expression matrices were used to estimate CNV profiles with inferCNV R package as previously described [50]. Initial CNVs were estimated by sorting genes based on their chromosomal location and applying a moving average of gene expression with a window size of 101 genes. The expression was then centered to zero by subtracting the mean. The stromal cells were assigned as "normal" cells and background for analysis. The de-noising was carried out to generate the final CNV profiles. The CNV score of each cell was calculated as quadratic sum of CNVregion.
TCGA data analysis
Pre-processed gene expression data (fragments per kilobase per million fragments) RNaseq v3 mRNA expression data as well as clinical parameters for tumors and normal solid tissue, for endometrial cancer (TCGA-UCEC), using the Bioconductor TCGAbiolinks package (version 2.10.5). In order to assess the expression and prognostic value of a gene set, the average log-normalized expression of selected genes was computed. The samples were further stratified as "low expression" group and "high expression" group by the average expression of immune cell marker genes. The statistical analysis was performed by the R package 'survival' (version 3.1.8), and survival curves were fitted by the survfit function and the difference between high and low expression group was test by survdiff.
Statistical analysis
Data were analyzed with GraphPad Prism software. For comparison between two groups, statistical evaluation was done by two-tailed Student's t-test. For all statistical tests, the P values <0.05 were considered statistically significant. All error bars show standard error of the mean (SEM).
Abbreviations
EC: endometrial cancer; ECC: endometroid carcinoma; MMR: mismatch repair; PTEN: phosphate and tension homology deleted on chromosome ten; POLE: DNA polymerase ε.
Author Contributions
YG conducted most of the experiments, analyzed the data, and wrote the paper. YRL analyzed the data, and wrote the paper. BLC provided assistance in single-cell suspension preparation procedure. GFC and MFW provided assistance in IHC experiments. QZH as a pathologist provided technical assistance in image analysis of tumor sections. KW reviewed the paper. QY and XPW conceived the idea for the project, analyzed the results, and wrote the paper. All authors reviewed the results and approved the manuscript.
Acknowledgments
The authors wish to thank Dr. YongBing Ba and Yao Lu (OE Biotech. Inc., Shanghai, China. http://www.oebiotech.com) for valuable discussions and assistance on the experimental setup.
Conflicts of Interest
The authors declare that they have no conflicts of interests.
Funding
This work was supported by grants from the National Natural Science Foundation of China (81672574 and 81972438), Shanghai Clinical Medicine Field Project of Science and Technology Innovation Action Program (17411951600) and Shanghai Municipal Medical and Health Discipline Construction Projects (2017ZZ02015).
Editorial Note
&
This corresponding author has a verified history of publications using a personal email address for correspondence
References